Why I Switched From Rock Salt To Safe Paw Pet Ice Melt?
As a pet owner, I've always been concerned about my dog's safety. He loves going outside in the winter to play, but I worry about his paws getting wet. That's why I switched from rock salt to Safe Paw Pet Safe Ice Melt. It has many benefits over traditional ice melt and is safer for your pet's paws. Here are a few reasons behind this:
Easy To Use
Safe Paw Pet is considered the best ice melt to buy as it is super easy to use. It can be sprinkled on the ground and then swept away. It's non-tracking and natural, too. Safe Paw contains no chemicals such as magnesium chloride, making it the best kind of ice melt that is safe for your pets, people, and the environment.
Pet Safe Ice Melt
Safe Paw
The Original and the #1 Pet and Child Safe Ice Melt for over 20 years. Guaranteed environmentally safe – will not harm waterways and sensitive wetlands.
Better For Pets
Safe Paw has all-natural ingredients, which means it's safe for you and your pets. If you have children who play in the backyard or dogs who like to dig up their grass, Safe Paw won't hurt them. It's also safe for concrete, stone, and other surfaces that get covered with snow and ice in winter.
Safe Paw Is Safe For Grass And Plants
If you have some indoor plants in your home that need a little extra protection during cold months (or if you're just worried about harming them), Safe Paw is an excellent option since it won't damage the grass on your lawn or flowers growing alongside the sidewalk.
Get ready for winter with the ONLY Pet Safe Ice Melt you can trust
Non-Tracking
Safe Paw is a salt-free ice melt that doesn't stick to the ground, your shoes, or your pets' paws. So even if it does get tracked into your home, you won't have to worry about it sticking to your floors and carpets.
Long-Lasting Effect
The first thing to remember is that Safe Paw is not just a temporary solution; it will last for days. This is particularly important if you live in an area that experiences extreme cold and snow.
It's also important to note that Safe Paw Pet Safe Ice Melt has the same effect on ice as rock salt, but without any negative side effects. Unlike rock salt, which can corrode concrete and damage lawns, Safe Paw Pet Ice Melts are 100% biodegradable and safe for pets and children.
Get ready for winter with the ONLY Pet Safe Ice Melt you can trust
Affordable, Easy To Use, And Best Of All Safe For Pets.
The best ice melt to buy is Safe Paw because it is affordable, easy to use, and safe for pets. Safe Paw is the top choice of professional landscapers and pet owners alike. Its non-tracking granules are the perfect size so they melt through snow quickly without leaving a film behind on your lawn or driveway like other types of rock salt can do. It also lasts longer than traditional rock salt when used in colder temperatures.
Safe Paw's high-quality formula provides you with peace of mind that your family – including your pets – will be safe from ice and snow damage during the winter months.
Get ready for winter with the ONLY Pet Safe Ice Melt you can trust
Other Ice Melt Products
Traction Magic
Stay safe on slippery surfaces with a product that's 100% natural and safe for pets, people, and your property. Use Traction Magic on sidewalks, steps, or as instant traction for your car.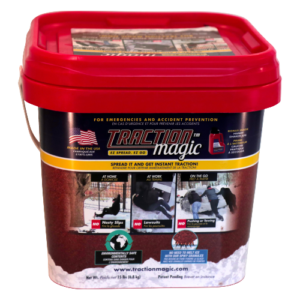 Safe Thaw
Imagine an ice melt you can put down and never worry about. It won't harm pets, kids and your property. That's Safe Thaw. Unlike anything else on the market, Safe Thaw can change how winter affects our planet.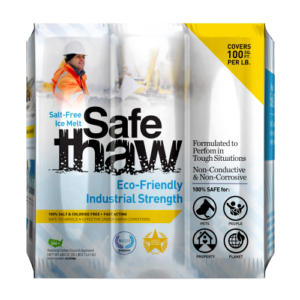 ---