3 Things To Check In Your Ice Melt For Trex Deck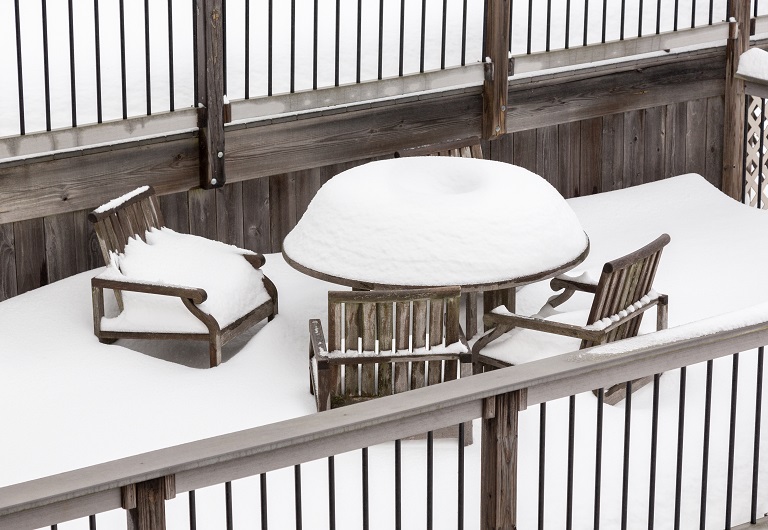 Your composite deck adds aesthetic value to your home. Maybe it's the best corner in your home where you enjoy your family time. For decking, Trex is a popular choice as it gives you the eye-catching look of rich wood with the durability of a composite. It certainly looks beautiful when covered in snow, but we can't leave it like this.
Homeowners from countries with knee-deep snow are worried about cleaning snow and ice from their decks in the frigid weather.
How do you clear snow from your Trex deck? Not sure if you're using the best way to do the job? In this article, we'll talk about 3 easy ways to get rid of snow from a Trex deck. We will also talk about the properties your ice melt should have.
Get ready for winter with the ONLY Pet Safe Ice Melt you can trust
3 Easy Ways To Get Rid Of Snow From A Trex Deck
1- Prepare the deck
Before the snow hits, there are a few steps that you can take to prepare it for the season. Start by cleaning your deck by sweeping leaves, pine needles, and any other debris with the help of a firm bristled broom or a leaf blower. Remove any furniture if kept on it so that it does not corrode or come in the way while cleaning the snow.
2- Remove snow manually
Although conventional, shoveling is a popular method of clearing snow and ice from your deck. If you are using a shovel, make sure to use the one with a plastic blade. Even some plastic shovels that have a sharp metal blade can scratch and damage the surface. When you are clearing the snow with a shovel, remember to use it in a path parallel to the deck board.
3- Ice melt
Another quick and easy way to get clean your Trex deck is using an ice melt. An important point to note here is that not every ice melt is safe for your deck. Almost every ice melt in the market contains chemicals and toxins that can affect the shine and longevity of your Trex deck.
Get ready for winter with the ONLY Pet Safe Ice Melt you can trust
What To Look For In An Ice Melt?
Natural ingredient:
There are ice melts are salt-free and chemical-free compounds and are composed of natural ingredients. One such product is Safe Paw. It is a unique and patented dual-effect compound made up of a crystalline amide core infused with special glycols. Since there are no harmful chemicals in its composition, this ice melt is non-corrosive. Nothing is more delicate than your kids and pet. And if it is safe to use around them, then it's definitely safe for your deck.
Able to prevent ice & snow from sticking:
Your ideal snow ice melt should also work as pre-treatment. Few ice melts can prevent ice from sticking to surfaces for up to three days of using it.
Pet friendly:
If your deck is frequently visited by your pet, then the snow ice melt should be pet-safe. Your non-corrosive ice melt should not burn its paws or poison the pet if ingested.
Make sure to wash off the ice melt residue left on the deck.
Ice Melt Safe For Pets, Property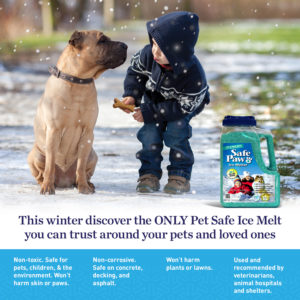 Safe Paw
The Original and the #1 Pet and Child Safe Ice Melt for over 20 years. Guaranteed environmentally safe – will not harm waterways and sensitive wetlands.
How Does Ice Melt Work?
During winter storms or heavy snowfall, ice melt products keep decks from becoming slippery. Ice melts operate by releasing heat into the ice and snow to melt it and prevent it from creating ice crystals! Using any ice melt without first learning about it could end up doing more harm than good to your composite deck. You need to be aware of rock salt, calcium chloride and magnesium chloride dangers also.
Conclusion
We all want a winter without any incidence, and with Safe Paw, you get an opportunity to do just that. It is not only a superb rock salt alternative, but it also serves as an excellent option to pretreat your wood decks. So now make your home kid-friendly and pet-friendly with Safe Paw at your disposal.
Get ready for winter with the ONLY Pet Safe Ice Melt you can trust
Other Ice Melt Products
Traction Magic
Stay safe on slippery surfaces with a product that's 100% natural and safe for pets, people, and your property. Use Traction Magic on sidewalks, steps, or as instant traction for your car. Made in the USA.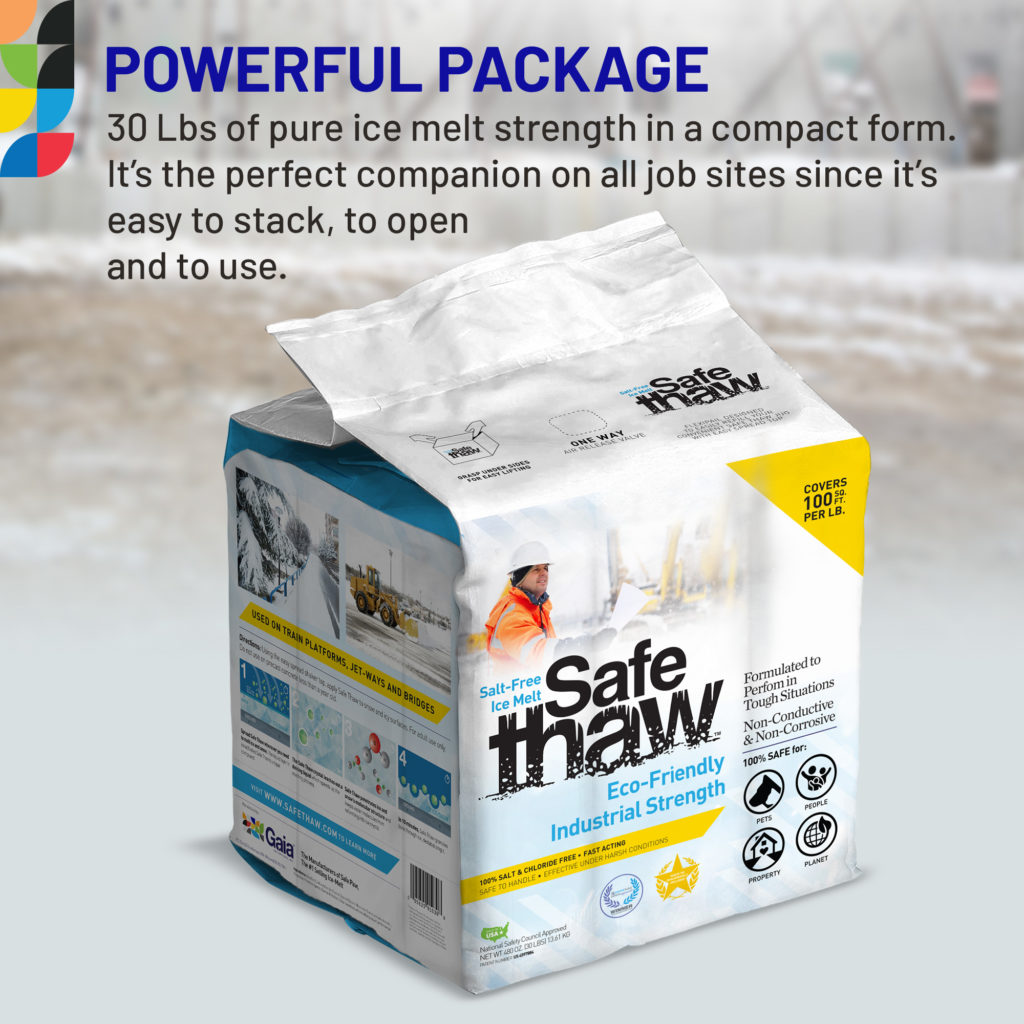 Safe Thaw
Imagine an ice melt you can put down and never worry about. It won't harm animals or children, and it won't damage your property. That's Safe Thaw. Unlike anything else on the market, Safe Thaw can change how winter affects our planet.
---
Gaia Enterprises Inc. delivers 100% pet-safe and environmentally friendly winter products. Safe Paw, our flagship product, is the #1 selling pet-safe ice melt that does not harm pets, safe if ingested, and safe on all types of concrete.