How To Remove Ice Melt Residue
As winter comes, your facilities must have a winter floor care plan in place. The ice melt residue is tracked inside and onto carpets and hard floors when visitors enter the facility. It makes cleaning more difficult. The combination of filth, slush, ice, and snow tracked inside buildings makes winter the most expensive season for floor care. Ice melt residue causes even more damage, causing the flooring to be worn away. Even homemade ice melter for the driveway will also leave behind a messy reissue that needs a thorough cleaning.
The Residue Of Ice Melts
Ice melts containing sodium chloride leave a white residue, whereas ice melts including calcium chloride and magnesium chloride leave an oily residue. These residues will dull floor finishes, splinter wood floors, and cause dry rot in carpets if left for too long.
Winter sand and soil are the enemies of gleaming floors because they scratch and grind the finish. Vacuum and sweep frequently to remove dried dirt. For small areas, manufacturers recommend utilizing a handheld spreading tool, similar to those used for fertilizer or a walk-behind spreader for large areas. Overuse will be less likely, resulting in less mess. The chloride free and natural ice melt does not leave behind ugly or sticky mess. They are easy to spread and clean.
Pet Safe Ice Melt
Safe Paw
The Original and the #1 Pet and Child Safe Ice Melt for over 20 years. Guaranteed environmentally safe – will not harm waterways and sensitive wetlands.
How To Remove Ice Melt Residue
An entry matting system will keep the bulk of contaminants out of your building, such as ice melt, salts, soils, and water. Ice melt residue can be tracked past the entryway and seep through the mat, even with a high-quality matting system.
You'll need a floor neutralizer to prevent floor damage. Ice melt chlorides, soap, and hard water films are all dissolved by floor neutralizers. 
The floor neutralizer cleans the floor while also removing white residue, requiring only one-floor care operation. Do not attempt to use a cleanser with a pH that is too high or too low. The high or low pH cleaning chemicals will damage the floor and are ineffective. Salts, the most frequent chemical found in ice melt, have a relatively high pH. People tend to believe that magnesium chloride is safer than other chloride ice melt. But before believing it, do check whether magnesium chloride is safe for pets and about the type of residue it leaves behind.
Get ready for winter with the ONLY Pet Safe Ice Melt you can trust
Some Tips For Effective Cleaning
Use an advanced filtration unit to sweep or vacuum the area thoroughly; use all vacuum attachments, such as corner and crevice tools, to enhance dirt removal. 
By using a microfiber mop, dry mop the same areas to remove dry ice melt crystals. 
Mop up ice melt residue with a diluted, neutral pH ice melt residue remover. 
Rinse the floor with clean water. 
Put in place preventative measures with strategically timed cleaning and a high-performing matting system.
Get ready for winter with the ONLY Pet Safe Ice Melt you can trust
Conclusion
Ice melt can help to improve safety by reducing the amount of snow and ice on sidewalks and around entryways. Keeping deicers, including homemade ice melter for the driveway, away from tracking into your building, on the other hand, is both necessary and difficult. The best approach to safeguard your floors is to use a floor neutralizer regularly to remove the buildup. It is advised that ice melt residue be removed with a floor neutralizer frequently in heavy traffic areas. Moreover, by using a chloride free natural ice melt you can save yourself from expensive spring cleaning.
Get ready for winter with the ONLY Pet Safe Ice Melt you can trust
Other Ice Melt Products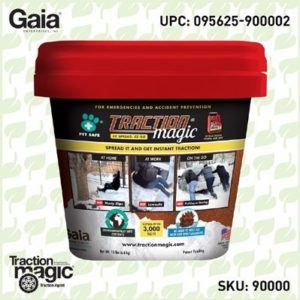 Traction Magic
Stay safe on slippery surfaces with a product that's 100% natural and safe for pets, people, and your property. Use Traction Magic on sidewalks, steps, or as instant traction for your car. Traction Magic provides instant traction on all icy surfaces.
Safe Thaw
Imagine an ice melt you can put down and never worry about. It won't harm animals or children, and it won't damage your property. That's Safe Thaw. Unlike anything else on the market, Safe Thaw can change how winter affects our planet.