Removing Ice Melt Residue From Storefront
Commercial establishments such as parking lots, retail stores, malls, etc., experience constant footfall of customers and employees. Under such circumstances, it becomes critical to use the best ice melt for concrete that is chloride-free and salt-free. It helps to protect you and is also safe on the skin and eyes, and pets too. 
If you own a retail store, there are chances of complaints from customers or employees about not clearing the storefront properly or the residue left around the premises. It renders a shabby look to your store and makes it look pretty unappealing to customers.
So, How Can You Remove Ice Melt Residue From The Storefront?
One of the ways is to use hot water mixed with detergent to clean the residue from your storefront. Add a couple of drops of vinegar or detergent in warm water and scrub or mop the floor for a while until you see the salt residue slowly fade away.
Floor Cleaners Or Disinfectants
You can use floor cleaners specifically designed to remove tough stains from concrete and other flooring surfaces. They dissolve hard water stains, ice melt chlorides, limescale, and other residues to render your surroundings clear of them.
Using chloride-free ice melt will help resolve the residue problem in front of the storefront. It is environment-friendly and does not leave any residue, thus eliminating the problem of removing the residue.
Get ready for winter with the ONLY Salt Free Ice Melt you can trust
As salt turns to brine, it leaves a whitish stain on the surface. However, if you use a hard-bristled broom, you can clear the chemicals mixed with snow and avoid the whitish residue around your premises.
Industrial Quality Floor Mats
Using an industrial-strength floor mat will stop the accumulation of most containments such as salt, ice melt, soil, etc. They will not let the ice melt seep on the concrete and eliminate the chances of tracing back into the store.
Mixing water with hydrochloric acid (20:1 ratio, respectively) can also help remove the residue. But a word of caution, be cautious while using acid, and you must use it only if you are well-versed with its application.
Get ready for winter with the ONLY Salt Free Ice Melt you can trust
Conclusion
The biggest drawback of any commercial chemical-laden and chloride-based ice melt is the residue it leaves behind. They are harmful to us, harm the concrete, and leave unwanted residue. How can we remove this residue? How can we use ice melt chloride-free? These questions often plague us, and we need to find ways to remove ice melt without damaging our surroundings. Safe Thaw is the best ice melt for concrete, and you get an opportunity to surpass all these issues as it is a salt-free and chloride-free ice melt for concrete. It does not harm the environment in any way or leave any residue behind. Clearing it off with a broom will leave your surface looking as good as new.
Other Ice Melt Products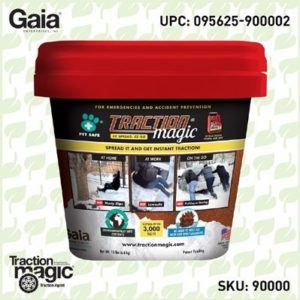 Traction Magic
Stay safe on slippery surfaces with a product that's 100% natural and safe for pets, people, and your property. Use Traction Magic on sidewalks, steps, or as instant traction for your car. Traction Magic provides instant traction on all icy surfaces.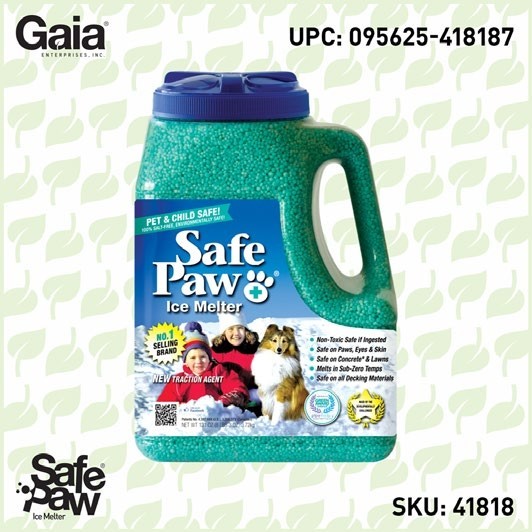 Safe Paw
Imagine an ice melt you can put down and never worry about. It won't harm animals or children, and it won't damage your property. That's Safe Paw. Unlike anything else on the market, Safe Paw can change how winter affects our planet.