How To Melt Ice Without Damaging Concrete
During the winter, ice can freeze on the concrete outside our homes and create an extremely dangerous, slick surface that can cause slips and falls to occur. Many people choose to apply rock salt to their concrete steps or pavement. However, these are not safe salt for concrete and can cause concrete to become damaged over time.
Using salt to melt ice on a regular basis pits the cement used for our walkways, steps, and other concreted areas. Once the cement pits, it will eventually crack or cause potholes in your surface.
Also, if salt comes in contact with metal, such as the frames on your patio furniture, it can cause corrosion and rust. Fortunately, there is an ice melt for concrete that is a safe alternative to using salt that you can try in order to stay safe this winter.
Best Ice Melt For Concrete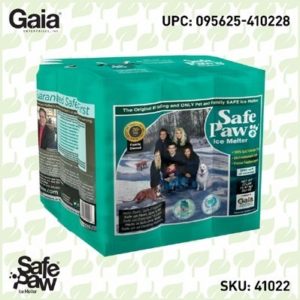 Safe Paw
The Original and the #1 Pet and Child Safe Ice Melt for over 20 years. Guaranteed environmentally safe – will not harm waterways and sensitive wetlands.
Safer Ice Melting Alternatives
The best way to remove ice and snow from your steps or driveway is to use a shovel. However, many times shovelling the snow just isn't enough and an ice layer can be left behind. Therefore you will need to use other methods to break up, melt or gain traction on the ice. Here are a few ice-removal alternatives to using salt that will not cause damage to your concrete surfaces.
Safe Paw
Safe Paw is one of the few ice melt products on the market that can be used around pets and children, and it will not cause harm to your concrete walkways. It has even been considered the best ice melt for concrete.
---
Other Products
---