Is There An Ice Melt That Won't Damage Concrete?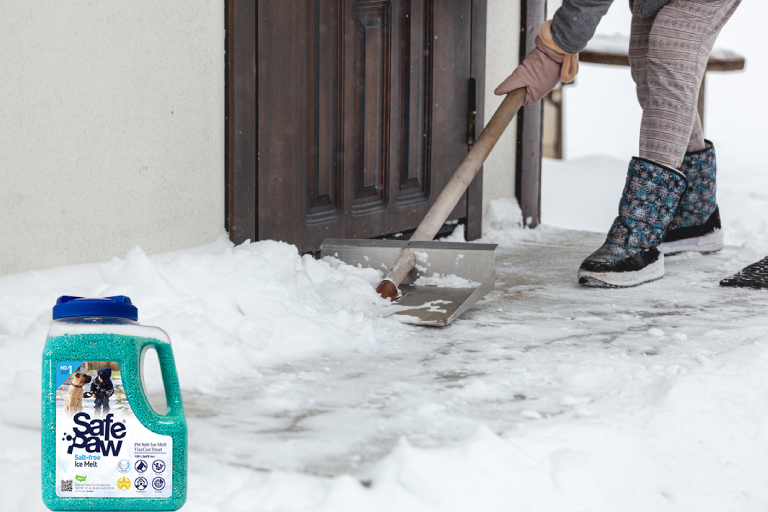 Imagine you built a house with all your savings, and then comes the winter and along with it comes ice and snow. Now your home is covered with snow, and you're inside. While that must be a pretty scene to eyes, in reality, it is very dangerous. The reason is that the snow will damage your house and maybe harm your family if it's not melted in time.
But here's a fact– melting ice isn't that difficult. It is difficult to find an ice melt that won't damage your concrete so that it could last longer.
Get ready for winter with the ONLY Pet Safe Ice Melt you can trust
Does This Mean Ice Melts Can Damage Concrete?
Yes, most of the ice melts out there can damage concrete in the following ways-
When the ice melts, it turns to water and then gets inside cracks and crevices, and then it freezes and expands the cracks. As a result of the expansion, the pressure on the build-up increases, and eventually, the pressure increases more than the concrete could withstand.
Using rock salt as an ice melt could also get into the cracks and reach the metals inside. Now, this fastens the process of corrosion and damages your house.
While there are several chemicals out there, they can be highly damaging to the concrete. Some of such chemicals include Ammonium Nitrate, Calcium Sulfate, Aluminum Chloride, Magnesium Chloride, Sodium Cyanide, etc.
Using rock salt can also stay on the surface and recrystallize in the surface's pores and can result in chipping spalling.
Get ready for winter with the ONLY Pet Safe Ice Melt you can trust
Is There An Ice Melt That Won't Damage The Concrete?
In order to choose the right ice melter for yourself first, you need to make sure that it is-
Safe for your kids: Safe Paw is an all-natural, 100 percent natural, non-toxic, biodegradable, pet-safe ice melt made from volcanic remains. Safe Paw is safe for your kids, your pet's paws, your property, and the planet. You don't need to wrap up in layers of clothing to protect yourself from the dangers of ice melt. Safe Paw prevents your kids from slipping and is a great buy for any household looking to keep its members safe through winter.
Safe for your pets: A Pet's Parent's Worst Nightmare: Pets love to play with snow and chew on things they shouldn't. That's why the last thing you want to find in your yard are dangerous chemicals left over from snow-melting products. Safe Paw is a chemical-free, 100% all-natural, pet-safe ice melt hat that works as hard as salt but is still gentle with your pet's delicate skin and paws.

Safe for your concrete and home: A concrete-safe ice melt that is 100%-natural, prevents the freeze-thaw cycle, and is completely safe for your concrete driveways and sidewalks.

Safe for the environment: A planet-safe alternative to traditional salt. The best thing about Safe Paw is that it's not just safer for the environment and animals, but it actually works better than salt and in most snow conditions.
Ice Melt For Concrete
Safe Paw
The Original and the #1 Pet and Child Safe Ice Melt for over 20 years. Guaranteed environmentally safe – will not harm waterways and sensitive wetlands.
Now here are some of the most used ice melts and their pros and cons–
Calcium Chloride (CaCl)
It's an effective ice melt that can help in even -25 degrees Fahrenheit. It's expensive in comparison with other ice melts and is even less dangerous to the environment. However, it has it's not entirely safe.
Potassium Chloride (KCl)
Potassium Chloride generally isn't used independently but with some other ice melt like rock salt. Although it's shown as a harmless ice melt, it's chloride and has some side effects, and can damage concrete and bricks up to a great extent.
Urea And Sand
While urea for ice melting acts as a fertilizer, sand offers traction. Together, they can be used for melting ice in winter but may not be good for immediate use. However, they are completely safe for the environment and concrete. 
Which Ice Melt To Use?
Now you know that urea for ice melting is completely safe for concrete and the environment as well. Safe Paw uses urea as one of the primary components and is 100% to use; plus, it gives immediate results when used. The best part is, it's easy to use and is very effective for melting ice.
Get ready for winter with the ONLY Pet Safe Ice Melt you can trust
Conclusion-
You've got all the knowledge about ice melts, and it's time for you to choose the right option and get ready for winter. Here's a clue for you, go for a urea ice melt.
Other Ice Melt Products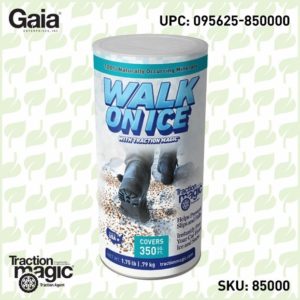 Walk On Ice
Walk On Ice safely in Winter, with the latest addition to the Traction Magic collection. The handy disposable canister can be taken everywhere with the same 100% naturally occurring minerals that provide instant traction on ice or snow.
Safe Thaw
Imagine an ice melt you can put down and never worry about. It won't harm animals or children, and it won't damage your property. That's Safe Thaw. Unlike anything else on the market, Safe Thaw can change how winter affects our planet.
Gaia Enterprises Inc. delivers 100% pet-safe and environmentally friendly winter products. Safe Paw, our flagship product, is the #1 selling pet-safe ice melt that does not harm pets, safe if ingested, and safe on all types of concrete.