Check THESE Things Before Buying Your Ice Melt Stock
Regardless of the weather forecast for the winter season, you need to be proactive and stock up on a good Ice Melt stock to tide over the season smoothly. To make a choice from a plethora of options in the market also needs diligent work. So, here we tell you the main checkpoints you need to watch out for before stocking up the Ice melt.
1. The Choice Has To Be Need-Based:
Currently, ice melts are available to meet your varied needs; some deliver their best performance at low temperatures, some work in slightly warmer temperatures, while other ice melts don't harm your vegetation. Also, there are safe ice melts for new concrete or others that are safe for your pets. 
Gaia Enterprises Inc. delivers 100% pet-safe and environmentally friendly winter products. Safe Paw, our flagship product, is the #1 selling pet-safe ice melt that does not harm pets, safe if ingested, and safe on all types of concrete.
While there are other ice melts that combine a mix of ingredients and partly meet each of the specified end goals. Say, for instance, Safe Paw is the best ice melt for new concrete. The reason why we are addressing Safe Paw as the best option here is that it is a safe ice melt for new concrete.
Ice Melt For New Concrete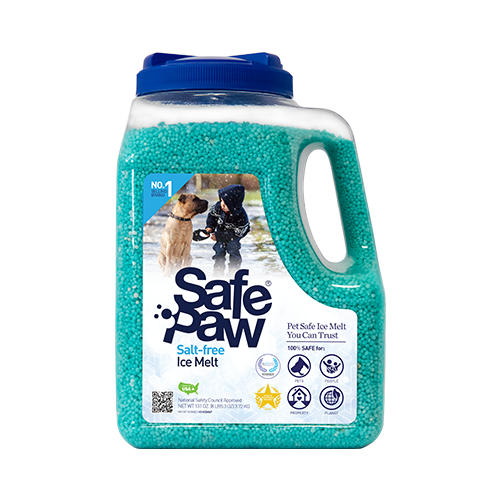 Safe Paw
The Original and the #1 Pet and Child Safe Ice Melt for over 20 years. Guaranteed environmentally safe – will not harm waterways and sensitive wetlands.
2. Check For The Ingredients On The Ice Melt:
All of the ice melt products on the jar or cover include the ingredient list together with the composition. Here we provide the list of common ingredients together with the lowest melting temperature at which they function optimally. Note the melting temperature given out here is per se pavement temperature and not air temperature:
Urea (NH2)2CO (0 to -7°C)
Sodium Chloride (NaCl) (0 to -10°C)
Magnesium Chloride (MgCl2) (0 to -23°C)
Potassium Acetate (KCH3COO) (0 to -26°C)
Calcium Chloride (CaCl2) (0 to -29°C)
Sand – provides traction only, does not melt ice
The process will enable you to shortlist the ice melt product based on your end goal.
3. Check For Industry Standards/Seals/Stamp On The Jar:
The ice melt buyer needs to be mindful of the Federal stamp as well as validation. The safety department enlists the standards considering the products' surfactants, solvents, chelating agents, etc. Moreover, all such criteria provide the percentage of ingredients, including sodium, calcium chloride, magnesium chloride, etc. Furthermore, all such Federal validations check for the product toxicity and physiology. 
Get ready for winter with the ONLY Pet Safe Ice Melt you can trust
4. Research, Review Online, Or Contact The Company Directly For Technical Assistance Or Demo:
To select the best and most accurate ice melt (say if your end goal is finding a safe ice melt for new concrete), you can research for the same over the internet or precisely can go about gathering inputs on what works best for people in your vicinity. Thus, reviews can go a long way in making you an informed choice.
For a first hand experience and to know the result of the shortlisted ice melt, you can always ask the ice melt manufacturer or distributor for the demo.
5. Safety Regulations To Look For:
The box or the jar of the product also lists some of the safety protocols that you need to follow, such as putting on gloves when applying ice melt, spreading the product uniformly for the best result. There are also guidelines on how to use the product in an emergency with your pet or kids.
Closing Thoughts:
Thus factoring your end need, you can go about scouting for the best available safe melt product. For enhanced satisfaction, demo from the concerned safe melt company would come as a help and enable you to conclude your safe melt purchase.
Get ready for winter with the ONLY Pet Safe Ice Melt you can trust
Other Ice Melt Products
Safe Thaw
Imagine an ice melt you can put down and never worry about. It won't harm pets, kids and your property. That's Safe Thaw. Unlike anything else on the market, Safe Thaw can change how winter affects our planet.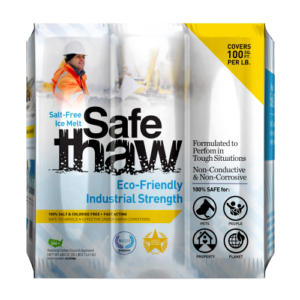 Traction Magic
Stay safe on slippery surfaces with a product that's 100% natural and safe for pets, people, and your property. Use Traction Magic on sidewalks, steps, or as instant traction for your car.