Tips For Applying Ice Melt Correctly
We understand the desire to save money or time whenever possible. In the long run, though, failing to maintain your walkways could cost you far more than the expense of ice melt. Accidents involving slips and falls are a liability problem.
Gaia Enterprises Inc. delivers 100% pet-safe and environmentally friendly winter products. Safe Paw, our flagship product, is the #1 selling pet-safe ice melt that does not harm pets, safe if ingested, and safe on all types of concrete.
Many states have laws requiring businesses to take precautions to avoid any such incidents. Owners or possessors can be held accountable for these accidents if they were aware of the condition and failed to remedy it. The owner/possessor should discover icy situations in their premises and correct them before the slip and fall incident.
Most of the ice melt available in the market is either chloride or its blend. But fortunately, there is salt-free and environmentally friendly ice melt like Safe Paw that is efficient and safe for all. Here are some pointers on using ice melt successfully and efficiently without damaging your concrete and environment.
Eco Friendly Ice Melt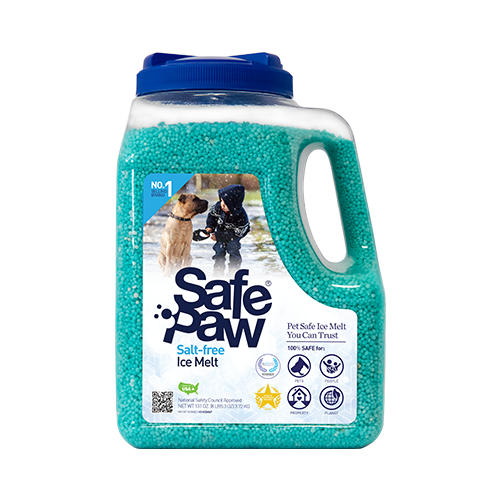 Safe Paw
The Original and the #1 Pet and Child Safe Ice Melt for over 20 years. Guaranteed environmentally safe – will not harm waterways and sensitive wetlands.
Clean The Surface
Fresh snow must be removed before using ice melt, whether by shoveling, plowing, blowing, or sweeping. If you don't do this, you're wasting money by utilizing ice melt to "burn off" snow that might easily be shoveled.
More Is Not Always Better
Cleaners believe that if a little goes a long way, a lot will go even further. In this case, less is usually more. Overuse of ice melt results in more products being tracked into your facility unintentionally, causing damage to your floors.
This oversupply of ice melt has the potential to burn vegetation in the area where it is used. Every product is different, so cleaners should study the instructions to figure out how much ice melt they'll need for the job.
Take The Time To Read The Instructions.
It is critical not only for determining the amount but also for ensuring safety and application. Personal protection equipment (PPE) such as gloves or goggles is recommended for certain ice melts, such as calcium or magnesium chloride.
Choose The Most Appropriate Ice Melt For You
You are not required to purchase the most expensive option available. Determine which type is best for you. It's vital to know how fast a deicer works, at what temperatures it works, and whether it's exothermic or endothermic.
Get ready for winter with the ONLY Pet Safe Ice Melt you can trust
Clean It Up
Any form of ice melt, if not removed, can eventually destroy flooring by drying them out, causing splintering and dry rot issues in carpets and rugs. If left on for too long, sodium chloride (rock salt) leaves a white powdery residue that can impair the finish. Calcium and magnesium chloride produce an oily film on wood floors that can damage urethane or wax coatings. Whereas Safe Paw ice melt won't harm your decking or rugs, and it won't leave a residue when it dries. It is simple to clean and does not leave any stains.
Conclusion
Safe Paw ice melt is an eco-friendly ice melt created with one goal in mind: to help pet owners, homeowners, and everyone else deal with their snow and ice problems without harming the environment or themselves. It is salt-free, chlorine-free, and non-corrosive to metals and concrete. It adheres to the ground for approximately 72 hours, extending its lifespan and improving its cost-effectiveness.
Get ready for winter with the ONLY Pet Safe Ice Melt you can trust
Other Ice Melt Products
Safe Thaw
Imagine an ice melt you can put down and never worry about. It won't harm pets, kids and your property. That's Safe Thaw. Unlike anything else on the market, Safe Thaw can change how winter affects our planet.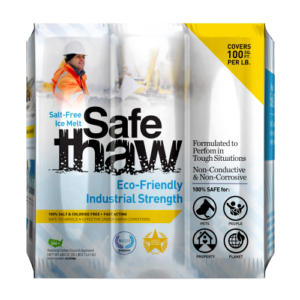 Traction Magic
Stay safe on slippery surfaces with a product that's 100% natural and safe for pets, people, and your property. Use Traction Magic on sidewalks, steps, or as instant traction for your car.