How To Remove Salt Stains From Leather Shoes, Clothes And Carpets?
In the winter, you have to contend with the cold and the threat of snow, as well as the salt and ice melt, used to keep sidewalks, drives, and streets free of ice. Salt can damage and stain a variety of materials, it's critical to understand how to remove it from your clothing and home.
1. Cleaning Salt Stains On Leather Shoes
Pretreating leather clothing and shoes to protect them from the effects of moisture and salt is always a good idea. Salt is particularly damaging to leather, so wipe it off as soon as possible, even if the item has already been treated. Mag chloride ice melt is an excellent melter for both residential and commercial applications. Wipe off all of the salt from the leather with a damp, clean cloth and blot dry.
Salt Free Ice Melt
2. Getting Rid Of Salt Stains On Clothes
Salt is an abrasive substance that can permanently harm your clothing and footwear. Salt exposure can cause permanent stains, salt residue rings, and faded colors on clothing and shoes. To avoid the salt going deeper into the fabric, gently brush the surface residue off with a soft hairbrush for dry salt stains. Take the garment to a professional cleaner for care if it has delicate fabrics or stains that are not coming out easily.
Get ready for winter with the ONLY Pet Safe Ice Melt you can trust
3. Cleaning Salts Stain From Rugs And Carpet
Salt tracked in on shoes can become embedded in carpets and rugs, causing the material to deteriorate. Any salt, be it Mag chloride ice melt, calcium chloride ice melt, should be vacuumed as soon as possible to avoid permanent stains and damage. Apply the cleaning solution to the stains with a clean cloth and rub it gently with a sponging motion. After you've removed the stain, give the area a thorough rinse with warm water to remove any salt residue that could cause the spots to resurface.
Get ready for winter with the ONLY Pet Safe Ice Melt you can trust
What Ice Melt Is Safe For Concrete?
If you have salt on your clothes, shoes, or carpet and are unsure how to clean it properly. Use the SafePaw ice melter, which is guaranteed to be environmentally friendly. Safe Paw is guaranteed to be nontoxic and safe for both pets and children. It is non-staining, non-damaging, and non-destructive to flooring and is the definite answer to your query – What ice melt is safe for concrete?
Gaia Enterprises Inc. delivers 100% pet-safe and environmentally friendly winter products. Safe Paw, our flagship product, is the #1 selling pet-safe ice melt that does not harm pets, safe if ingested, and safe on all types of concrete.
Safe Paw contains traction agents and consists of a modified crystalline amide center interspersed with glycol admixture. While breaking the surface tension on the surface, the liquid component immediately begins melting ice efficiently. The crystal-core effectively penetrates and destabilizes ice, causing the melting process to accelerate. Safe Paw doesn't contain salt and is therefore safe for your pets, concrete, and kids.
Conclusion
Salt stains on clothing and boots can be unattractive. You can easily restore the clean appearance of your clothes and boots using the strategic methods discussed in this article. The best way to avoid damage and keep your clothes in good condition is to neutralize and flush out the salt as soon as the stains appear. After walking through icy streets, you should wash your clothes and give your shoes a quick clean before the salt dries up.
Get ready for winter with the ONLY Pet Safe Ice Melt you can trust
Other Ice Melt Products
Safe Thaw
Imagine an ice melt you can put down and never worry about. It won't harm pets, kids and your property. That's Safe Thaw. Unlike anything else on the market, Safe Thaw can change how winter affects our planet.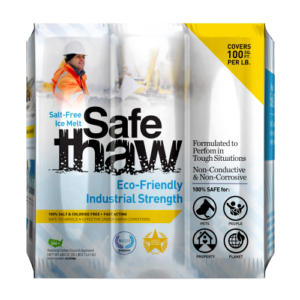 Traction Magic
Stay safe on slippery surfaces with a product that's 100% natural and safe for pets, people, and your property. Use Traction Magic on sidewalks, steps, or as instant traction for your car.