Different Types Of Ice Melt Products: Which One Is The Safest
Every winter, there is a rush at all stores to buy ice melter products. Households rush to purchase the cheapest ice melt in the market, i.e rock salt. But is that the best choice?
In this article, we will discuss different types of ice melt products. We will also discuss the pros and cons of using each and which one you should use.
Rock Salt-Rock salt is nothing but sodium chloride. It is the cheapest alternative but is detrimental to concrete because of its corrosive nature. Concrete consists of millions of tiny pores that tend to retain some amount of water. And as we apply the ice melter products, especially rock salt, these tiny pores eventually become affected.  
Calcium chloride- It is one of the most common ice melter products with a melting point of -25 degrees Fahrenheit. It works by turning ice into brine (liquid), lowering the freezing point of water, producing heat, and thus, causing the ice to melt. It is expensive than most other compounds in the market. 
Sodium Chloride– Popularly known as rock salt, sodium chloride is one of the most commonly used ice melts in the market. It is not the safest ice melt for concrete, but it is cheaper than the others. It works best up to 15 degrees Fahrenheit and is corrosive to metals, and leaves behind a whitish residue.
Sodium chloride liquid brine– A typical solution is made of ¾ part water and ¼ part sodium (salt) and uses significantly less salt. It is cheaper than rock salt; however, despite having the lowest melting point of -6 degrees Fahrenheit, it is not the best salt for concrete and can corrode your driveway, sidewalks, asphalt surfaces, metal, etc. 
Magnesium chloride– is a slow-acting ice melt and one of the most expensive ones available in the market. Its lowest melting temperature is 0 degrees Fahrenheit. It is less corrosive but not entirely safe.
Non-chloride ice melt- If you're looking for a salt-free, chloride-free solution, thenUrea, kitty litter, sand, homemade ice melting solutions, and Safe Paw that help alleviate snow and ice problems for residents without damaging the environment.
Many people use homemade ice melting solutions such as beet juice, urea, kitty litter, etc. but these have their own cons. These products are mostly messy to use, leach out, or leave a residue. On the other hand, Safe Paw is 100% chloride-free, salt-free, and 100% safe for the environment and does not have any after-effects.
Get ready for winter with the ONLY Pet Safe Ice Melt you can trust
However, every ice melter manufacturer will advise you to take precautions for new concrete as it is still settling and getting acclimatized with the weather condition. Therefore you must practice caution and care with new concrete.
Concrete Safe Ice Melt
Safe Paw
The Original and the #1 Pet and Child Safe Ice Melt for over 20 years. Guaranteed environmentally safe – will not harm waterways and sensitive wetlands.
Conclusion
If you are looking for a valuable and long-lasting ice melt concrete safe, Safe Paw proves helpful on every account. We are here to help you find the correct product and make your winter far easier than ever before.
Get ready for winter with the ONLY Pet Safe Ice Melt you can trust
Other Ice Melt Products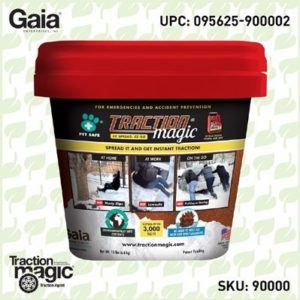 Traction Magic
Stay safe on slippery surfaces with a product that's 100% natural and safe for pets, people, and your property. Use Traction Magic on sidewalks, steps, or as instant traction for your car. Traction Magic provides instant traction on all icy surfaces.
Safe Thaw
Imagine an ice melt you can put down and never worry about. It won't harm animals or children, and it won't damage your property. That's Safe Thaw. Unlike anything else on the market, Safe Thaw can change how winter affects our planet.