How To Protect Concrete From Salt Damage
While ice and snow are some of the most lucrative features of winters, they can also be dangerous if deposited around your house. Now that's why you need to keep melting the snow around you from time to time.
In this article, we will understand how and why salt damages concrete and how we can protect it.
Does Ice Melt Damage Concrete?
Concrete is a porous element that readily absorbs water. Water on roads and driveways condenses into ice or snow during the winter, but this does not harm the concrete. Deicers, such as salt, are the real culprits when concrete deteriorates. Always use ice melt that is concrete safe. Similarly, moisture in the air in coastal locations carries significant levels of sodium chloride, which can cause concrete to crack and discolor over time.
Get ready for winter with the ONLY Pet Safe Ice Melt you can trust
Damages Caused By Salt
Freeze/Thaw damage is the most common damage that happens because of the wrong ice melting process. To put it simply, when the ice melts, it turns to water, and when the cracks in concrete absorb the water, the water freezes and then expands the cracks. This expansion, in turn, causes pressure on this build-up, and with time the build-up exceeds the limit that the concrete could withstand.
As per American Concrete Institute (ACI), several chemicals can be for melting ice. But in the long run, they are damaging concrete surfaces. Such chemicals include Ammonium Nitrate, Calcium Sulfate, Aluminum Chloride, Magnesium Chloride, Sodium Cyanide, etc. So before you choose an ice melt that is concrete safe, make sure you do not use these chemicals.
This is where Safepaw can be your go-to ice melt. It's 100% safe for concrete and doesn't harm the concrete in any way. The best part is, it's easy to use and can be very effective for melting ice without harming the environment. 
Get ready for winter with the ONLY Pet Safe Ice Melt you can trust
Safe Paw An Ice Melt That Is Concrete Safe:
Safe Paw has several advantages versus salt when it comes to concrete. First and foremost, Safe Paw is an eco-friendly ice melt that is concrete safe. It will cause no harm to surrounding rivers or land once it has completed its task and has been swept away. That also means your concrete won't be harmed. With Safe Paw, you do not need to worry about your concrete or even the environment as it doesn't include any harmful chemicals. It is the best ice melt out there which can help you enjoy the winters without worrying about snow or ice.
Get ready for winter with the ONLY Pet Safe Ice Melt you can trust
Concrete Safe Ice Melt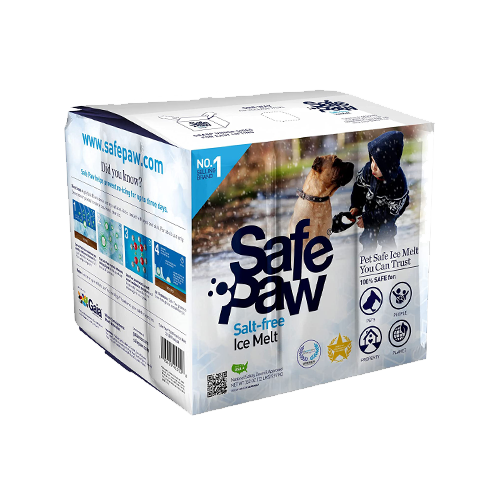 Safe Paw
The Original and the #1 Pet and Child Safe Ice Melt for over 20 years. Guaranteed environmentally safe – will not harm waterways and sensitive wetlands.
Wrapping Up
If you're still wondering- does ice melt damage concrete, then here are a few points to understand.  The higher the quality of the concrete and the better the placement, the less likely the effects of salt will be harmful.
Consider Safe Paw, the ultimate ice melter, if you've recently poured new concrete and want to safeguard your investment while also keeping your property looking its best this winter. Safe Paw will not harm concrete and brick. Safe Paw successfully melts ice and helps to prevent it from forming again in the event of a subsequent storm.
Gaia Enterprises Inc. delivers 100% pet-safe and environmentally friendly winter products. Safe Paw, our flagship product, is the #1 selling pet-safe ice melt that does not harm pets, safe if ingested, and safe on all types of concrete.
Other Ice Melt Products
Safe Thaw
Imagine an ice melt you can put down and never worry about. It won't harm pets, kids and your property. That's Safe Thaw. Unlike anything else on the market, Safe Thaw can change how winter affects our planet.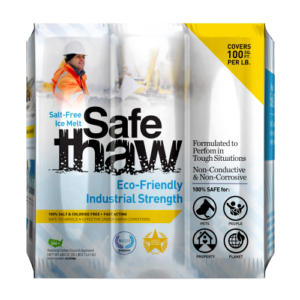 Traction Magic
Stay safe on slippery surfaces with a product that's 100% natural and safe for pets, people, and your property. Use Traction Magic on sidewalks, steps, or as instant traction for your car.