Eco Friendly Salt Alternatives For Getting Rid Of Ice
The Winter season means ice, snow, chilly weather, and ice melt. Yes, soon, our driveways, sidewalks, parking lots are going to be filled with snow and covered with ice melt. But did you know that the majority of these ice melts are not safe for your property, pets, and the environment? Well, I said majority, not 'all'. There are some environmentally friendly alternatives to the salt and ice melt.
Let's discuss this in detail.
Eco Friendly Ice Melt
Safe Paw
The Original and the #1 Pet and Child Safe Ice Melt for over 20 years. Guaranteed environmentally safe – will not harm waterways and sensitive wetlands.
Salt- An Environmental Hazard
Rock salt and chemical-based ice melt can harm the environment when the warmer days arrive. As the sun shines, the calcium chloride and other harmful chemicals in the ice melt get carried away into streams. And these dangerous chemicals tend to pollute both flora and fauna.
The aquatic life gets severely impacted due to the chemicals.
Not only do the aquatic life and flora, and fauna get harmed, but the water supply of the region gets polluted too.
Apart from this, the chemicals in the ice melt damage the concrete. When it seeps indoors then the flooring gets damaged. 
Now that we know that ice melt can severely damage our environment including our water supply we should make sure that our ice melt is non-toxic and chemical-free.
Here are some environmentally friendly ice melt options:
Get ready for winter with the ONLY Pet Safe Ice Melt you can trust
1. Safe Paw Ice melt
This Safe Paw ice melt can be used without any after-thoughts as the product is an ice melt safe for concrete and pets. The product will not harm your flora and is 100 percent safe for your dearest pets even if ingested. Another property of it being non-corrosive helps or initiates immediate deicing exercise and hence does not cause any property damage. Lastly, it is safe for the environment- for land and all waterways as it comprises urea.
Get ready for winter with the ONLY Pet Safe Ice Melt you can trust
Other Ice Melter Products
Apart from Safepaw, here are some other ice melter products you can consider:
2. Beet Juice:
The sugar beet juice helps to reduce the melting point of ice. Sugar beet juice is used as a spreader for salt and keeps the salt (chloride component) in the solution. You can make the ice melt by combining 2 lbs. of salt per gallon of water. And, then add a glass of sugar beet juice to get the final ice melt. This de-icer is safe for flora and fauna, concrete, and human.
3. Pickle Brine:
The brine from pickling solution is another environmentally safe ice melt better than even salt. This ice melt prevents ice from adhering to the road that makes it easier to remove. Pickle brine comprises 4-29% less chlorine.
Get ready for winter with the ONLY Pet Safe Ice Melt you can trust
Closing Thoughts:
Other than the environmentally safe/friendly aspect, for ice melt, its efficacy in ultra-low temperatures, its cost-effectiveness are other important watch-outs that make ice melts a go-to option. 
Other Ice Melt Products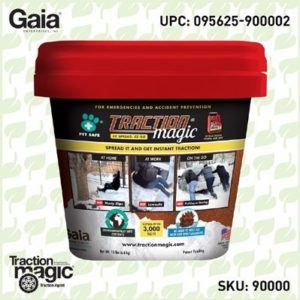 Traction Magic
Stay safe on slippery surfaces with a product that's 100% natural and safe for pets, people, and your property. Use Traction Magic on sidewalks, steps, or as instant traction for your car. Traction Magic provides instant traction on all icy surfaces.
Safe Thaw
Imagine an ice melt you can put down and never worry about. It won't harm animals or children, and it won't damage your property. That's Safe Thaw. Unlike anything else on the market, Safe Thaw can change how winter affects our planet.