What temperature does salt melt ice?
Quickly removing ice from walkways, driveways and decks prevent slip-and-fall accidents that can cause serious injury. The problem with most ice melters, however, is that they are formulated with chemicals harmful to children and pets when ingested or brought in contact with their skin. They also damage driveways, kill vegetation, and harm flooring when tracked into the house.
Safe Paw is the solution. It is a break-through ice melter that is both safe to use, works quickly, and gets the job done at much colder temperatures than most ice melting products.
Comparing Melting Points of Leading Ice Melt Products
This list shows how Safe Paw stacks up against the most common ice melt formulas based on safety and their lowest effective temperature. All temperatures are Fahrenheit: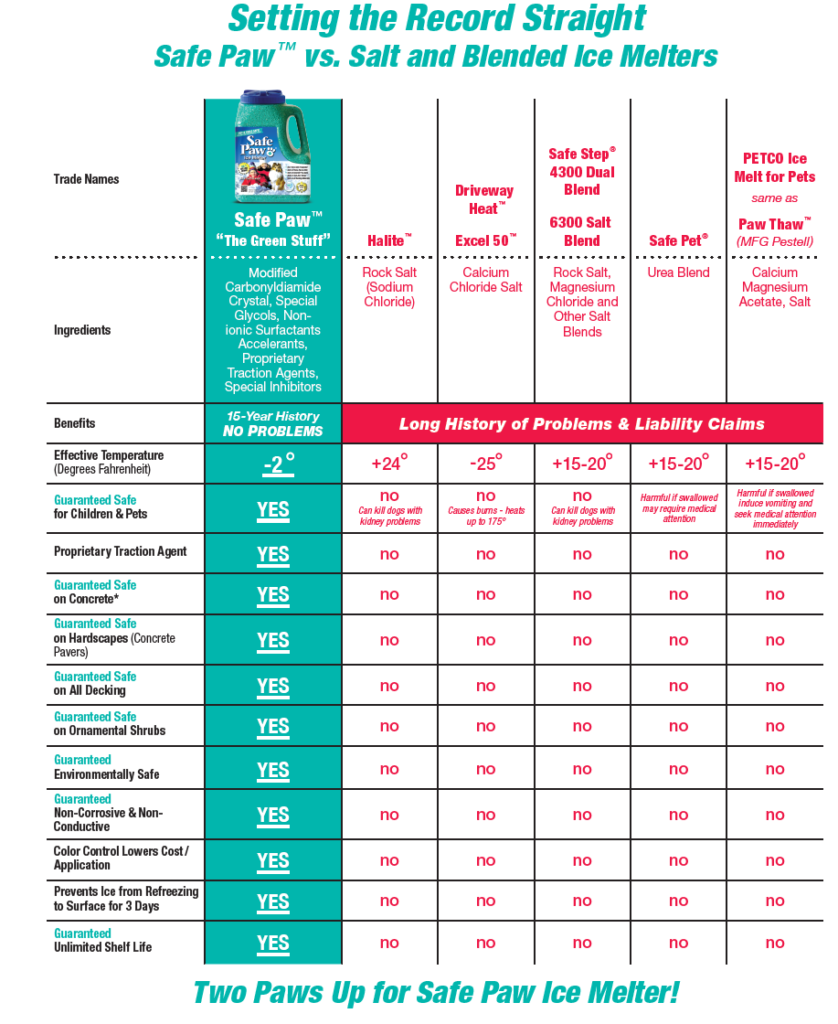 As you can see, only Driveway Heat and Excel 50 melt ice at a colder temperature than Safe Paw. The problem, however, is that those two products are calcium chloride (CaCl2) salt and are the most dangerous of all the products on the list.
The ice-melting benefits of products containing salt are outweighed by the fact that they are poisons that can cause skin burns and blistering as well as irritation to the mouth and throat and stomach upset. Safe Paw ice melt does not have salt and there are no ill effects associated with its use. It is completely non-toxic and does not cause irritation.
Note: Safe Paw is the only salt-free ice melt available. All others are salt-based including Road Runner, Zero Ice, Arctic, Qik Joe, Ice Vice and Peladow, and those mentioned above.
Ice Melt Safe For Concrete And Pets
Safe Paw
The Original and the #1 Pet and Child Safe Ice melter for over 20 years. Guaranteed environmentally safe – will not harm waterways and sensitive wetlands.
Additional Benefits of Safe Paw Ice Melt
In addition to effectively melting ice in sub-zero temperatures and being safe to use, consumers choose Safe Paw instead of traditional ice melting salts for these reasons. Safe Paw:
Works more quickly than salt de-icers
Includes a traction agent that immediately helps prevent slips and falls while the ice is being melted
Uses an environmentally safe formula
Won't corrode metal or harm decking material of any type
Won't cause damage to asphalt, concrete, or pavers
Does not kill vegetation
Won't cause staining or deterioration of flooring materials such as wood, carpet, vinyl, tile, natural stone, etc.
Coats surfaces to keep them ice-free for up to three days after application
What Makes Safe Paw Different?
The difference is in Safe Paw Ice Melt's proprietary formula. Let's compare.
Salt-based ice melt: The most common compounds used in salt-based formulas are sodium chloride, calcium chloride, magnesium chloride, urea, and calcium magnesium acetate.  None of these compounds are safe for pets and kids. In fact, some are so poisonous that medical care might be required if they are ingested. The salt pellets or crystals often dissolve very slowly, so they remain on the surface longer where they attract the attention of pets and kids. The slow rate of dissolving also means that the walkway, driveway, and deck are unsafe for a longer period than when fast-acting Safe Paw de-icer is applied. All salt-based ice melt poses additional threats to your driveway, landscape, and home.
Safe Paw ice melt: Safe Paw is a salt-free ice melter, a formula with a patented blend that is customized to be both safe and effective. In fact, Safe Paw meets the strict criteria required to receive United States governmental agencies' awards for environmental friendliness. Here is a breakdown of the proprietary dual-action formula and why it is more effective than salt:
An outer layer liquefies immediately upon contact to melt and break up the ice surface
The crystalline amide core of Safe Paw then quickly penetrates the structure of the ice where the added glycols break it down for faster melting or easier removal
Salt-free, so there is no danger of salt burns or poisoning
As you can see from the comparison of Safe Paw with salt-based ice melters, there really is no comparison. Safe Paw is more effective than most other products in quickly melting ice and preventing its return. Most importantly, it is safe to use where children and pets are enjoying their time outdoors.
---
Other Products
---