Why Safe Paw Is Perfect For Both Residential And Commercial Users?
Ice melt are a great way to melt away a lot of ice in a short amount of time. However, the biggest problem with some ice melt is that they often contain harmful chemicals.
Even brands that claim to make 'chemical-free' ice melt incorporate a high concentration of chloride, which can cause a lot of harm, not just to your property, but also to you and your loved ones including pets and children.
This is why it is important that you choose a safe product like Safe Paw, which is not only suitable for residential clients but also for commercial users.
Safe Ice Melt For Pets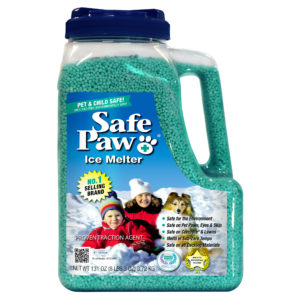 Safe Paw
The Original and the #1 Pet and Child Safe Ice Melt for over 20 years. Guaranteed environmentally safe – will not harm waterways and sensitive wetlands.
What Is Safe Paw Ice Melter?
Safe Paw ice melt is exactly what they claim to be: pet and child-safe ice melt that is good for the environment and causes no harm to the property.
Let's take a look at what exactly makes our ice melt product perfect for both residential and commercial users:
1- Instant Melting
The highlight of Safe Paw ice melter is it's ability to melt away ice almost instantly.
It does so by working on a dual-effect compound. The liquid component penetrates through the surface of the ice, allowing the crystal core to simultaneously seep in and destabilize the ice in order to quicken the melting process.
Thanks to this special dual-effect, Safe Paw ice melt can get the job done in minutes.
So, the next time you're rushing to get somewhere and find snow piled up around your driveway, just let Safe Paw ice melt do its work.
2- Anti-Slip
Another great advantage of using Safe Paw ice melt is that in addition to melting away ice, it is also anti-slip.
Safe Paw incorporates a special traction agent in its chemical-free formula. This agent works hand in hand with the melting components to ensure that you're left with nothing but dry ground without any residual snow. Hence, there's a reduced risk of accidental slips and falls.
This is very important for both commercial and residential users as falls and slips due to a wet floor can result in expensive lawsuits. Similarly, they can result in major injuries including fractures, causing pain and trouble to your loved ones.
3- Concrete Safe
The biggest problem with most ice melt is their tendency to be highly corrosive and damaging on concrete, especially cured and new concrete.
Additionally, such ice melt also leave behind a white layer due to the high concentration of chloride in them.
Thankfully, Safe Paw ice melt is made from a non-corrosive and non-conductive formula.
This means that while it melts away snow, it does so without damaging waterways, cured concrete or any other part of your property.
4- Toxic-Free
If you have any pets and/or curious toddlers then you must be aware of the struggle of keeping their curious hands and mouths away from harmful things.
Most ice melt on the market are known to contain harmful elements that can result in allergic reactions and serious health conditions among children and pets.
This is why it is important to choose a product like Safe Paw as it has been proven to be safe, even if ingested. It is said to be the perfect ice melt to invest in for residential use; however, commercial users can also enjoy the benefits of our ice melt product.
Other Products
Traction Magic
Stay safe on slippery surfaces with a product that's 100% natural and safe for pets, people, and your property. Use Traction Magic on sidewalks, steps, or as instant traction for your car. Made in the USA.
Safe Thaw
Imagine an ice melt you can put down and never worry about. It won't harm animals or children, and it won't damage your property. That's Safe Thaw. Unlike anything else on the market, Safe Thaw can change how winter affects our planet.
---