Guide To Removing Snow From Metal Roofs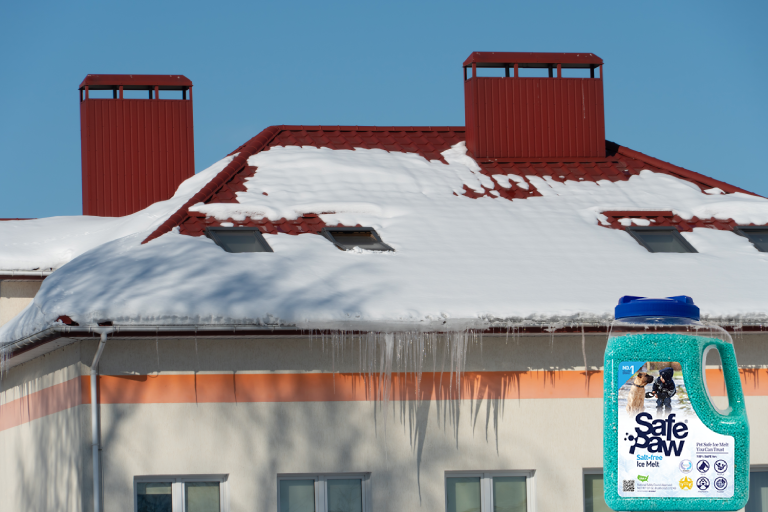 It's time to get your metal roof ready for the winter, and this guide will walk you through the steps of doing that. If your metal roof is already covered in snow, it can be hard to tell which is the best ice melt for roofs and whether or not it needs to be cleaned. That's why we've created this guide—to help you understand what cleaning your metal roof entails and how you can do it yourself.
So, how to use roof ice melters in the right way? 
Get rid of excess snow
You can use a snow rake to remove the excess snow from the metal roof. Attach a pole extender or telescoping handles and slowly rake the snow off the roof onto the ground. It is advisable not to use any sharp tools or metal rake while removing snow from a metal roof.
What's the best ice melt for roofs
You can use metal-friendly and rust-free deicer or ice melt before the first snowfall and spread it on the roof. Very few products in the market are safe for your metal roof, but Safe Paw is one of them. It will not allow snow to stick to the roof and will make it easier to slide it off. 
Eco-Friendly Ice Melt
As an eco-friendly brand, Safe Paw curated an ice melt product specially for all roofs and driveways. It does not rust, soil, become clumpy, or stain. A 100% urea-modified product, Safe Paw contains special ice boosters that cut through ice on any surface. Its special glycols admixture and unique surfactants do not rust metallic surfaces. 
what is snowblowing
Snowblowing is the act of blowing snow off a roof. It can be done with a hand-held snow blower or an attached motorized machine. Roofs are not safe for snowblowing because if you fall off the roof and hurt yourself, your homeowner's insurance won't cover it.
Stay clear from below. 
While we deploy different methods to remove excess snow from metal roofs, one of the foremost things is to stay clear from below the slope while removing it. While removing snow, you must have safe access from inside and outside the house or building. You must time your snow removal. Fresh snow is easier to remove than one piled for longer. 
Conclusion
Winter can make it difficult to keep up with all the work that needs to be done. Using the best ice melt for roofs is one of the most important steps you can take to prevent your metal roof from leaking or rusting. While it's tempting to just leave it until spring, there are several reasons why this isn't a great idea. Now that you know how to do it, it must be a cakewalk!
Other Ice Melt Products
---