I Was Shocked When I Used Safe Paw On My New Concrete
We have come across several feedbacks and positive comments over the past 20 years. However, when people come up to us and tell us they have found their perfect ice melt safe for concrete, nothing compares to that review. We recently spoke with one of our customers, Gina, and she was thrilled to tell her story. 
'We moved to Michigan nearly a year ago. With winters fast approaching, we were not sure how to get ourselves prepped with the right ice melt products or snow removal equipment, all the while keeping our pets' safety on top of our minds. So is magnesium chloride safe for pets is one of the top questions playing on my mind. 
Since our move, we interacted with several neighbors and visited local hardware and Petco stores to check reviews of different ice melt products. From reading online to connecting with our immediate neighbors, we found a general inclination towards Safe Paw. Therefore, we studied the effect online and called for a demo as well. 
Ice Melt For New Concrete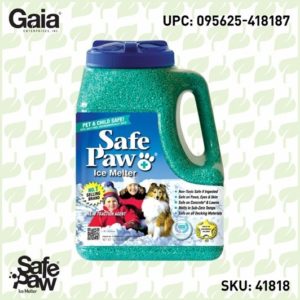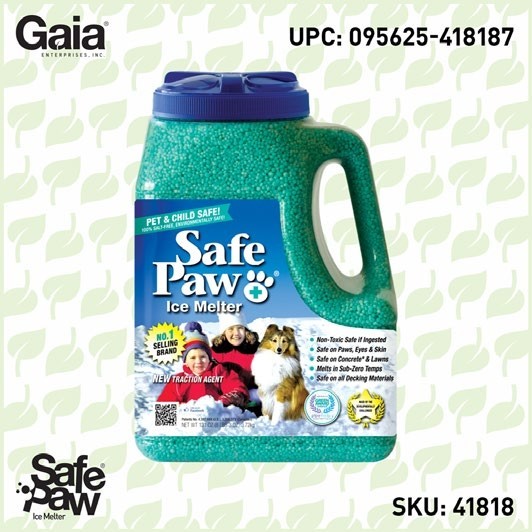 Safe Paw
The Original and the #1 Pet and Child Safe Ice Melt for over 20 years. Guaranteed environmentally safe – will not harm waterways and sensitive wetlands.
We must say, we haven't been happier to find our perfect ice melt safe for concrete. We would like to share our experience using Safe Paw ice melt so far- 
It is readily available at our nearest home depot store. 
It is cost-effective, making it easy for us to budget our winter product storage and usage. 
Safe Paw has all the ingredients listed carefully behind the jar and clearly outlines usage or quantity too. 
We noticed that once we spread it, it melted the ice in a matter of minutes. 
Our pet dog has constantly developed a rash or burnt his paws with other harsh ice melt products. We kept him indoors or made him wear paw socks before stepping out. But with Safe Paw, it was much easier to take him out. 
His paws did not cut or burn when he stepped out, relaxing our nerves to take him out for a stroll when needed. 
Unlike other ice melt products, we also noticed that this did not stain our wooden patio or our carpets. Since it does not leave behind any residue, it did not damage our concrete surface either. 
After the pail got empty, we could easily recycle it for other requirements. 
We have used this product last winter season, and we're super happy with the result. We recommend this to all our friends and family.'
Get ready for winter with the ONLY Pet Safe Ice Melt you can trust
Conclusion
We value all our customers, and their feedbacks reassure us to diversify our product line to suit different requirements. The above review is close to our heart because it was the first time Gina used the product.
We understand your predicament 'is magnesium chloride safe for pets' or 'can we mix rock salt with Safe Paw', etc. However, we never advise you to use Safe Paw and any other product as you will not be able to judge the outcome. 
If you are still contemplating purchasing Safe Paw, walk into the nearest Home Depot store today! 
Get ready for winter with the ONLY Pet Safe Ice Melt you can trust
Other Ice Melt Products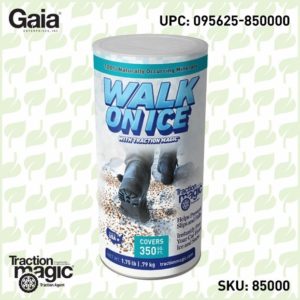 Walk On Ice
Walk On Ice safely in Winter, with the latest addition to the Traction Magic collection. The handy disposable canister can be taken everywhere with the same 100% naturally occurring minerals that provide instant traction on ice or snow.
Safe Thaw
Imagine an ice melt you can put down and never worry about. It won't harm animals or children, and it won't damage your property. That's Safe Thaw. Unlike anything else on the market, Safe Thaw can change how winter affects our planet.