How To Treat Ice On Sidewalks And Driveways?
Salt combinations are popular, but they are also one of the leading causes of concrete deterioration. Salting walkways, steps, and roads to melt ice can cause the cement to pit, resulting in potholes and cracks.
Fortunately, there are alternatives to salt-based deicers that you may use to keep safe while also maintaining the beauty of your concrete this winter. These chloride-free products are safe ice melt for new concrete as well as old ones.
The good news is that you may clear ice from your driveways and sidewalks without salt by using the best ice melt for new concrete.
Ice Melt For New Concrete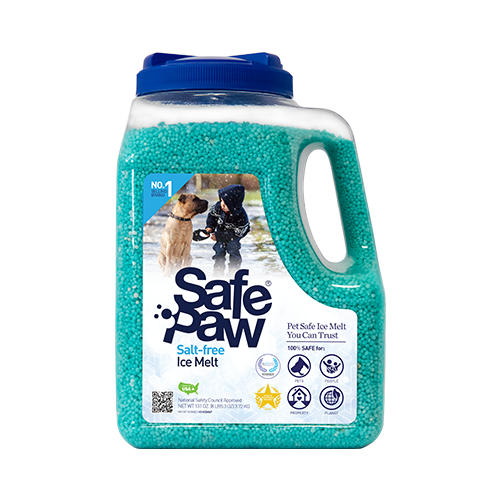 Safe Paw
The Original and the #1 Pet and Child Safe Ice Melt for over 20 years. Guaranteed environmentally safe – will not harm waterways and sensitive wetlands.
Sand Or Kitty Litter
On an icy or snowy driveway or sidewalk, sand can be dispersed. It provides traction without destroying concrete, even though it does not melt ice and snow.
Unused cat litter can be sprinkled on sidewalks and driveways to provide grip and prevent slips and falls without affecting the concrete beneath. Use biodegradable kitty litter to ensure that no pollutants could harm pets, children, or nearby plants. But be prepared to spend considerable time cleaning the sticky substance from your concrete.
Gravel, Wood Chips, Straw, Or Sawdust
Gravel, wood chips, straw, or sawdust are all solutions for adding grip to icy walks and driveways. These compounds are neither harmful to your concrete nor harmful to the environment.
But these solutions don't melt ice or snow, being proactive is a good idea. Prevent ice from forming on your concrete sidewalks and driveways by treating them before bad weather arrives. 
Get ready for winter with the ONLY Pet Safe Ice Melt you can trust
Amide Core With Glycol
This salt-free ice melt has traction agents with a glycol admixture and a modified crystalline amide core. As soon as the liquid component breaks the surface tension, it starts melting ice. The crystal core accelerates the melting process. It creates a barrier that keeps snow from sticking to the surface for up to three days. 
It is used to replace all toxin-based ice melts and does not contain salt. A product that does not consist of salt will not affect the environment. It is the best ice melt for new concrete. It is safe for all surfaces and is non-corrosive.
Calcium Magnesium Acetate
The major ingredients used to make Calcium Magnesium Acetate (CMA) are acetic acid and dolomitic lime. It can help to unthaw ice and snow in varying amounts, making it simpler to maneuver your pathways and driveway in the winter. It is ineffective at temperatures below 20 degrees Fahrenheit.
Get ready for winter with the ONLY Pet Safe Ice Melt you can trust
Calcium Chloride
As a hygroscopic compound, calcium chloride absorbs moisture. This heat quickly melts the ice and snow, turning it into water. It's expensive, can harm your new concrete, and leave a mess behind. 
Gaia Enterprises Inc. delivers 100% pet-safe and environmentally friendly winter products. Safe Paw, our flagship product, is the #1 selling pet-safe ice melt that does not harm pets, safe if ingested, and safe on all types of concrete.
Magnesium Chloride
In densely vegetated areas, magnesium chloride can be utilized safely.
Because it is hygroscopic, it also functions swiftly. Regardless, it is more costly than calcium chloride. It should be avoided because it can erode your fresh concrete.
Conclusion
A natural ice melt with amide core and glycol will break down the molecular structure of ice and snow, preventing water molecules from re-forming into ice crystals. As a result, your concrete will remain safe while melting snow and ice without the need for hazardous chemicals. Pets and children are unaffected even if consumed. Just a smidgeon of this green marvel will keep you safe.
Get ready for winter with the ONLY Pet Safe Ice Melt you can trust
Other Ice Melt Products
Safe Thaw
Imagine an ice melt you can put down and never worry about. It won't harm pets, kids and your property. That's Safe Thaw. Unlike anything else on the market, Safe Thaw can change how winter affects our planet.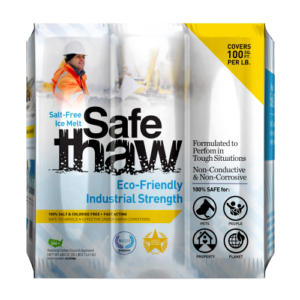 Traction Magic
Stay safe on slippery surfaces with a product that's 100% natural and safe for pets, people, and your property. Use Traction Magic on sidewalks, steps, or as instant traction for your car.