Potassium Chloride Vs. Safe Paw
Ice melt, ice melt everywhere, which one to choose is the question of the season! Online stores, supermarkets, home depots, or hardware stores are full of different types of ice melt products. From potassium chloride ice melt to magnesium chloride, blends, homemade ingredients, rock salt, organic ice melter products, etc., you need to choose from several types of ice melt
We give you a clear distinction between two of the most popular ice melt products in the market- Potassium chloride ice melt and Safe Paw Ice Melter. 
Potassium Chloride Ice Melt:
It is similar to the potassium-based fertilizer formula.
It has a melting point of between 12o F to 25 o F.
It is not available on its own but is mainly found in deicing blends along with rock salt, magnesium chloride, calcium chloride, etc.
It comes in a pellet form.
It is exothermic and gets affected by the freeze/thaw cycle during the day that may cause your concrete to develop cracks.
It is not entirely suitable for your vegetation either.
It is not pet-friendly and may cause them a slight discomfort if they ingest the product accidentally.
It is priced at upwards of $20 for 50lbs, more or less.
Gaia Enterprises Inc. delivers 100% pet-safe and environmentally friendly winter products. Safe Paw, our flagship product, is the #1 selling pet-safe ice melt that does not harm pets, safe if ingested, and safe on all types of concrete.
Non-Toxic Ice Melt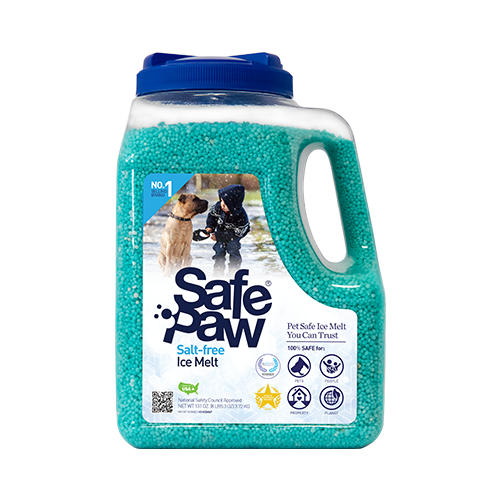 Safe Paw
The Original and the #1 Pet and Child Safe Ice Melt for over 20 years. Guaranteed environmentally safe – will not harm waterways and sensitive wetlands.
Safe Paw Ice Melter 35 lbs/pail
It comprises a non-toxic and 100% environment-friendly carbonyl diamide and glycol admixture that contains traction agents.
It can melt in subzero temperatures as well.
Although it contains greenish-colored pellets, it does not leave any stains on any surface, such as wood, carpets, concrete, asphalt, decking materials, etc.
It is an excellent product for the roof as well.
It is available on its own and does not need to be blended with other ice melt products.
It is endothermic, absorbs solar heat, melts the ice, and remains on the surface for nearly 72 hours.
It is not affected by the freeze/thaw cycle and thus does not cause any damage to your surface.
You can quickly sweep it off the driveway onto your vegetation, which acts as a soil stimulator.
It is 100% pet-friendly and does not burn their paws or upset their stomach even if they accidentally ingest the product.
It is priced at $65 for a 35lbs pail, making it affordable for all sorts of commercial and residential establishments.
Get ready for winter with the ONLY Pet Safe Ice Melt you can trust
Conclusion
Nothing is more important for any establishment than maintaining their premises, wading through harsh winters, and keeping their pets and landscape safe. Even if it is not the entire neighborhood, we are always on the lookout for a product that will protect our garden and vegetation at least. Safe Paw ice melter 35 lbs/pail is handy to pass the winter season smoothly. It is available at all leading pet supply stores, home depot stores, veterinarian offices, online stores such as homedepot.com or amazon.com, etc.
If you must buy a safe product at all times, this is the one for you! 
Get ready for winter with the ONLY Pet Safe Ice Melt you can trust
Other Ice Melt Products
Safe Thaw
Imagine an ice melt you can put down and never worry about. It won't harm pets, kids and your property. That's Safe Thaw. Unlike anything else on the market, Safe Thaw can change how winter affects our planet.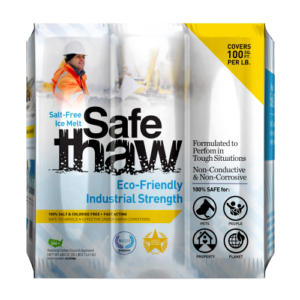 Traction Magic
Stay safe on slippery surfaces with a product that's 100% natural and safe for pets, people, and your property. Use Traction Magic on sidewalks, steps, or as instant traction for your car.