Ice Melt Safe For Driveways
Driveway installers argue about whether concrete or asphalt is the better material, and there is plenty of debate. But one thing they certainly agree on is that rock salt should never be used on either concrete or asphalt.
Rock salt is produced in common blends as sodium chloride, potassium chloride, and magnesium chloride. These formulas are sold under many brand names including Driveway Heat, Excel 50, Halite, Safe Step, Road Runner, Zero Ice, Qik Joe, and Ice Vice. Call it what you will, rock salt is rock salt, and is not a safe ice melt for driveways.
Ice Melt On Driveways
Is Rock Salt A Driveway Safe Ice Melt?
Finding Pet Safe Driveway Salt
Is There Any Safe Ice Melt For The Driveways
Here Is What She Found About Some Of The Ice Melt Brands
How Laura Made The Best Decision?
Online Reviews
Online Product Description
Two Important Questions That Laura Had About Safe Paw
Conclusion
Other Ice Melt Products
Is Rock Salt A Driveway Safe Ice Melt?
Here is the answer to this question-
Rock Salt Is Not A Safe Ice Melt For Driveways Concrete.
Rock salt is proven to cause the deterioration of concrete. Salt is slightly acidic, and the acidity breaks down the chemical bonds essential to concrete's strength. Because concrete freezes more quickly and stays frozen longer than asphalt, salting more often is required, and this makes the problem worse. Finally, most concrete in driveways is reinforced with steel, and salt quickly corrodes steel.
Rock Salt Ice Melt Is Not Safe For Asphalt.
While rock salt doesn't directly destroy asphalt, it does make asphalt's nemesis, freeze/thaw cycles, much worse. Also, rock salt is poisonous and environmentally harmful. Animals and small children like the taste of salt. Once they discover it on the driveway, they are likely to consume more of it. Rock salt on driveways has proven deadly to pets and wildlife, according to the Pet Poison Helpline. It has sent many children to the emergency room with symptoms including burning eyes, throat and skin, nausea and vomiting, diarrhoea and chills, all of which pets can experience too. A less dangerous but still common issue with rock salt on driveways is that it ends up in the landscape along the driveway where it can kill lawns, shrubs and flowers.
Get ready for winter with the ONLY Pet Safe Ice Melt you can trust
Finding Pet Safe Driveway Salt
Savvy homeowners are no longer spreading ice melt that they know has a high potential for causing damage to their expensive investment or worse, poisoning people and pets.
Laura is one such savvy homeowner with two young kids and a furry pet at home. She not only takes care of her household but is also very active in community services. Last winter, she planned for the upcoming snowstorm and got herself an ice melt solution from the nearest store without giving much thought to its ingredients.
And from there, her winter misery started. She spread the colorful pellets before the storm and immediately after the snowstorm. But nothing happened. The snow accumulated did not come down by an inch, even after using half of her ice melt.
Finally, she had to do it the grueling way and had to shovel the snow away from her driveway. While she was busy with the arduous task of shoveling, her little puppy Oreo came out to play in the snow. Nobody paid any heed to it as he always enjoys his run in the yard and driveway.
By the evening time, Oreo was restless and started vomiting. Laura took him to the veterinary. Over there, she learned that Oreo is not alone in his suffering. There are other pets like him. These pets undergo the same plight every year because their owners are not careful while choosing their ice melt solution.
Get ready for winter with the ONLY Pet Safe Ice Melt you can trust
The Vet said to Laura," As a pet owner, it is our responsibility to give them an environment where they are safe. But unfortunately, many of us overlook their safety while buying toxic ice melt."
When she came back home, she immediately read the constituents of her ice melt and found that it has rock salt as the main constituent. Moreover, she also realized the amount of damage her ice melt can leave behind on her driveway and walkways.
After searching on the internet, she realized her mistake. She found that rock salt is not only dangerous for pets but is equally harmful to children. It is highly corrosive and can corrode concrete, asphalt, and even metal.
Rock salt can kill your garden plants and can also pollute the water bodies. Through her research, she became aware of the other harms which salt-based ice melt causes to us and the environment.
Now the question was; Is there any safe ice melt for the driveways and her family? So let us see what she found out through her research.
Safe Salt For Driveways:
Any chloride-containing substance, such as sodium chloride, potassium chloride, or calcium chloride, is never safe for concrete, especially new concrete. These slightly acidic compounds degrade the paste that holds concrete together by widening the pore size and allowing water to pass through. When more water enters into the pores of your concrete, the freeze-thaw cycle becomes more dangerous. When salt penetrates the pore structure, the frequency of freeze-thaw cycles rises, causing damage to concrete. Because they quickly penetrate the thin, protective iron oxide layer and begin the corrosive reaction, they can induce corrosion of reinforcing steel. Hence, this is not a safe driveway salt. 
Safest Ice Melt For Concrete Asphalt:
Even though asphalt is tougher than concrete, salt can still break through its upper coating to cause irreversible damage. Rock salt and other harmful chloride salt cause masonry flaking, scaling, and pockmarks on the driveway or sidewalks.
The safest option for your driveway and walkway is a natural salt-free ice melt. Laura found out that there are brands in the market claiming to be safe driveway ice melt solutions. But this time, she decided to find out more about these ice melt options through online reviews and testimonials, and research. Laura was surprised to know that sodium chloride is one of the main constituents of these so-called 'safe' options. From her experience, she knew that sodium chloride is not a safe option for her kids, pets, and driveway.
Get ready for winter with the ONLY Pet Safe Ice Melt you can trust
Here Is What She Found About Some Of The Ice Melt Brands.
Get ready for winter with the ONLY Pet Safe Ice Melt you can trust
How Laura Made The Best Decision?
When you have to select the best ice melt for the job, price is not the most crucial factor to consider. While rock salt is the most affordable de-icer, it is also the most hazardous to plants, animals, concrete, and asphalt. It is crucial to think about things like environmental impacts. Your hardscape is included in this. Is it appropriate to choose a less expensive product only to have to spend time repairing or replacing a driveway, sidewalk, steps, or walkways later? After contemplating all this, Laura decided to choose the best salt-free, environmentally friendly, pet safe, and kid-safe ice melt.
Before placing her final order, she went through the online reviews and product descriptions for the brand, and here is what she came to know about Safe Paw.
Online Reviews
According to one of the reviews, Safe Paw is better for the environment and animals. That is more important than being sluggish. We only have one planet. Moreover, this ice melt is safe for asphalt driveways and walkways.
Another customer says, unlike most ice melters that claim to be safe for pets and concrete, brick, and other hard surfaces, Safe Paw is safe for all of these. Safe Paw has no salt of any kind, even rock salt. Rock salt is not safe for dogs or concrete, despite the statements on the package of most rock salts, even those advertised as pet safe.
One of the proud pet owners acknowledges the fact that this snow salt saves him a lot of time. It prevents him from having to shovel and chop at ice chunks while being gentle on his pet's paws. Now his pets can enjoy a run in the snow whenever they want.
Online Product Description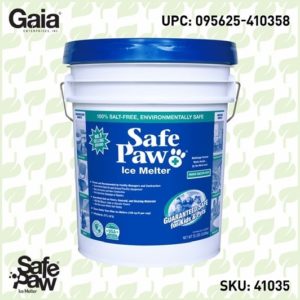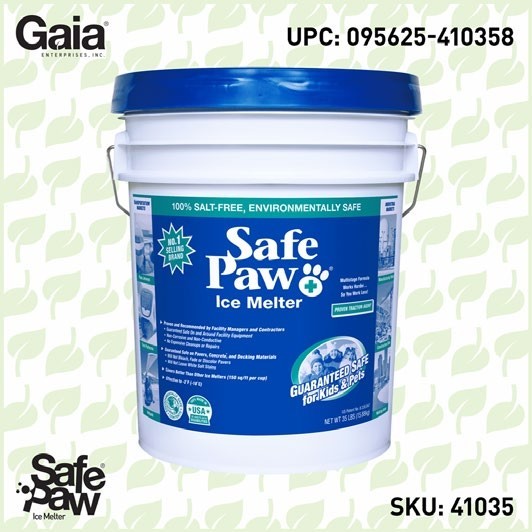 Safe Paw
The Original and the #1 Pet and Child Safe Ice Melt for over 20 years. Guaranteed environmentally safe – will not harm waterways and sensitive wetlands. Unused ice melt is good for years with an unlimited shelf life.
Safe Paw is a patented dual-effect compound. The liquid component starts melting ice instantly while breaking its surface tension. It allows the crystal core to quickly penetrate and destabilize the ice and speed up the melting process. All this while Safe Paw proprietary traction agent provides slip protection. Safe Paw attracts heat to make it even more effective Endothermic reaction takes advantage of a solar effect.
Non-corrosive and non-conductive formula – safe on cured concrete!
Pet and Kid Safe even if ingested.
Concentrated formula – use ½ of what you would use with salt! It lasts 72 hours on the surface!
Salt-free, chlorine-free, acetate free, environmentally safe
Two Important Questions That Laura Had About Safe Paw
Is Safe Paw safe? Unlike rock salt ice melter, Safe Paw natural snow and ice melt is safe for people, pets and the environment. It's so safe, in fact, that it received awards from United States governmental agencies based on very stringent criteria.
Does Safe Paw Melt Ice?
Let's compare magnesium chloride ice melt with safe paw ice melt. Magnesium chloride, the ice melting agent found in many popular rock salt brands, is effective to about 15F, that's 15 degrees above zero. Safe Paw is proven to melt ice in temperatures as low as -2F, that's two degrees below zero. Which product would you rather have to battle ice-covered steps, walkways, and the driveway or have in your car when stuck in icy conditions?
Does Safe Paw Work Immediately?
While it does work very quickly, there is another product from the makers of Safe Paw that is designed to provide instant traction for feet and vehicle tires – Traction Magic. It doesn't melt ice, so there's no wait for it to work. Instead, spiked granules in Traction Magic provide an instant, non-slip surface ideal for steps and sidewalks and for pouring in front of car tires to give them traction on ice and snow.
Safe Paw Alternative Ice Melt And Traction Magic
– two proven products that are safe to use and belong in every home and vehicle. Order some today, and be prepared for the year's worst weather from early fall snows to spring ice storms.
Conclusion
After using Safe Paw, this is what Laura had to say about it: Safe Paw is free of salt and chlorine, as you may have seen. It is not just pet-safe, but it also comes in fun round granules. In white snow, colored pellets or granules make it easier to spot them.
They are easy to clean up with our vacuum, and they do not discolor the floor or rugs even if they get smashed. The granules also do not cut or bleed their paws. What is the deal with concrete? It is now as safe and lovely as new. As a result, I discovered it to be the only ice melt that is both pet and concrete safe.
Get ready for winter with the ONLY Pet Safe Ice Melt you can trust
Other Ice Melt Products
---
Gaia Enterprises Inc. delivers 100% pet-safe and environmentally friendly winter products. Safe Paw, our flagship product, is the #1 selling pet-safe ice melt that does not harm pets, safe if ingested, and safe on all types of concrete.