Ice Melt Safe for Driveways
Driveway installers argue about whether concrete or asphalt is the better material, and there is plenty of debate. But one thing they certainly agree on is that rock salt should never be used on either concrete or asphalt.
Rock salt is produced in common blends as sodium chloride, potassium chloride, and magnesium chloride. These formulas are sold under many brand names including Driveway Heat, Excel 50, Halite, Safe Step, Road Runner, Zero Ice, Qik Joe, and Ice Vice. Call it what you will, rock salt is rock salt, and it is bad for driveways.
Concrete: Rock salt is proven to cause the deterioration of concrete. Salt is slightly acidic, and the acidity breaks down the chemical bonds essential to concrete's strength. Because concrete freezes more quickly and stays frozen longer than asphalt, salting more often is required, and this makes the problem worse. Finally, most concrete in driveways is reinforced with steel, and salt quickly corrodes steel.
Asphalt: While rock salt doesn't directly destroy asphalt, it does make asphalt's nemesis, freeze/thaw cycles, much worse. Also, rock salt is poisonous and environmentally harmful. Animals and small children like the taste of salt. Once they discover it on the driveway, they are likely to consume more of it. Rock salt on driveways has proven deadly to pets and wildlife, according to the Pet Poison Helpline. It has sent many children to the emergency room with symptoms including burning eyes, throat and skin, nausea and vomiting, diarrhoea and chills, all of which pets can experience too. A less dangerous but still common issue with rock salt on driveways is that it ends up in the landscape along the driveway where it can kill lawns, shrubs and flowers.
Ice Melt On Driveways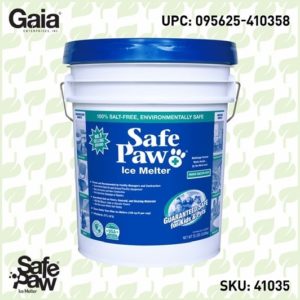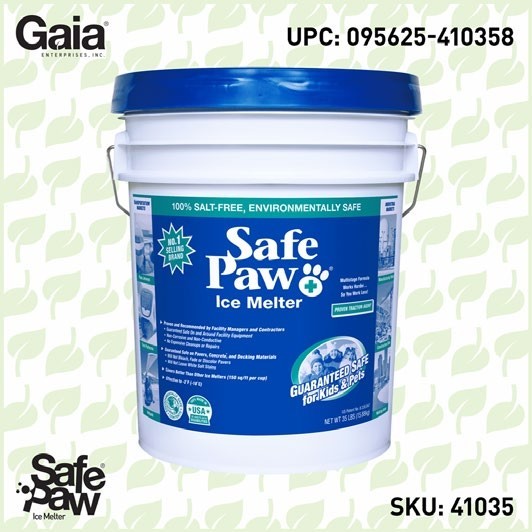 Safe Paw
The Original and the #1 Pet and Child Safe Ice Melt for over 20 years. Guaranteed environmentally safe – will not harm waterways and sensitive wetlands.
Ice Melt That Is Safe For Driveways And More
Savvy homeowners are no longer spreading ice melt that they know has a high potential for causing damage to their expensive investment or worse, poisoning people and pets.
The good news is that a safe salt alternative for roads is available. Safe Paw is the top-rated ice melt that does not contain any rock salt.
What Safe Paw does contain is a proprietary blend of two unique ingredients. The first is a patented outer layer that liquefies on contact and rapidly melts the ice surface. That process allows the amide core to penetrate the ice to break it up so that it melts faster or can be scraped off the driveway with far greater ease. Note: We do not recommend using Safe Paw on pavement that is newer than six months old.
Two Important Questions about Safe Paw
Is Safe Paw safe? Unlike rock salt ice melter, Safe Paw natural snow and ice melt is safe for people, pets and the environment. It's so safe, in fact, that it received awards from United States governmental agencies based on very stringent criteria.
Does Safe Paw melt ice? Let's compare magnesium chloride ice melt with safe paw ice melt. Magnesium chloride, the ice melting agent found in many popular rock salt brands, is effective to about 15F, that's 15 degrees above zero. Safe Paw is proven to melt ice in temperatures as low as -2F, that's two degrees below zero. Which product would you rather have to battle ice-covered steps, walkways and the driveway or have in your car when stuck in icy conditions?
Here's another question: Does Safe Paw work immediately? While it does work very quickly, there is another product from the makers of Safe Paw that is designed to provide instant traction for feet and vehicle tires – Traction Magic. It doesn't melt ice, so there's no wait for it to work. Instead, spiked granules in Traction Magic provide an instant, non-slip surface ideal for steps and sidewalks and for pouring in front of car tires to give them traction on ice and snow.
Safe Paw alternative ice melt and Traction Magic – two proven products that are safe to use and belong in every home and vehicle. Order some today, and be prepared for the year's worst weather from early fall snows to spring ice storms.
---
Other Products
---