How To Slip-Proof Your Driveway This Winter?
Although the winter mornings appear to be fresh and beautiful for taking a morning walk with your family, there are still several safety risks to be aware of. And they're particularly related to the slippery driveway and pathway you're using.
It can be extremely dangerous for you and others around to leave their homes on days when the snow melts and then refreezes. Salt-free ice melt works best in this situation.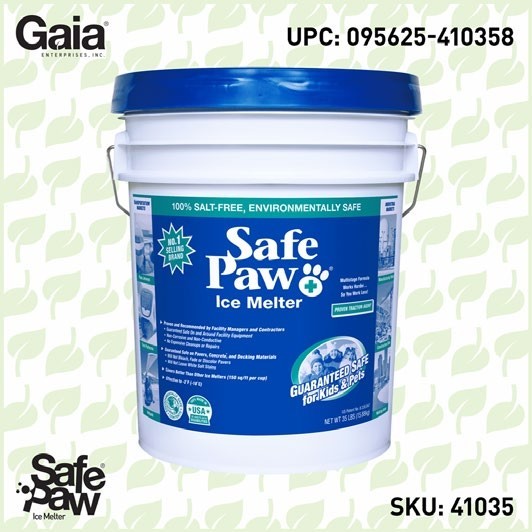 Safe Paw
The Original and the #1 Pet and Child Safe Ice Melt for over 20 years. Guaranteed environmentally safe – will not harm waterways and sensitive wetlands.
Prefer Using A Blower
If you want to avoid the negative impacts of snow on yourself and those around you throughout the winter season. It is advised that you use a blower. It's one of the most efficient strategies to keep your house's walkway and driveway from becoming frozen.
Although shoveling is one of the most effective ways to remove ice off roads. It is a lengthy operation and hard on your back too. Removing snow from roadways using a snow blower takes half the time. In other cases, less time is required to complete the task.
Get ready for winter with the ONLY Pet Safe Ice Melt you can trust
Choose The Most-Appropriate Deicer
Deicer melts the snow on sidewalks and other surfaces. Also, keep the driveway from becoming slick.
The cheapest deicer is rock salt. Despite this property, when the temperature drops below 15F-20F, rock salt is proven to be ineffective. One thing to keep in mind while using rock salt to remove snow from your walkway driveway to make it slip-proof is that you must constantly keep a suitable amount on hand. Otherwise, the vegetation in the surrounding area may die out prematurely.
Different types of chemical compounds mixed with chloride make up these specific deicers. For example, when potassium, magnesium, and chlorine are combined work as excellent deicer. But potassium chloride, magnesium chloride dangers concrete, plants, and pets.
The most effective deicer is a salt-free deicer like Safe Paw. Even in locations with the most extreme temperatures, it has the most effective ice melter which is environmentally safe. Safe Paw is a salt-free ice melter that is eco-friendly and pet safe. It is one of the main reasons why salt-free deicers are the most popular type of deicers.
Get ready for winter with the ONLY Pet Safe Ice Melt you can trust
Other Alternatives
Ice melt works effectively but you can also use sand, kitchen litter, gravel, and kitty litter. It aids in the creation of traction on a variety of ice walkways and driveways. However, these traction agents are not very effective and create a mess that has to be cleaned afterwards.
Heated driveway is another good option if you completely want to avoid any shoveling. It also helps you in minimizing the use of ice melt on the driveway.
Final words
Now that you've learned how to make your walkway and driveway slip-proof for the winter, we hope you'll be able to take care of it on your own.
Get ready for winter with the ONLY Pet Safe Ice Melt you can trust
Other Ice Melt Products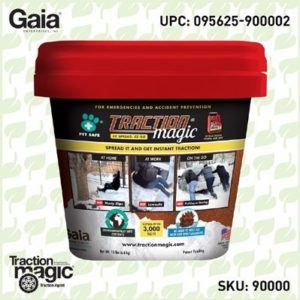 Traction Magic
Stay safe on slippery surfaces with a product that's 100% natural and safe for pets, people, and your property. Use Traction Magic on sidewalks, steps, or as instant traction for your car. Traction Magic provides instant traction on all icy surfaces.
Safe Thaw
Imagine an ice melt you can put down and never worry about. It won't harm animals or children, and it won't damage your property. That's Safe Thaw. Unlike anything else on the market, Safe Thaw can change how winter affects our planet.