Homemade Ice Melt Vs Safe Paw For Concrete
You may find several snow-melting products to keep your driveway clear all winter. However, if you're looking for ice melt that won't damage concrete, then you have to be selective.
Not every ice melt available in the market is safe for your kids, pets, and concrete.
But the good news is that some natural ice melt is available in the market that is salt-free and suitable for your concrete. These salt melts are awarded for being safe for people, pets, and the environment as well.
Homemade Ice Melt
Let's first discuss homemade ice melt and its pros and cons.
Alfalfa Meal
This is a widely used fertilizer and an environmentally friendly and pet-friendly deicer for your concrete driveway. However, the biggest con with Alfalfa is that it attracts rodents and wildlife.
Kitty Litter
Kitty litter is believed to be an ice melter by some. However, it only adds traction. A small amount of it scattered around is sufficient to add traction to your concrete driveway. It won't work as quickly as other ice melts, and it might not work as well, but it's a cheap option for pet owners. However, rubbish clings to shoes and is unsightly.
Get ready for winter with the ONLY Pet Safe Ice Melt you can trust
Sugar
Sugar is another good alternative to salt used for de-icing as it lowers the freezing point of the water. But as it is expensive, you may not intend to use it on broader surfaces.
Coffee Ground
Coarsely ground or coffee can be used to melt ice on a concrete driveway. If coarsely ground, it will provide some traction. Extended use of your concrete driveway can create stains and, like kitty litter, can be messy.
Eco-Friendly Ice Melt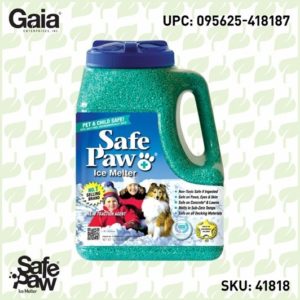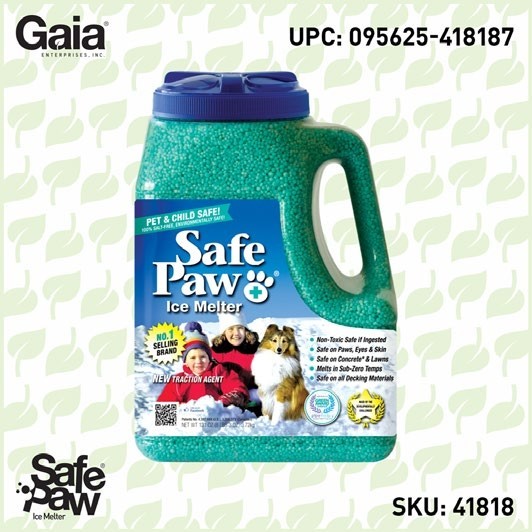 Safe Paw
The Original and the #1 Pet and Child Safe Ice Melt for over 20 years. Guaranteed environmentally safe – will not harm waterways and sensitive wetlands.
Beet Juice
When beets and brine are combined with salt, ice melt is formed. Remember that beet juice alone (without salt) may not be very effective as an ice melt. It leaves a faint brown or crimson stain on your surface. In the spring, the sugar concentration might attract ants and insects. In a hard frost, it's not as successful as other ways.
Safe Paw
Though the above-listed DIY homemade ice melt options turn out to be quick remedies, they are not environmentally friendly. Each one of them has its cons. The reason being they are not built to melt ice, adding traction, and keeping your driveway safe.
So, Safe Paw is undoubtedly the best alternative-100% safe on your kids, pets, and environment. The ice melter ingredients are all-natural. There is no mess left over, as in the case of beet juice, etc. Safe Paw is also effective on concrete and does not result in any caustic impact on metals, while salt in its place would corrode furniture, concrete, and metals. It is definitely not messy like kitty litter or causes stains like the coffee ground or beet juice.
That said, we once again reiterate that Safe Paw is effective in low temperatures of up to -2 degrees below zero.
Get ready for winter with the ONLY Pet Safe Ice Melt you can trust
Other Ice Melt Products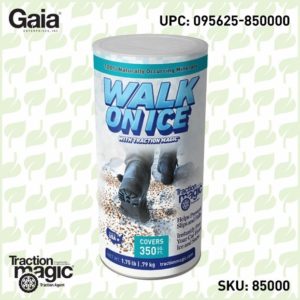 Walk On Ice
Walk On Ice safely in Winter, with the latest addition to the Traction Magic collection. The handy disposable canister can be taken everywhere with the same 100% naturally occurring minerals that provide instant traction on ice or snow.
Safe Thaw
Imagine an ice melt you can put down and never worry about. It won't harm animals or children, and it won't damage your property. That's Safe Thaw. Unlike anything else on the market, Safe Thaw can change how winter affects our planet.