Concrete Pavers? Use THIS Ice Melt
Concrete pavers, whether interlocking or architecture, adds aesthetic value to your outdoor look. Patio and backyard are the common places where concrete pavers are installed.
However, taking care of concrete pavers is not easy. You cannot leave it covered in snow and ice for a longer duration. Then how do you remove the layer of ice from your concrete pavement?
Here's a detailed guide to help you buy a good Ice Melt safe for brick pavers and concrete pavers:
1. Ingredients:
This is the first thing you must do before buying an ice melt. Chemical ingredients can harm your pavement. If you're looking for an ice melt safe for brick pavers then salt is also not the best choice either. Every company displays the composition of different ingredients on the jar. For example, Safe Paw clearly mentions the composition: such as modified carbonyl diamide crystal, special glycols, non-ionic surfactants, etc. Thus, Safe Paw does not contain any chemicals or harmful compounds that can damage your concrete or brick pavement.
Ice Melt Safe For Concrete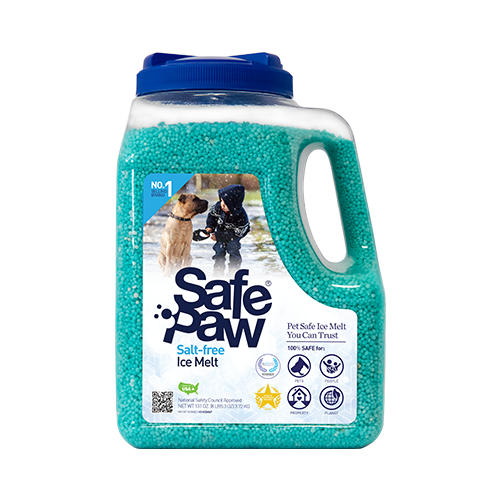 Safe Paw
The Original and the #1 Pet and Child Safe Ice Melt for over 20 years. Guaranteed environmentally safe – will not harm waterways and sensitive wetlands.
2. Application:
It is also important that you read the instructions on the ice melt packaging to ensure that you do not overuse it. With Safe Paw, you get a shaker cap that will help you to spread the ice melt granules evenly without any extra effort. This way you do not overuse the product.
With other ice melt products, you will need to check how to apply the product before using it. For example, some may need a different measuring unit to spread the pellets or granules.
3. Safety:
We often take this for granted. But your safety is important. Please read the safety instructions before use. Most of the ice melt products use harmful chemicals. Therefore, wearing gloves while applying the ice melt ensures your safety as it does not directly contact your skin. However, with Safe Paw, you can rest assured about safety as the ice melt does not cause any irritation to your skin and keeps your pets' paws safe from cracks and cuts. For this reason, many use fertilizer for ice melt but that is also not the best alternative.
Get ready for winter with the ONLY Pet Safe Ice Melt you can trust
4. Demo:
If you are finding it difficult to choose the proper ice melt, you can always ask the company executives to come and give you a demo of the product. While it may or may not hold for other companies, at Safe Paw, we ensure that we tend to your request, and you get a demo if you ask for it. It is because, we always prioritize customer satisfaction, and product quality over anything else. It, in turn, translates into building lasting relationships with our customers.
Gaia Enterprises Inc. delivers 100% pet-safe and environmentally friendly winter products. Safe Paw, our flagship product, is the #1 selling pet-safe ice melt that does not harm pets, safe if ingested, and safe on all types of concrete.
5. Reviews:
Reviews from various online sources help you to make a correct informed decision. Look for the latest reviews and testimonials for the ice melt you want to buy. Whether it is via Yelp or Google reviews, these give you an idea of the products' effectiveness. You can also check with your neighbors who are already using the product to confirm its durability.
Get ready for winter with the ONLY Pet Safe Ice Melt you can trust
Other Ice Melt Products
Traction Magic
Stay safe on slippery surfaces with a product that's 100% natural and safe for pets, people, and your property. Use Traction Magic on sidewalks, steps, or as instant traction for your car.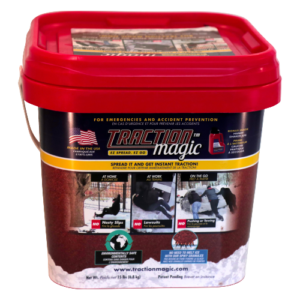 Safe Thaw
Imagine an ice melt you can put down and never worry about. It won't harm pets, kids and your property. That's Safe Thaw. Unlike anything else on the market, Safe Thaw can change how winter affects our planet.