Safe Paw: Being Responsible
The biggest challenge during winter is clearing the snow off your driveway and keeping yourself safe from falling. With several brands selling ice melt safe for pets and concrete, we know the choice can overwhelm you and make you wonder if it's true or not. With 100% environment-friendly ice melt ingredients, Safe Paw encourages users to take responsibility for their surroundings, home, and pets.
We know the number of ice melt ingredients in the market that claim to be safe but aren't in reality. Few products such as calcium chloride, magnesium chloride, potassium chloride, rock salt, etc., are popularly used for deicing surfaces in residential and commercial properties. But the repercussions of using these ingredients repeatedly are harmful to the environment and concrete. You need responsible ice met safe for pets and concrete to help you save on long-term expenses.
Why Is Safe Paw A Responsible Product?
Safe Paw is not an ice melt, and nor is it potent like rock salt. Instead, it is a patented dual-effect compound with guaranteed results to clear a surface of the ice. In addition, Safe Paw ice melt ingredients do not clump, dry, or become soggy over time with an unlimited shelf-life and zero storage issues. 
Gaia Enterprises Inc. delivers 100% pet-safe and environmentally friendly winter products. Safe Paw, our flagship product, is the #1 selling pet-safe ice melt that does not harm pets, safe if ingested, and safe on all types of concrete.
Safe Paw believes in creating an environment clean and safe for all living beings. Our key differentiators include-
Get ready for winter with the ONLY Pet Safe Ice Melt you can trust
– Building safe neighborhoods free of unwanted ice melt ingredients polluting the land, soil, and your house.
– Helping you make an informed decision by choosing the proper ice melt safe for pets and concrete. Safe Paw offers you a combination of benefits that are free of salt and chlorides.
– You can reuse the residue for gardening and nourish the soil. With the vital ingredient Carbonyl Diamide, we know the positive results your vegetation will get with it.
Pet Friendly Ice Melt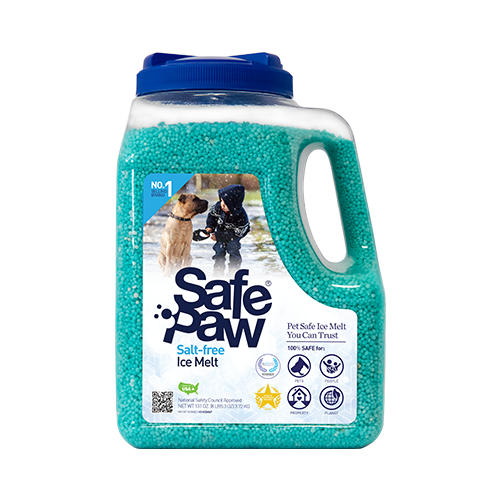 Safe Paw
The Original and the #1 Pet and Child Safe Ice Melt for over 20 years. Guaranteed environmentally safe – will not harm waterways and sensitive wetlands.
– Another unique aspect of Safe Paw is the safety of pets and kids. With a regular ice melt, you have to wait for the ice to melt and then step out with your pet. There are times when their paws may skid and burn. It turns out to be a nasty injury for them to go through, making you anxious. With Safe Paws' traction enabled formula, you can relax and lead a stress-free winter without increasing your medical or emergency room expenses.
– It is odorless and does not leave any residue.
– Since it comes in a jar, it can be recycled and used to store other things in the house. It helps to cut down plastic waste and makes the product even more beneficial in the long run.
Get ready for winter with the ONLY Pet Safe Ice Melt you can trust
Conclusion
While these are the key things to keep in mind, you also need to ensure that you give yourself enough time to prepare for winters. Buying an ice melt safe for kids and concrete is your priority, and you have to stock your product in advance. Speak with people using the product to help you get a better perspective of its usage and benefits.  
Get ready for winter with the ONLY Pet Safe Ice Melt you can trust
Other Ice Melt Products
Safe Thaw
Imagine an ice melt you can put down and never worry about. It won't harm pets, kids and your property. That's Safe Thaw. Unlike anything else on the market, Safe Thaw can change how winter affects our planet.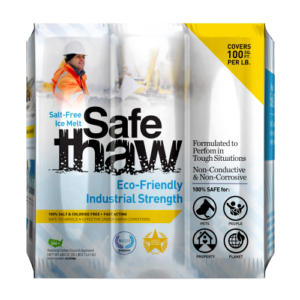 Traction Magic
Stay safe on slippery surfaces with a product that's 100% natural and safe for pets, people, and your property. Use Traction Magic on sidewalks, steps, or as instant traction for your car.