3 Reasons Why Buying Ice Melt Is An Investment
It's best to start thinking about ice melt even before the arrival of snowy white winters. Choosing the correct ice melt for your business will help you achieve the best outcomes. Many ice melt contains chloride, a threat to the wellbeing of your family, pets, plants, and surfaces. So, is ice melt a worthy investment? In this article, we will discuss why buying an ice melt is an investment? And another vital topic of discussion is what makes safe paw ice melt the safest option. 
Environmentally Safe Ice Melt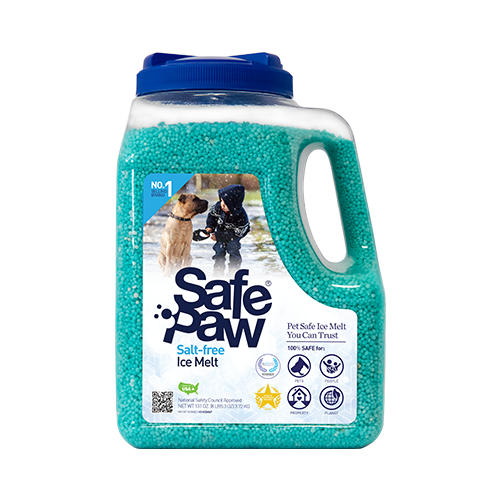 Safe Paw
The Original and the #1 Pet and Child Safe Ice Melt for over 20 years. Guaranteed environmentally safe – will not harm waterways and sensitive wetlands.
Why Is Ice Melt An Investment?
1. Effectively Melt Ice –
We all want to save money, but some people think that not getting an ice melt is a cost-effective strategy. But this mistake of not investing in an ice melt can cost you money, effort, and time too. You can save a small amount by not buying the ice melt but will be spending a huge sum on costly repairs, cleaning, and liabilities. You need to invest in safe and effective ice melt each winter to avoid winter worries.
Gaia Enterprises Inc. delivers 100% pet-safe and environmentally friendly winter products. Safe Paw, our flagship product, is the #1 selling pet-safe ice melt that does not harm pets, safe if ingested, and safe on all types of concrete.
Although it may seem self-evident, ice melt's capacity to dissolve ice is undoubtedly its most significant benefit. Unlike other chemicals and homemade melters, the ice melt prevents ice from forming on asphalt, concrete, and other surfaces. Ice melt works well in all conditions, whether as a pretreatment before the storm or after snow accumulation.
Get ready for winter with the ONLY Pet Safe Ice Melt you can trust
2. Safety For All –
Chloride-based products can burn your pet's paws or fry your plants. They can cause serious health issues if ingested by pets. Rock salt is toxic for your plants, pets, and concrete. Another chloride-based ice melt is magnesium chloride. Is magnesium chloride safe for pets? No, it can pose a threat to your pets and affect their health in winters.
Safe paw ice melt does not pose the same dangers as salt-based products. It is free from any hazardous chemicals and is safe for pets, plants, and grass. It makes pedestrian pathways significantly safer. It also aids in ensuring safe passage for motor vehicles, even before a storm has started while providing a safety shield for the surfaces.
Get ready for winter with the ONLY Pet Safe Ice Melt you can trust
3. Helps You Avoid Legal Trouble –
Another benefit of ice melt, especially for property owners, is that it reduces their legal liabilities. Effective ice melts take less time to melt the ice. As a property or business owner, you need to keep your location safe to avoid the possibility of injuries and lawsuits.
You will be the one to foot the bill if someone slips and falls on your property due to an icy, untreated surface. Worse, if the incident is serious enough, you may face legal action. You can avoid the liability claim by using ice melt on the driveways and sidewalks around your home or company. There are ice melts that have traction agents. It makes the product more effective in decreasing slipping and tripping on slick surfaces.
Conclusion
Ice melt not only melts ice keeping your premises free from snow and ice but also helps you avoid any slip and fall incidents happening in your premises. Unlike rock salt, it is safe for pets, plants, and the environment.
Other Ice Melt Products
Safe Thaw
Imagine an ice melt you can put down and never worry about. It won't harm pets, kids and your property. That's Safe Thaw. Unlike anything else on the market, Safe Thaw can change how winter affects our planet.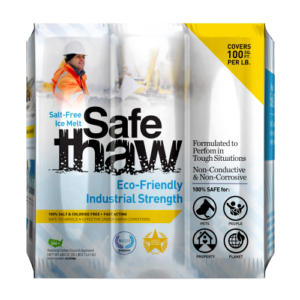 Traction Magic
Stay safe on slippery surfaces with a product that's 100% natural and safe for pets, people, and your property. Use Traction Magic on sidewalks, steps, or as instant traction for your car.