Ice Melt Alternatives
Removing ice from the driveway, steps, and walkways and having a product that will help get your car going in slippery conditions are winter essentials.
However, some of the best-known ice melt products are not safe to use. The "cure" is almost worse than the problem. For example, most traditional ice melt uses some form of rock salt in the mix – magnesium chloride, calcium chloride, or potassium chloride. What do these chloride products have in common? They cause some or all the following problems in people and pets:
Skin irritation and blistering
Eye, nose, mouth, throat, and lung burning from contact or inhaling rock salt dust
Nausea, vomiting, and diarrhea if ingested
Metal fume fever when inhaled that produces fever, chills, muscle and chest pain, and increased white blood cell counts
Homeowners and pet owners are shouting a collective, "No Thanks!" to these common ice melt products including Driveway Heat, Excel 50, Safe Step 4300 and 6300, and Halite.
Ice Melt Safe For Concrete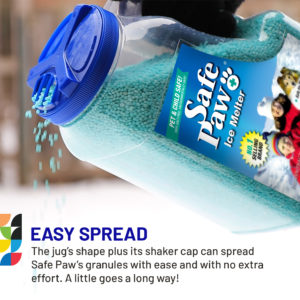 Safe Paw
The Original and the #1 Pet and Child Safe Ice Melt for over 20 years. Guaranteed environmentally safe – will not harm waterways and sensitive wetlands.
Common Ice Melt Alternatives
Here are the most popular ice melt alternatives with pros and cons for each:
Sand – Many municipalities are using sand instead of or mixed with road salt, and it does provide a decent grip on ice. However, when used for residential purposes, it is hard on pet paws. Tracked inside, sand will mar any flooring surface quickly. Sand, after all, is the main ingredient in sandpaper.
Heated mats – These pricey devices plug into a 110-volt outlet or a car's 12-volt socket. They're great for small areas like the front stoop or in front of car tires, but if you try to clear an entire driveway with one, the job will be done about the time the next storm comes through or the spring thaw arrives.
Kitty litter – This product does a fantastic job of absorbing moisture, but it's too soft to grip the ice, and it becomes very slick when wet.
Coffee grounds and ashes – Both provide minimal gripping power on ice, and most of us have neither material in abundance unless we're drinking way too much coffee or polluting the air with wood smoke.
Potassium acetate, urea fertilizer, and softener salt – In short, they are all poisonous to you, your pets, and the planet in the concentrated amounts needed to melt ice.
Effective and Safe Ice Melt Alternatives
That's the combination to look for – an ice melt that is both safe and effective. Safe Paw covers both angles remarkably well. First, it is the only leading ice melt alternative that is safe because it's the only one that has no salt in its blend.
How safe is Safe Paw ice melt? It meets the strict guidelines required to receive the United States governmental agencies' awards for environmentally safe products. Safe Paw is the right choice for you, your pets, and the world we all share.
Safe Paw road salt alternative uses a proprietary blend of safe ingredients that break down the structure of ice, so ice melt products quickly and can be scraped away more easily. There's no salt at all, only ingredients guaranteed (and recognized by the EPA) to be safe.
Safe Paw is an excellent choice for use around your home where it won't harm you, your pets, the lawn, or your indoor flooring. Putting a bag in the car makes sense too, or choose Safe Paw's sister product, Traction Magic, for help on slick roads. Traction Magic doesn't use an ice melter, so there's no waiting for it to work. It's an ice gripper the delivers instant traction on ice and packed snow. An absorbing agent in Traction Magic soaks up surface water, the element scientifically shown to make ice slippery. Then, crystalline spikes grip the ice to provide a safe, effective surface for car tires, shoes, and paws. Like Safe Paw, Traction Magic has been tested for safety, and it is ISO 9001 certified and meets the tough OSHA safety standards.
Dump the salt, and pick up Safe Paw alternative ice melt instead. And for instant traction for walking and driving, grab a bag of the gripper, Traction Magic.
---
Other Products
---