Winter Safety Tips For Pets
If you have a cat that loves to stretch out under the sun or a dog that spends most of its time out in the backyard, then the arrival of winter may be somewhat of a rude awakening to them.
While nature greatly protects animals against harsh weather conditions through dense fur, it alone might not be enough. This is why it is important to take steps to ensure your pet does not suffer no matter how cold it gets.
The best option is to remove snow by using a no salt ice melt that works well and does not harm your pets or the surroundings. For more protection, follow these winter safety tips for pets:
Pet Safe Ice Melt
Safe Paw
The Original and the #1 Pet and Child Safe Ice Melt for over 20 years. Guaranteed environmentally safe – will not harm waterways and sensitive wetlands.
1. Keeping Warm
This may sound weird because pets have fur and can keep themselves warm, right?
Well, not really. Remember, mammalian heat retention systems can be disturbed during extreme temperatures. If it is too cold for you, then it is probably too cold for your pet as well. 
This is very similar to how mountain climbers can suffer from hypothermia no matter how many layers of clothes they put on.
For animals with shorter fur, this problem can be ten times worse.
This is why it is important to keep your pets warm during winters. You can do this by providing them with warm, dry and draft-free shelters, lots of nutrients, room temperature water, and a heating pad.
Remember not all breeds of cats and dogs are made to bear the extreme cold, hence be careful and provide your pet the care it needs.
2. Stop Your Dog From Playing In The Snow
As discussed in one of our previous articles titled 5 Common Pet Injuries & How To Avoid Them, playing in the snow can be bad for your pets as it can result in injuries including fractures.
The best way to prevent this is to remove snow as quickly as possible. You can use shovels if there isn't much snow but it can be very tiring. It might be a better idea to use a reliable no salt ice melt.
3. Reflective Collars
Winters are dark. If you take your dog on a walk in the evening, then consider investing in a reflective collar to ensure your pet is visible no matter how dark it is.
Reflective collars can reduce the risk of road accidents and prevent pets from getting lost.
4. Toxic Foods
You will find a lot of chocolate and other celebratory foods in the household during winters. While these holiday essentials taste well, they can be harmful to the health of your pet.
Make sure to keep toxic foods away from your pet so that you or your pet face no trouble during the winter season.
5. Encourage Indoor Litter Use
If you live in a city where it gets extremely cold then it is best to not allow your pets outside for even a second.
As bizarre as it may sound, leaving your pets out in the cold for a minute to urinate could lead to hypothermia and frostbite.
Provide your pets with a litter box indoors so that they have no reason to step outside. You might have to provide a little training but it's worth it.
6. Avoid Toxic Ice Melters
You will find dozens of ice melt on the market but not all are made equal. In fact, some are extremely toxic and can cause burns and allergic reactions. Make sure to only buy a product that is 100% safe and effective, like our Safe Paw no salt ice melt.
Browse our website to know more.
Other Products
Traction Magic
Stay safe on slippery surfaces with a product that's 100% natural and safe for pets, people, and your property. Use Traction Magic on sidewalks, steps, or as instant traction for your car. Made in the USA.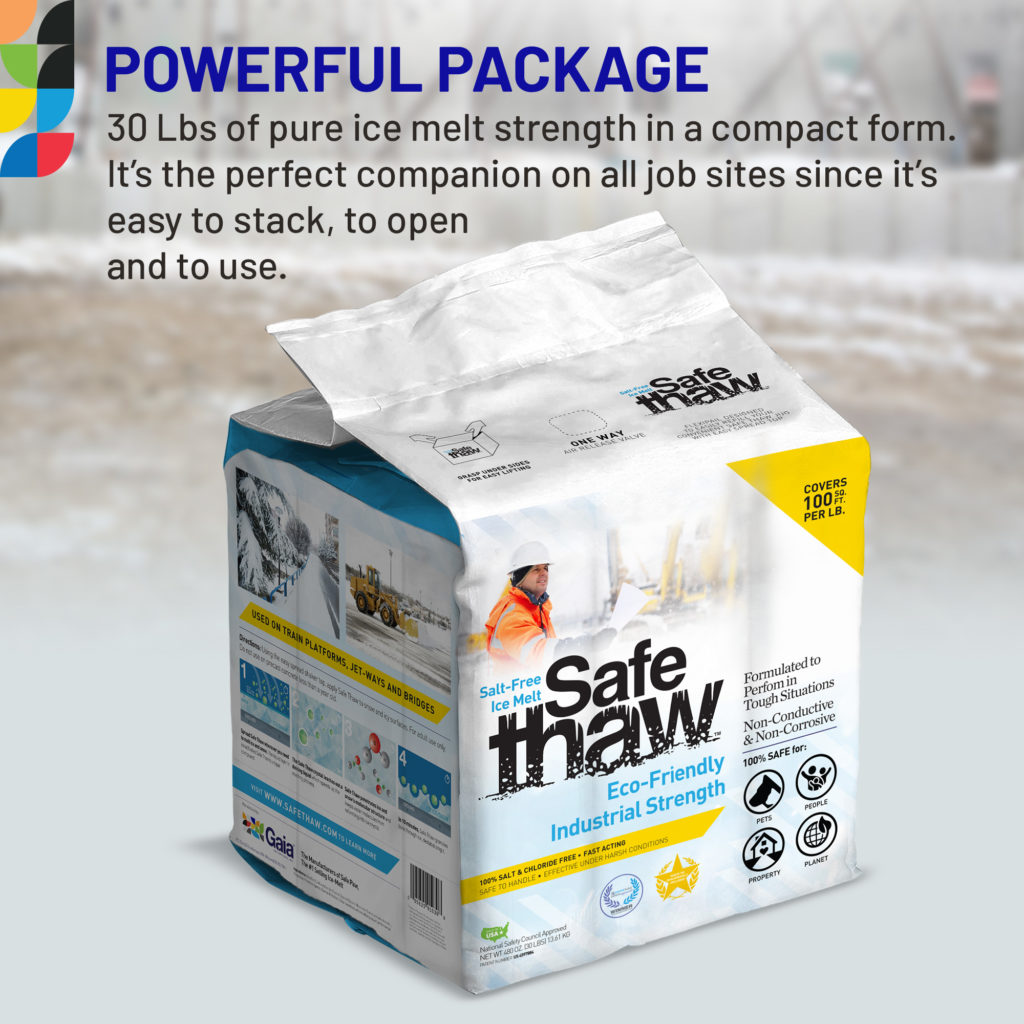 Safe Thaw
Imagine an ice melt you can put down and never worry about. It won't harm animals or children, and it won't damage your property. That's Safe Thaw. Unlike anything else on the market, Safe Thaw can change how winter affects our planet.
---