Top 5 Ways To Avoid Pet Injuries This Winter
The Winter season can be hard on us and our pets too. Howling winds, drifting snow, and freezing rain can be scary not just for us but for our pets as well. Winter pet injuries can be severe to our four-legged friends. Pet's tolerance for cold weather may depend on various factors like- their body fat, activity level, age, fur on the body, etc. Slippery and icy streets, poisonous ice melt all around, and freezing weather can lead to various pet injuries that we should be aware of before the situation becomes out of control.
Luckily there are ways that we'll discuss in this article through which we can avoid winter pet emergencies.
Pet Friendly Ice Melt
Safe Paw
The Original and the #1 Pet and Child Safe Ice melter for over 20 years. Guaranteed environmentally safe – will not harm waterways and sensitive wetlands.
Here Are Some Tips To Protect Your Pets This Winter-
1- Keep Them Inside
Hypothermia and Frostbite are common winter pet injuries seen in dogs during winter times. Hypothermia is a condition when the body temperature falls considerably. Its symptoms are- paleness of skin, shivering, and listlessness to the point of lethargy.
Dogs can suffer frostbites on their delicate earflaps and tail tips. If your dog is not a heavy-coated northern breed, then it's a good idea to keep it indoors. Keep an eye out for symptoms like redness or swelling.
2- Beware Of Common Ice Melt
Most of the ice melt in the market contain salt and are not safe to use. Apart from rock salt, many brands use magnesium chloride, calcium chloride, or potassium chloride. These chloride-based products are not pet-friendly and may cause problems like skin irritation, eyes, nose and lung burning, and nausea if ingested.
Some companies round off the sharp edges of the salt and call their ice melt pet friendly. The so-called 'pet safe' ice melt may not be sharp on your pet's paw but can cause serious winter pet emergencies due to its toxic nature.
Therefore, carefully choose an ice melt that is-
100% pet-safe and will not burn their paws or poison the pet if ingested
salt-free, chlorine-free, and acetate-free formula
completely safe for pets, kids, and the environment
3- Clean Their Feet To Avoid Dangers Due to Salt-Based Ice Melt
While you may be using a pet-safe ice melt in and around your house, the streets may still be coated with deicers containing rock salt and other chlorides. Although these deicers make the sidewalks safe for us, they are very dangerous for our pets and can also harm their paw pads. Every time your pet is back from the walk, wash their feet with warm water and dry with a towel.
4- Bundle Your Dog Up
If your dog doesn't have a natural fury coat of its own, consider getting a winter jacket for temperatures below 20° F. Imagine the fun you'll have while building their wardrobe and dressing them up.
5- Get Them Nice Booties
Although it may take some time for your pet to get used to wearing booties, it is worth the effort. Booties can save their paws from getting burnt and cut due to the salt-based ice melt on the street and in the neighborhood.
Looking for ways to protect your pets this winter? Read here.
---
Other Products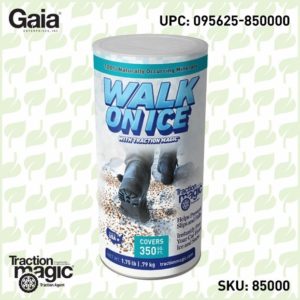 Traction Magic
Stay safe on slippery surfaces with a product that's 100% natural and safe for pets, people, and your property. Use Traction Magic on sidewalks, steps, or as instant traction for your car. Made in the USA.
Safe Thaw
Imagine an ice melt you can put down and never worry about. It won't harm animals or children, and it won't damage your property. That's Safe Thaw. Unlike anything else on the market, Safe Thaw can change how winter affects our planet.
---