How To Prevent Slipping On Your Wooden Deck This Winter?
Every winter, keeping your wood deck clear from snow is a challenge. We all love our backyards and our decks but the idea of using salts on deck worries us. But as fall comes around, a nip in the air tells you; you have to start prepping for winters soon. The decks will quickly begin to get stained with wintery snow, and you will have to keep track of the damage that might happen quickly.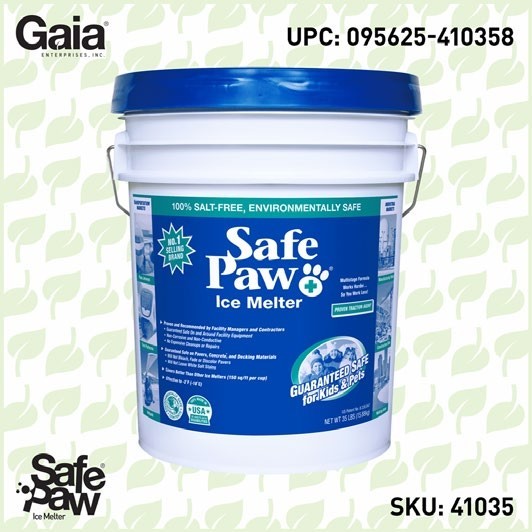 Safe Paw
The Original and the #1 Pet and Child Safe Ice Melt for over 20 years. Guaranteed environmentally safe – will not harm waterways and sensitive wetlands.
So, how can we keep our wood decks free from the snow? First, let's look at quick steps to use ice melter products and other alternatives to keep our wood decks in excellent condition.
You can easily remove the top layer of your wooden deck with a plastic shovel. Metal shovels if not used properly can damage the deck. Carefully remove the upper layer and then use an ice melt safe for wood decks, such as Safe Paw, to quickly break the icy layer and remove it with a soft scraper. Since it is safe for the foliage, it will not harm even harm your garden and landscape.
Get ready for winter with the ONLY Pet Safe Ice Melt you can trust
Pretreat your wood deck with an anti-slip coating of safe pet ice melter like Safe Paw, to ensure that the snow does not stick to the surface. It will prevent the water from seeping into the wood and will prevent it from expanding. The lifespan of the wood deck will also increase with the anti-slip coating.
Use a good-quality tarp sheet to cover the wood decks before a snowstorm. It will leave the snow on the top surface, making it easy to shovel and remove the tarp sheet to use the deck.
Use good quality, eco-friendly and non-corrosive ice melt to apply on the wood deck. These substances are harmless to your wood deck and will prevent any erosion too. Safe Paw is one such non-corrosive and non-conductive ice melt that comprises natural ingredients for the decks. Safe Paw doesn't damage your concrete and is also safe for pets and kids.
While there are many ways to remove snow from the wood deck, the above are tested in all seasons. Safe Paw tends to break down the icy layer and makes it easy to walk without slipping or falling. Its dual patented compound, along with crystals infused with glycols, makes it easy to apply and deice.
Get ready for winter with the ONLY Pet Safe Ice Melt you can trust
Conclusion
We all want a winter without any slip and fall accidents, and with Safe Paw, you can prevent such incidents. It is not only a superb rock salt alternative, but it also serves as an excellent option to pretreat your wood decks. So now make your home kid-friendly and pet-friendly with Safe Paw at your disposal.
Get ready for winter with the ONLY Pet Safe Ice Melt you can trust
Other Ice Melt Products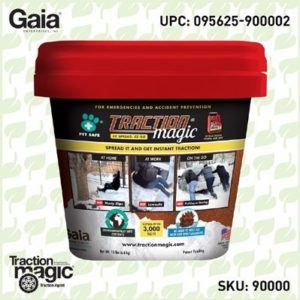 Traction Magic
Stay safe on slippery surfaces with a product that's 100% natural and safe for pets, people, and your property. Use Traction Magic on sidewalks, steps, or as instant traction for your car. Traction Magic provides instant traction on all icy surfaces.
Safe Thaw
Imagine an ice melt you can put down and never worry about. It won't harm animals or children, and it won't damage your property. That's Safe Thaw. Unlike anything else on the market, Safe Thaw can change how winter affects our planet.