Prevent Your Garage Door From Rusting Due To Salt
Rust is inconvenient, but it does happen. Even newer doors can develop rust, making you wonder why you spent so much money on that extra layer of high-quality paint in the first place. Of course, there are a variety of reasons why your garage door may be rusting, regardless of its age. One of the prime reasons behind garage door rusting is sodium chloride rock salt. You must understand how to prevent or ease this problem.
What Is The Definition Of Rust?
The oxidation of metal or iron sheets, or in this case, garage doors, cause rust. It shows as a dusty brown or reddish stain on various door components, such as hinges, knobs, locks, and even tracks.
The majority of individuals are concerned about the effects of rust on paint jobs. But that's not the worst of it. Rust will begin to chip away at the metal's surface over time. It will become weak and less durable as a result of this.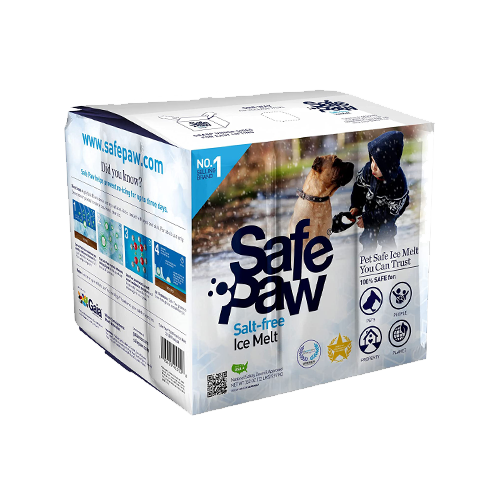 Safe Paw
The Original and the #1 Pet and Child Safe Ice Melt for over 20 years. Guaranteed environmentally safe – will not harm waterways and sensitive wetlands.
How To Avoid Rusting Of Your Garage Door?
1- Using a salt-free ice melt
Salt and water are the most dangerous enemy of metal. Most of the ice melts available in the market have sodium chloride rock salt as the main component. Sodium chloride rock salt is highly corrosive and can damage your surfaces and metals. While buying ice melt for pavers, concrete or asphalt, avoid corrosive chlorides and use safe, salt-free ice melt. 
Get ready for winter with the ONLY Pet Safe Ice Melt you can trust
2- Washing regularly
Keep your garage door clean at all times. It can be accomplished by hand-washing it at least twice a year. It is significant because it collects dirt, dust, and moisture.
Garage doors should be cleaned with a moist cloth regularly. Be careful not to scrape the protective covering off your garage door when cleaning it. These rust-resistant coatings are available on some metal doors. If you scrape too vigorously, you risk peeling it off and causing further damage. 
Get ready for winter with the ONLY Pet Safe Ice Melt you can trust
Non Toxic Ice Melt
3- High-quality paint
Painting doors add color and beauty. It also keeps things from rusting. You must, however, utilize postings that are specifically built for that function and are compatible with your garage door opener.
What To Do When Your Garage Door Is Rusted?
Call a garage door repair firm for a comprehensive inspection if you notice rust on your garage door or suspect rust on your tracks. They will be able to assist in removing the rust or provide helpful advice on how to proceed with fixing the garage door damage.
Smaller rust spots can sometimes be cleaned with soap and water if found early. If you have white vinegar on hand, you can dip a steel wool pad in it and wipe the rust away until it is completely gone. If you want to get rid of the rust stains, don't use cider or spiced vinegar.
Gaia Enterprises Inc. delivers 100% pet-safe and environmentally friendly winter products. Safe Paw, our flagship product, is the #1 selling pet-safe ice melt that does not harm pets, safe if ingested, and safe on all types of concrete.
Conclusion
Rust may harm practically any metal, which is unfortunate. As a result, you might not be able to find a metal door that comes with an indefinite rust-proof guarantee. But by using a non-corrosive ice melt for pavers and concrete, you can give a long life to your metal doors.
Get ready for winter with the ONLY Pet Safe Ice Melt you can trust
Other Ice Melt Products
Safe Thaw
Imagine an ice melt you can put down and never worry about. It won't harm pets, kids and your property. That's Safe Thaw. Unlike anything else on the market, Safe Thaw can change how winter affects our planet.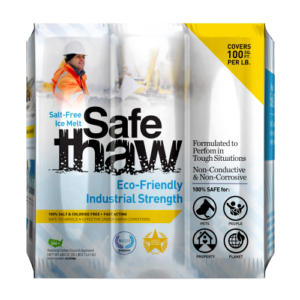 Traction Magic
Stay safe on slippery surfaces with a product that's 100% natural and safe for pets, people, and your property. Use Traction Magic on sidewalks, steps, or as instant traction for your car.