Shoveling Vs Rock Salt Vs Ice Melt?
Are you ready to welcome a snowy winter? With winter weather safety, the conversation comes down to one big question- what is the best way of clearing snow? While the most common methods that come to our mind are- shoveling, or using rock salt or ice melt, it is imperative to understand the nitty-gritty of each so that you make the best choice.
Ice Melt Without Salt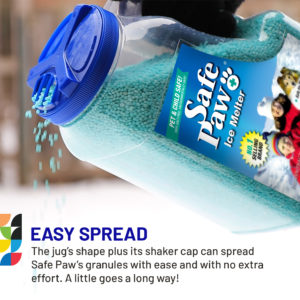 Safe Paw
The Original and the #1 Pet and Child Safe Ice Melt for over 20 years. Guaranteed environmentally safe – will not harm waterways and sensitive wetlands.
Shoveling Over Ice Melt
Let's start with the conventional one. A push broom or a shovel is a good way of clearing fresh and soft snow before it starts to freeze into a slippery hard ice layer. However, there are downsides to shoveling away the snow. Not only is it laborious and consumes a lot of time, but it is also hard on your back. Moreover, if you are dealing with a frozen layer of ice, then shoveling it away becomes onerous and can cause severe injuries due to slip & fall accidents. If the snow is wet and heavy, you may not even complete the job in one go.
Get ready for winter with the ONLY Pet Safe Ice Melt you can trust
Rock Salt Over Ice Melt
Another popular method of clearing the snow is using rock salt. People use it on steps, pavement, driveways, etc. They know it's easily available and does the job, but little do they know that it is not only corrosive and damaging but also unsafe to use around kids and pets. Rock salt is corrosive to concrete, asphalt, and bricks as well. Salt traces left on the surface causes stains and streaks. The real problem starts when it gets into the porous concrete and creates holes and cracks that worsen with frequent freeze-thaw cycles. 
Another reason you should not use rock salt is it is not safe to use around kids, pets, and plants. Chlorine in salt and chemical-based ice melt is a toxic respiratory irritant and can damage pets' skin, eyes, and membranes. So, if you've been looking for dog-safe rock salt or a pet-safe salt for snow and ice, then I'm sorry to burst this bubble, but there's no such thing.
Get ready for winter with the ONLY Pet Safe Ice Melt you can trust
Safe, Salt-Free Ice Melt
Most of the ice melt in the market contain chloride in one or the other form. According to the American Concrete Institute (ACI), there are several chemicals, some of which are present in ice melt formulas that actually attack concrete, and are best avoided. They are – Aluminum Chloride, Ammonium Nitrate, Ammonium Sulfate, Ammonium Chloride, Calcium Sulfate, Magnesium Sulfate, Magnesium Chloride, and Sodium Cyanide. Different chemicals react with the concrete differently. For example, Sodium chloride attacks the metal rebar contained within the concrete when it is soaked-up into the concrete.
Luckily, there are chemical-free and salt-free options made with urea or crystalline amide solution and are 100% safe for your kids, pets, and concrete. Such salt-free ice melt is not only pet-safe but is also non-corrosive as it doesn't cause damage to the concrete driveways and sidewalks. These non-corrosive are also environment-friendly, 100% safe for your plants, pets, and children. 
Learn more about the best practices that should be followed while using common salt or an ice melt without salt.
Get ready for winter with the ONLY Pet Safe Ice Melt you can trust
Other Products
Traction Magic
Stay safe on slippery surfaces with a product that's 100% natural and safe for pets, people, and your property. Use Traction Magic on sidewalks, steps, or as instant traction for your car. Made in the USA.
Safe Thaw
Imagine an ice melt you can put down and never worry about. It won't harm animals or children, and it won't damage your property. That's Safe Thaw. Unlike anything else on the market, Safe Thaw can change how winter affects our planet.
---