Choosing A Pet Safe Ice Melt
Winter is on the way. Do you also enjoy chilling weather and making a snowman? Yes or no the truth is we all have to deal with the winter woes and get rid of snow.
Most often we use rock salt as an ice melt to get rid of the snow. However, it's not safe for your pets and family.
Harmful effects of chemical ice melt
If you refer to any ice melt comparison chart of salts like sodium chloride, potassium chloride, calcium chloride, and magnesium chloride, you'll find that they all are not safe for pets. Your pet may become exposed to these harsh chemicals if these chemicals get stuck to their feet after the walk. Pets have a tendency to lick their feet and the ice melt can easily get into their system. They may also eat the snow that may have ice melts in it.
Ingesting chloride-based ice melting products can cause severe issues in pets, and sometimes you have to rush them to the veterinarians. The most common problems when a pet ingests ice melts are stomach upset, vomiting, or diarrhea. In some cases, vomiting or diarrhea can be severe and can result in dehydration. Ingesting too much of an ice melt can lead to an elevation in sodium level that can cause tremors and seizures.
Moreover, since most of these chloride-based salts produce heat due to exothermic reactions, they can cause burns and irritation in the paws of your pets.
Pet Safe Ice Melt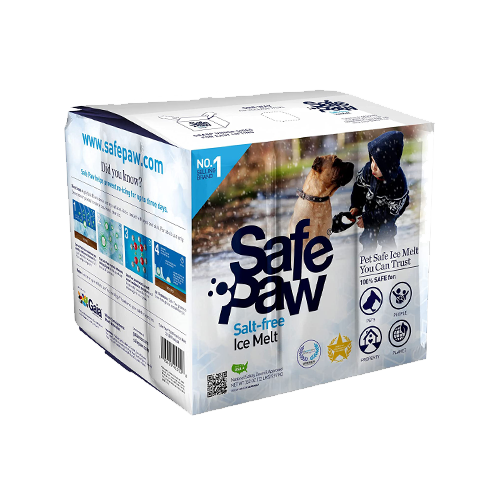 Safe Paw
The Original and the #1 Pet and Child Safe Ice Melt for over 20 years. Guaranteed environmentally safe – will not harm waterways and sensitive wetlands.
Choosing the right ice melt
If you're looking for some universally agreed-upon list of ice melt products that are safe, then don't. Because there isn't any. What's in fact better is to know what ingredients you should avoid so you can tell with confidence which ice melt you should choose.
Sodium chloride is just a regular salt. It can kill dogs in larger doses. Smaller doses may cause nausea and diarrhea.
Calcium chloride is harsh on paws and, if consumed, can cause vomiting and diarrhea.
Magnesium chloride can upset your stomach. It's hazardous for dogs who have kidney issues.
Potassium chloride can cause hemorrhagic vomiting or diarrhea in your dog's gastrointestinal tract.
Ethylene glycol is highly toxic to cats and dogs because it contains the same active ingredient as antifreeze.
Get ready for winter with the ONLY Pet Safe Ice Melt you can trust
No de-icer is entirely safe for your pet because most ice-melting products contain some form of salt. As a result, choose a pet safe ice melt that does not contain any harmful chemicals, like mentioned above. Safe paw is one such ice melt that is devoid of any such harmful ingredients and is a urea-based ice melt product.
If you're thinking of 'where to buy safe paw', then this top-selling product is readily available at hardware stores, grocery chains, pet supply stores, and veterinarian offices throughout all cold-weather states. 
Gaia Enterprises Inc. delivers 100% pet-safe and environmentally friendly winter products. Safe Paw, our flagship product, is the #1 selling pet-safe ice melt that does not harm pets, safe if ingested, and safe on all types of concrete.
Though no ice melt is entirely safe for all pets, if you must use one, look for SafePaw pet-safe ice melts and always supervise your pet outside to ensure they don't come into contact with or ingest anything harmful.
Get ready for winter with the ONLY Pet Safe Ice Melt you can trust
Other Ice Melt Products
Safe Thaw
Imagine an ice melt you can put down and never worry about. It won't harm pets, kids and your property. That's Safe Thaw. Unlike anything else on the market, Safe Thaw can change how winter affects our planet.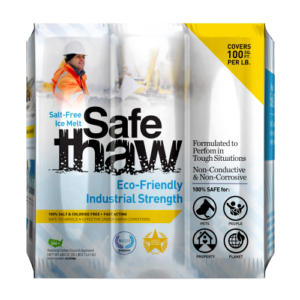 Traction Magic
Stay safe on slippery surfaces with a product that's 100% natural and safe for pets, people, and your property. Use Traction Magic on sidewalks, steps, or as instant traction for your car.