Ice Melt Causing Less Damage To Concrete Surfaces
The beauty of the winter season lies in the white sheets of snow, the cozy fireplace, and the cup of hot cocoa that gives us respite from the chill in the air. But wait, there's more. Unfortunately, winter also brings along snow-covered driveways, slippery layers of ice, and the woes of choosing the best salt for ice melting. If only things were much more manageable!
Every year, we hear stories of people meeting with accidents or slipping on the ice because of incorrect ice melt concrete safe products around us. But did you know a minor slip or tripping on ice or snow can cause back and ligament injuries every year? Nearly 17,000 people face the brunt of fatal injuries every year because of no usage of ice snowmelt products or not being careful while stepping out.
According to the CDC, falling on snow and ice injure nearly a million Americans each year, and the number might keep increasing in years to come. However, what can we do to stop this, at least at home?
We need to use concrete safe ice melt products to help us keep our pets and loved ones safe as they step out.
Get ready for winter with the ONLY Pet Safe Ice Melt you can trust
So, What Is Ice Melting?
Ice melting is the process of melting layers of ice and snow on surfaces such as driveways, sidewalks, patios, stairs, roads, roofs, etc. With several ice melting product in the market, you have a choice to select the ones based on budget and environmental factors.
Did you know there is a minimum of seven to eight different combinations of ice melt for concrete in the market. These come in liquid and solid form.
Some of the most popular ice melt products in the market, but not necessarily safe, are-
Blue heat ice melt primarily comprises calcium chloride and magnesium with a hint of blue in it.
Then you have purple heat ice melt made by Salt Depot and has a purple dye for controlled application. It is a blend of multiple chlorides such as sodium acetate, magnesium chloride, calcium chloride, and potassium chloride. These products claim to keep snow from sticking to the driveway, making it easier for you to walk or move your car. However, we advise you to make an informed decision before rushing to buy any ice melt product.
Get ready for winter with the ONLY Pet Safe Ice Melt you can trust
Concrete And Ice
We have all heard several things about concrete and ice, do's and don'ts, and how to take care of concrete! But why?
Almost everything around us is built using concrete. Now there are two broad categories to divide concrete- New Concrete and Settled Concrete. Many people have asked us 'can concrete melt' and how does new concrete differ from settled concrete?
New Concrete, like the term suggests, is freshly poured concrete that takes time to harden. Therefore, new concrete needs much care to avoid repercussions later, such as keeping it adequately moist. However, did you know that it takes nearly 3 to 4 weeks for the concrete to bind together with gravel and sand finally! So, although you need to keep it moist, there is something called too much water too.
What you can do is–
Cover new concrete with a tarp or polyethylene sheet for it to retain its moisture.
Spray it with water at least ten times a day to ensure that it does not dry up and start developing cracks. Spraying is not recommended during cold weather as it may develop early cracks and disturb the concrete melting point.
Create small ponds in concrete by raising the edges and filling water in them. You can let it stand for a couple of days, and you can save time during this process. Three days of curing cement by ponding save you at least seven days of work.
Don't skip joints in concrete slabs or driveways, as this is where the tension will happen. After it dries up and hardens, these little joints will attract snow and ice to settle inside. Then you might not get the proper ice melt that won't damage concrete in return. You can use a metal jointing tool to help cover these spaces.
Not let new concrete become too cold as it may crack right at the beginning. If there is a sudden drop in temperature, your concrete will not strengthen the way you want and will leave you dissatisfied later. You have to use concrete insulating blankets or old house blankets to cover the concrete and keep it safe from extreme cold. Once winters arrive, such concrete cannot withstand ice snow melt products and will damage them further.
As a responsible company, Safe Paw ensures to inform you of different ways you can keep snow from sticking to the driveway or harming your flowerbeds.
Concrete Safe Ice Melt
Safe Paw
The Original and the #1 Pet and Child Safe Ice Melt for over 20 years. Guaranteed environmentally safe – will not harm waterways and sensitive wetlands.
What Is Settled Concrete?
It begins to settle when the concrete starts to develop cracks or the concrete slabs sink in driveways, sidewalks, or pavements. There are several reasons why concrete settles, but the most common reason is when the soil beneath the concrete starts to shrink, dry, or become too moist.
Settled concrete needs fixing right away because it will further the gap between slabs and might harm you, your kids, or even pets.
As the cold season approaches, you will need to use concrete safe ice melt to protect yourself and your family from slipping or falling. However, with these cracks or settled concrete, the application becomes tough. Hence, it is advisable to completely replace settled concrete with new and cured concrete before the onset of winter or snowfall. 
The Next Question You May Have – How Does Ice Destroy Concrete?
After a snowfall, a layer of goodness settles all around. This goodness, though beautiful at first glance, will leave a thin layer of ice underneath it. Despite of shoveling the top layer, you will notice a thin layer settling on the concrete that you cannot remove with the shovel.
It needs ice melt that won't damage concrete to help you remove your car safely and avoid falling while getting out of the house. However, the constant freeze-thaw cycle creates cracks in the concrete and will eventually destroy it. Hence, extreme cold or extreme heat can ruin concrete, increasing your cost.
It is best to speak with friendly customer care executives from trusted companies, such as Safe Paw, to advise you on what type of ice melt is suitable for everyday use. Investing in urea ice melt is far safer than ice melt pellets of calcium chloride, potassium chloride, rock salt, etc.
Get ready for winter with the ONLY Pet Safe Ice Melt you can trust
How Can You Buy An Ice Melt Product?
Now that you know how ice reacts with concrete and the different types of concrete, the next step is to understand how to buy the best ice melt product without damaging your surroundings.
Conclusion
100% Safe and Secure Chloride-free and Salt-Free Ice Melt for Concrete!
Safe Paw has earned the trust of millions of people across the country for being a 100% environment-friendly ice melt product. Safe Paw does not harm the environment, pets, or kids, even if they ingest it accidentally because of its patented formula.
Don't think about it running into water bodies and clogging the drains after melting as it will only act as a fertilizer to your flowers and not harm them. Safe Paw does not leave any residue behind either.
So next time, while searching for a non-corrosive ice melt product, you know where to start looking from. The best time to order or buy your ice melter pellets is just before the onset of winters and spread it as per the instructions before a heavy snowfall to keep snow from sticking to driveways and patios.
Get ready for winter with the ONLY Pet Safe Ice Melt you can trust
Other Ice Melt Products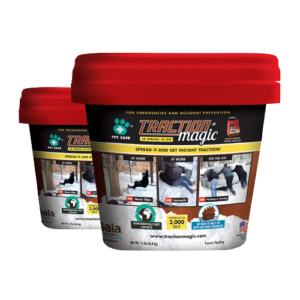 Traction Magic
Stay safe on slippery surfaces with a product that's 100% natural and safe for pets, people, and your property. Use Traction Magic on sidewalks, steps, or as instant traction for your car. Made in the USA.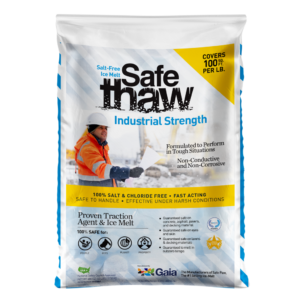 Safe Thaw
Imagine an ice melt you can put down and never worry about. It won't harm pets, kids and your property. That's Safe Thaw. Unlike anything else on the market, Safe Thaw can change how winter affects our planet.
---