Keep Your Wooden Deck Safe And Slip-Free This Winter
One of the most challenging aspects of winter is keeping your driveway, pathways, and steps clear and safe. Choosing the necessary instruments for the job, such as a shove, snowblower, and ice melter for wooden decks, and successfully employing them can make a significant difference in your safety and peace of mind. Outside your home, your deck is exactly like any other outdoor pathway. Even when the weather is cold and frosty, it will most likely be used. To avoid a slick deck for your home, follow these simple procedures.
Prepare for the snow and keep the deck clear.

During the winter, snow accumulates on your deck. The ice accumulation can cause a variety of issues, including making walking on the floor dangerous. As a result, take care not to let the snow pile up on the deck. Shovel the snow off the deck now and again to keep ice from accumulating beneath it. To minimize scratching and ruining your floor's surface, choose a rubberized or soft-edged shovel. When removing ice, do not use salt; instead, use safe ice melt. The wooden deck is ruined by salt.
Environment Friendly Ice Melt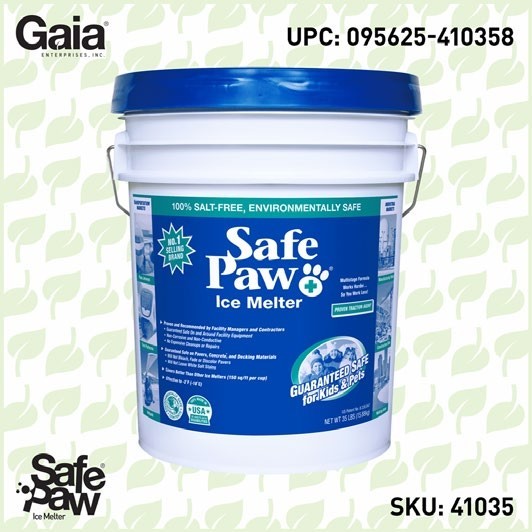 Safe Paw
The Original and the #1 Pet and Child Safe Ice Melt for over 20 years. Guaranteed environmentally safe – will not harm waterways and sensitive wetlands.
1-Before The Icy Weather Arrives, Treat Your Slick Deck.
As the saying goes, prevention is better than cure, so fix your home's deck before it becomes damaged. The use of an anti-slip coating on your hardwood deck prevents water from permeating the wood and makes winter cleaning easier. The anti-slip coating will help extend the life of the floor.
2-If Your Deck Is Slick, Use Anti-Slip Strips.
Apply these anti-slip strips directly to the slick surface in locations where there is a lot of foot activity. These provide you with more grip and keep you from falling. 
3-Use Ice Removal Techniques That Are Safe
There are a variety of methods for removing ice from your slick deck. Shovels are mainly used to remove ice. Here are some of the safety considerations to take when removing ice.
· Use a wooden shovel instead of a metal one. The scratches you make may harm the deck.
· Parallel to your deck planks, shovel. Shoveling over boards rather than lengthwise raises the risk of getting a board's edge and destroying it.
· For light snow, use a broom.
· The deck will not be damaged if you use safe ice melt on it.
Get ready for winter with the ONLY Pet Safe Ice Melt you can trust
4. Use the Proper Ice Removal Chemicals
For ice and snow removal, a variety of chemicals are available. For ice removal, sodium and chloride are deemed safe. However, make sure that these compounds are not harmful to the deck's wood. If you use salt, make sure you rinse it off once the snow has melted.
Final Words
The corrosion of the deck is caused by salt. The SafePaw is a non-toxic ice melter for wooden decks. It is entirely safe for property, pets, and children. It leaves no residue behind, keeping your wooden deck secure and slipping-free during winter.
Get ready for winter with the ONLY Pet Safe Ice Melt you can trust
Other Ice Melt Products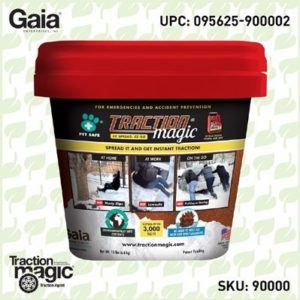 Traction Magic
Stay safe on slippery surfaces with a product that's 100% natural and safe for pets, people, and your property. Use Traction Magic on sidewalks, steps, or as instant traction for your car. Traction Magic provides instant traction on all icy surfaces.
Safe Thaw
Imagine an ice melt you can put down and never worry about. It won't harm animals or children, and it won't damage your property. That's Safe Thaw. Unlike anything else on the market, Safe Thaw can change how winter affects our planet.