Ice Melt Alternatives Safe For Concrete
To de-ice our driveway, walkway, or patio, we use ice melts. While ice melts are effective at melting snow and ice, they can harm your concrete. Icemelt can dry up your pet's paws, rust the metal on the underside of your car, and damage your plants if it seeps into the soil, in addition to drying out hardscapes.
Furthermore, ice melt that is used on roads and sidewalks is carried into lakes, streams, and groundwater supplies. We've identified a few ice melter alternatives that are significantly better for the environment and those around you
Sand
Sand not only assists in the melting of snow and ice but also provides traction. As a result, it prevents your friends and family from slipping and falling. On the other hand, the sand is likely to melt the snow to some extent, but it may need to be reapplied numerous times.
Ice Melt Safe For Concrete
Safe Paw
The Original and the #1 Pet and Child Safe Ice Melt for over 20 years. Guaranteed environmentally safe – will not harm waterways and sensitive wetlands.
Sugar Beet Juice
One of the most environmentally friendly ways to de-ice your home is to use sugar beet juice. Sugar beet juice decreases the melting point of ice and snow. Roads, pets, plants, grass, automobiles, and concrete are all entirely safe. Though it provides traction, it does not do much in the way of quick snow melting.
Vinegar
Instead of dumping raw vinegar on your road, make a huge bucket with equal parts water and vinegar and pour it on the snow-covered region. This approach isn't the most powerful snowmelt option, but it's effective. Just make sure the liquid doesn't freeze again. With a shovel or a push broom, remove any residual ice or water puddles. However, it may put up with a few applications.
Get ready for winter with the ONLY Pet Safe Ice Melt you can trust
Baking Soda
It can also be used to melt ice. Many people aren't aware of this, but because it's a type of salt, it lowers the temperature of the ice, gradually changing it to water. It's also considerably gentler on concrete than the usual calcium chloride salt's corrosive qualities. It is, however, dangerous to pets.
Safe Paw
Safe Paw is very thorough in its coverage of all angles. Because it is the leading ice melt option that does not contain salt, it is the one that is safe. A special blend of safe chemicals is used by Safe Paw non-toxic ice melter pet safe. It is entirely harmless to you, your pets, your grass, and your indoor flooring. Its crystalline spikes and traction grasp the ice to give automobile tires, shoes, and paws a safe and effective surface.
Get ready for winter with the ONLY Pet Safe Ice Melt you can trust
To Conclude
The essential factor to consider when using ice melt alternatives is safety. The consideration is finding an ice melt that is safe for concrete. It would be beneficial if you maintain your family, home, pets, and surroundings safe.
Make sure the product you're buying is safe for both you and your property and your pet before you buy it. In the long run, it should not harm or cause you any problems. Purchasing ice melt alternatives will always be on your mind. So, it is time to make an informed choice and stop using any other deicer on the market except SafePaw non-toxic ice melter pet safe.
Get ready for winter with the ONLY Pet Safe Ice Melt you can trust
Other Ice Melt Products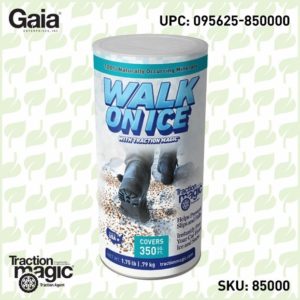 Walk On Ice
Walk On Ice safely in Winter, with the latest addition to the Traction Magic collection. The handy disposable canister can be taken everywhere with the same 100% naturally occurring minerals that provide instant traction on ice or snow.
Safe Thaw
Imagine an ice melt you can put down and never worry about. It won't harm animals or children, and it won't damage your property. That's Safe Thaw. Unlike anything else on the market, Safe Thaw can change how winter affects our planet.