5 Types Of Ice Melt And Their Pros And Cons
Understanding the differences between various types of ice melt products can make a big difference in how effectively you can reduce the quantity of snow and ice around your structure. Although rock salt is the most widely used and recognized de-icer, there are other formulae and solutions that can be more effective in particular circumstances.
Here are the five types of ice melt with their pros and cons.
Sodium Chloride Or Rock Salt
It's the most widely used de-icing agent. Even though it melts the ice, it is harmful to physical structures, materials, and ecosystems.
It is not ideal for concrete that is less than a year old. It can damage your masonry and corrode the metal of vehicles and railings. Even small amounts of sodium chloride can seep into neighboring soil, altering its composition and causing harm to grass and plants. It is also toxic to pets and can cause severe problems if ingested by them.
100% Salt Free Ice Melt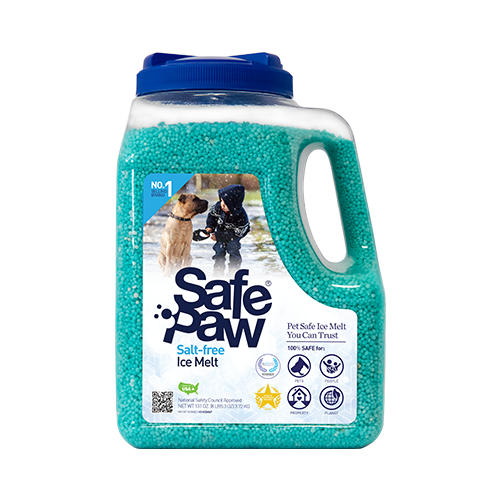 Safe Paw
The Original and the #1 Pet and Child Safe Ice Melt for over 20 years. Guaranteed environmentally safe – will not harm waterways and sensitive wetlands.
Amide Core With Glycol
A modified crystalline amide core interleaved with glycol admixture is one of the most effective ice melts while being safe for people, pets, structure, and the environment.
While breaking surface tension, the liquid component of this ice melt immediately begins melting ice. The crystal core present in the ice melt weakens the sticky snow by penetrating it. It causes the melting process to accelerate.
It leaves an invisible layer of protection that helps prevent ice from clinging to surfaces for three days. Due to the "Teflon" effect, it makes shoveling simpler.
Safe Paw has the salt-free ingredients of amide core and glycol. As part of the Gaia enterprises, it shares its objective to produce items that uphold its commitment to a sustainable environment.
Get ready for winter with the ONLY Pet Safe Ice Melt you can trust
Calcium Chloride
It emits heat while melting, allowing it to act more quickly than other de-icers. Like other chloride-based ice melts, it can also corrode metal. It can also destroy carpets and tiles, thus, damaging your internal floorings. It is less disastrous to plants but excessive use can harm them.
Potassium Chloride
Potassium chloride is similar to potassium-based fertilizer. Though this product is hailed as a safe product it can be highly dangerous to pets suffering from renal injuries. 
Gaia Enterprises Inc. delivers 100% pet-safe and environmentally friendly winter products. Safe Paw, our flagship product, is the #1 selling pet-safe ice melt that does not harm pets, safe if ingested, and safe on all types of concrete.
It is more costly and has a greater working temperature. Thus, it is more commonly found in de-icing blends with other chlorides, making it hazardous.
Get ready for winter with the ONLY Pet Safe Ice Melt you can trust
Calcium Magnesium Acetate
Dolomitic limestone and acetic acid are found in it. It is used for concrete-heavy locations, such as parking garages, calcium magnesium acetate. It is less corrosive than chlorine-based compounds.
It is one of the most costly de-icing agents, costing up to 30 times as much as rock salt. It can also make the pavement slick making it more prone to slip and fall accidents
Conclusion
Before getting your ice melt, check to see if the de-icer may harm concrete, pavement, railings, or other structures, as well as carpets. It's also vital to consider the de-environmental icer's impact, as some are harmful to the environment. There are many ice melts available in the market, but as a responsible citizen, you need to opt for the ice melt that is safe for all.
Get ready for winter with the ONLY Pet Safe Ice Melt you can trust
Other Ice Melt Products
Safe Thaw
Imagine an ice melt you can put down and never worry about. It won't harm pets, kids and your property. That's Safe Thaw. Unlike anything else on the market, Safe Thaw can change how winter affects our planet.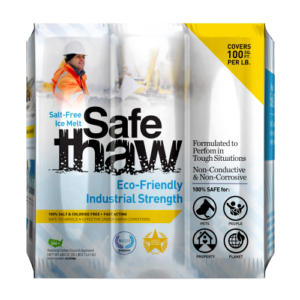 Traction Magic
Stay safe on slippery surfaces with a product that's 100% natural and safe for pets, people, and your property. Use Traction Magic on sidewalks, steps, or as instant traction for your car.