Wooden Deck Damage From Salt Based Ice Melt
Don't forget to stock up on the correct ice melters for your home once you've tuned up your snow blower and shovels for winter. Whatever the weather forecast for this winter, you'll need to stock up on ice melters to assist you in getting rid of the snow and ice that will inevitably accumulate around your home. Some products work better in freezing temperatures, some that are less damaging to your plants, concrete, and pets, and yet others that blend a range of components to give you a little bit of everything.
Many individuals take a bag of any ice melter, assuming they are all the same. Deicing salts come in various formulations and differ in terms of how harsh or caustic they are; whether salting a wooden deck will harm it depends on the composition. Consider the type of salt and Homemade deicer for concrete driveways that is non-corrosive to wood or other materials, as well as environmentally friendly. Some deicing salts are strongly discouraged from using wooden decks, while environmentally friendly deicer kinds appear to do no damage.
Environmentally Friendly Ice Melt
Safe Paw
The Original and the #1 Pet and Child Safe Ice Melt for over 20 years. Guaranteed environmentally safe – will not harm waterways and sensitive wetlands.
What To Use
Other items labeled as safe for concrete, plants, and animals can also be used on a wooden deck. Magnesium chloride is a milder deicing salt that doesn't hurt plants or pollute waterways. Potassium chloride is likewise less corrosive and does not hurt plants, although it is one of the least effective alternatives because it requires a higher air temperature to melt ice.
For a wooden deck, choose an ice melter or homemade deicer for a concrete driveway. Choose a product that is safe for children and dogs and one that won't damage the grass. You can keep your deck safe and gleaming without breaking the bank by avoiding salt and using a decent ice melter like SafePaw for hardwood decks.
Get ready for winter with the ONLY Pet Safe Ice Melt you can trust
What Not To Use On Wooden deck
Rock salt is commonly available and frequently one of the cheapest deicers, but it is also caustic and hazardous to the environment. Its runoff pollutes streams, rivers, and other waterways and can kill or stunt plant growth. Rock salt is never suggested for use on a wooden deck since it dries out the wood's natural moisture. When salt dries out wood, it interferes with the normal expansion and contraction of wood, causing the deck to corrode more quickly. Calcium chloride is a more abrasive deicing salt that can irritate the skin and corrode concrete. It's also not recommended for use on wooden surfaces.
Get ready for winter with the ONLY Pet Safe Ice Melt you can trust
Wrapping Up
The key to selecting the right product for the job is to look at its ingredients rather than the flashy packaging or brand name. Some elements will only melt ice and snow in warmer weather, causing damage to your concrete. In contrast, others will melt snow more quickly and, in subzero temps, are environmentally friendly deicer causing damage to your grass.
Only apply deicing salts on a water-sealed deck. To avoid ice formation during ice or snowstorm, use deicing salts. To keep ice off small decks, cover them with tarps or waterproof materials. When a deicer isn't available, sand might be used to provide traction on the deck.
Get ready for winter with the ONLY Pet Safe Ice Melt you can trust
Other Ice Melt Products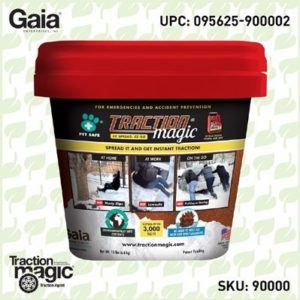 Traction Magic
Stay safe on slippery surfaces with a product that's 100% natural and safe for pets, people, and your property. Use Traction Magic on sidewalks, steps, or as instant traction for your car. Traction Magic provides instant traction on all icy surfaces.
Safe Thaw
Imagine an ice melt you can put down and never worry about. It won't harm animals or children, and it won't damage your property. That's Safe Thaw. Unlike anything else on the market, Safe Thaw can change how winter affects our planet.