Is Safe Paw Environmentally Friendly?
With all the excitement of winter comes the challenging part of removing snow from our facility. Hence, we need to gear up with our snow removal solutions to fight the winter woes.
So, you might have heard of rock salt and ice melter as the common ways of clearing ice. 
You may have also heard about Safe Paw as a popular choice in your country and other countries as well. In a time when every common ice melt is marketed as 'earth-friendly ice melt', it's hard to believe that Safe Paw is an environmentally friendly ice melt. We understand.
Therefore, in this article, we will tell you whether Safe Paw is really an environmentally friendly ice melt or not.
Environmentally Friendly Ice Melt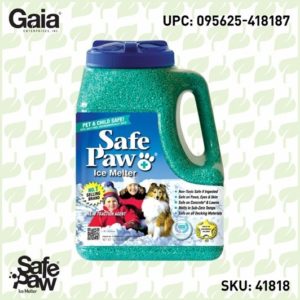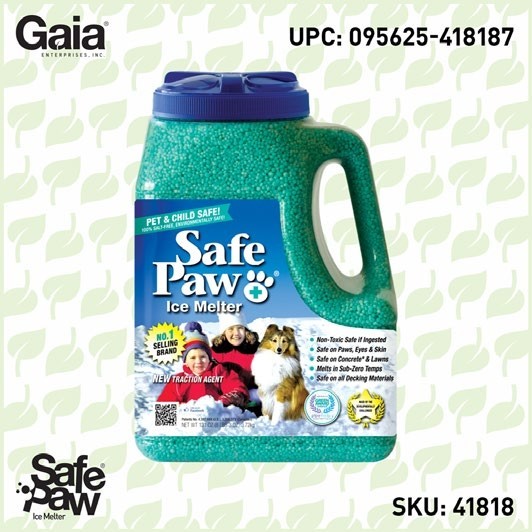 Safe Paw
The Original and the #1 Pet and Child Safe Ice Melt for over 20 years. Guaranteed environmentally safe – will not harm waterways and sensitive wetlands.
What's In It
The difference between a rock salt, a common ice melter, and the Safe Paw lies in its mix.  
Rock salt is basically sodium chloride.
Almost all ice melt in the market contain chloride in one or the other form like- sodium chloride, calcium chloride, magnesium chloride, etc. Mostly, they are a blend of sodium chloride and other minerals like magnesium and calcium. 
These chemicals can corrode the concrete and weaken the rooftops. They can also be harmful to kids, pets, and vegetation. They are capable of causing rashes, irritation, and dryness to paws and skin, as well as inflammation and stomach pain when mistakenly ingested. These salt-based compounds tend to accumulate in nearby run-offs and streams.
On the other hand, Safe Paw is an all-natural ice melt and 100% eco-friendly. Introduced by Gaia Enterprises, Safe Paw is free of all harmful chemicals, corrosive salts, and dyes. It consists of a crystalline amide core. This core is infused with traction agents and glycol admixture. All of the ingredients used in this deicer are completely natural.
What Makes It-
Safe for the property-
Since Safe Paw is free from chloride, it does not corrode your driveway, pathways, and roof. The same goes for the building material of your property. Whether it is made of concrete, brick, or stone, Safe Paw or Safe Thaw by Gaia Enterprises is safe for all. And it works at all temperatures.
Safe ice melt to use around kids and pets- 
Sodium chloride is poisonous to pets and kids. Sodium chloride is essentially the same as table salt, but it's poisonous because it contains impurities and is not prepared with the same safety levels as table salt.
Rock salt can also cause irritation, rashes, and burns to the eyes, skin, or paws of your pets. With Safe Paw, you can keep your friends, family, and pets safe!
Environmentally safe ice melt-
Rock salt or ice melt can enter water supplies by percolating down through the ground or running off from roads and parking lots into water reservoirs and shallow wells. A salt-free, chloride free, acetate free ice melter is safe. Since Safe Paw is an earth-friendly ice melt, you can safely spread it near the garden as well. Even if it percolates down, any intake of non-toxic ice melt will not be harmful.
Other Products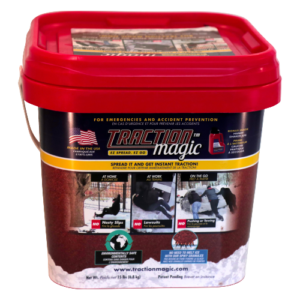 Traction Magic
Stay safe on slippery surfaces with a product that's 100% natural and safe for pets, people, and your property. Use Traction Magic on sidewalks, steps, or as instant traction for your car. Made in the USA.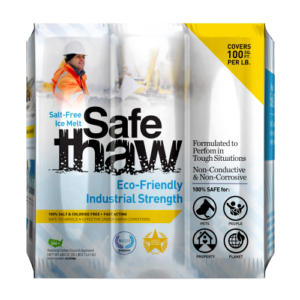 Safe Thaw
Imagine an ice melt you can put down and never worry about. It won't harm animals or children, and it won't damage your property. That's Safe Thaw. Unlike anything else on the market, Safe Thaw can change how winter affects our planet.
---