Safe Paw And Its Ingredients
The first thought that crosses your mind when you think of winter is safe ice melt for concrete. With heavy snowfall and winter settling in, there is a high chance of seeing a white layer of snow and ice melt residue all around. How can you make your winters pass by without any hassle? The solution to all your worries is an all-natural ingredient-based ice melt product- Safe Paw. 
How Is Safe Paw Different From Homemade Ice Melt For Sidewalks? 
Homemade ice melt for sidewalks comprises other quick ingredients put together to give you a temporary solution. The solution may or may not work well, considering the severity of the season.  
Homemade ice melt for sidewalks include- 
Hot water + rubbing alcohol + dish soap mixture– Mix all the ingredients in half a gallon of hot water and pour it all over the sidewalk and driveway. It will melt the icy layer almost immediately, making it easy for you to shovel the remnants away.
Tip: You can use the same mixture in a spray bottle to thaw the handles of your car or anywhere you see ice accumulation. 
Beet Juice- Take half a gallon of hot water mixed with salt (it will turn to brine) and pour it all over your sidewalk. Add around a cup or two of beet juice over the pre-treated surface to lower the freezing temperature. You can shovel the residue and clear your sidewalk. 
Tip: The biggest drawback is that beet juice will leave a light pinkish to a purplish residue. 
Other homemade ice melt for sidewalk– Many people use coffee grinds, fireplace ash, or sawdust over the icy surface. Still, it makes the sidewalks, driveways, and the inside of your home messy. 
Pet Friendly Ice Melt
Safe Paw
The Original and the #1 Pet and Child Safe Ice Melt for over 20 years. Guaranteed environmentally safe – will not harm waterways and sensitive wetlands.
Safe Paw Ingredients
One of the best safe ice melt for concrete, Safe Paw comprises a unique balance of patented dual-effect compounds, chloride-free, salt-free, acetate-free, and 100% safe for the environment. The primary ingredients include modified carbonyl diamide crystals, special glycols, and non-ionic surfactants accelerants. It comes in greenish bluish crystals that do not leave any trace or residue after melting the ice. 
It works well in sub-zero temperatures and helps to release the icy surface tension for up to 72 hours. Its non-corrosive nature and the non-conductive formula helps to maintain your concrete and foliage at all times, helping nullify property damage. In addition, its endothermic reaction takes full advantage of the solar effect, making it an ideal go-to safe ice melt for concrete. 
Tip: It is 100% pet safe and works on cured concrete as well! 
Get ready for winter with the ONLY Pet Safe Ice Melt you can trust
Conclusion
We know there isn't many ice melt in the market that are user-friendly and safe to use at all times. From high chloride content to salt, there is something that will always affect your surroundings. However, with Safe Paw, you know you have a safe ice melt for concrete, pets, the environment, and kids, to use every season without any hassle.  
Get ready for winter with the ONLY Pet Safe Ice Melt you can trust
Other Ice Melt Products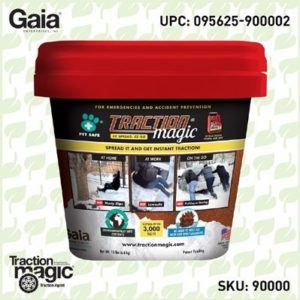 Traction Magic
Stay safe on slippery surfaces with a product that's 100% natural and safe for pets, people, and your property. Use Traction Magic on sidewalks, steps, or as instant traction for your car. Traction Magic provides instant traction on all icy surfaces.
Safe Thaw
Imagine an ice melt you can put down and never worry about. It won't harm animals or children, and it won't damage your property. That's Safe Thaw. Unlike anything else on the market, Safe Thaw can change how winter affects our planet.