Pet Safe Ice Melt: Are They Really Safe?
Ice melt, which keeps you safe in cold weather, may harm dogs and cats who come into contact with it. Ice melting products allow you to walk safely to your car while negotiating icy, slippery surfaces. Unfortunately, the same ice melt can cause health issues in dogs, and if you're not careful, it can even result in death.
Why Are Ice Melt Products Dangerous For Pets?
Ice melts can cause two types of harm to your pet:
1. Skin Irritation
Since they have come into direct contact with the ice and thus the ice melts, your dog's paws usually show signs of skin irritation. The mucous membranes in your dog's eyes and nose may also be irritated by these products.
2. Digestive Problems
When dogs or cats eat ice melt products that contain toxic chemicals, they develop digestive problems. In severe cases, a pet may need to be hospitalized or even die.
Pet Safe Ice Melt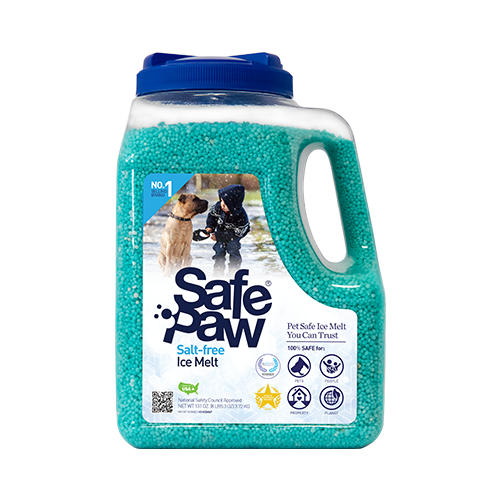 Safe Paw
The Original and the #1 Pet and Child Safe Ice Melt for over 20 years. Guaranteed environmentally safe – will not harm waterways and sensitive wetlands.
Which Chemicals Should You Be Aware Of?
There is no universally agreed-upon standard for pet-safe ice melt; it's critical to know what's in it. These chemicals should be avoided in products:
Sodium chloride is just a regular salt. It can kill dogs in larger doses. Smaller doses may cause nausea and diarrhea.
Bulk Order
Calcium chloride is harsh on paws and, if consumed, can cause vomiting and diarrhea.
Magnesium chloride can upset your stomach. It's hazardous for dogs who have kidney issues.
Potassium chloride can cause hemorrhagic vomiting or diarrhea in your dog's gastrointestinal tract.
Ethylene glycol is highly toxic to cats and dogs because it contains the same active ingredient as antifreeze.
Get ready for winter with the ONLY Pet Safe Ice Melt you can trust
What Chemicals To Look For?
These chemicals are used in the following products, which are safe pet ice melter ingredients:
Propylene glycol is similar to ethylene glycol but is safer. When this ingredient is used to melt ice, it can harm a cat's red blood cells.
Urea, a biodegradable substance derived from living organisms, is generally considered safe for pets.
Get ready for winter with the ONLY Pet Safe Ice Melt you can trust
What Kind Of Ice Melt Is Pet-Friendly?
No de-icer is entirely safe for your pet because most ice-melting products contain some form of salt. As a result, choose safe pet ice melter ingredients. Urea, which is already produced by your dog's body, is less harmful than other options; you might select a urea-based ice melt product. Aside from urea-based ice melts, propylene glycol and calcium magnesium acetate (CMA)-based ice melts are relatively safe for dogs. They are less likely to cause skin irritation than other options.
Gaia Enterprises Inc. delivers 100% pet-safe and environmentally friendly winter products. Safe Paw, our flagship product, is the #1 selling pet-safe ice melt that does not harm pets, safe if ingested, and safe on all types of concrete.
Though no ice melt is entirely safe for all pets, if you must use one, look for SafePaw pet-safe ice melts and always supervise your pet outside to ensure they don't come into contact with or ingest anything harmful.
Get ready for winter with the ONLY Pet Safe Ice Melt you can trust
Wrapping up!
Use a smaller amount of ice melting products. Limit the amount of ice melt you use, regardless of which product you buy. For safety's sake, it's best to put down just enough.
Other Ice Melt Products
Safe Thaw
Imagine an ice melt you can put down and never worry about. It won't harm pets, kids and your property. That's Safe Thaw. Unlike anything else on the market, Safe Thaw can change how winter affects our planet.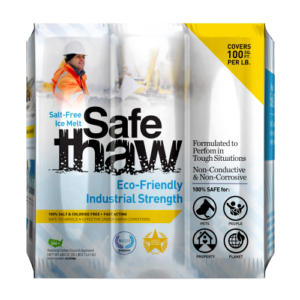 Traction Magic
Stay safe on slippery surfaces with a product that's 100% natural and safe for pets, people, and your property. Use Traction Magic on sidewalks, steps, or as instant traction for your car.