How To Keep Your Concrete Safe In New York This Winter?
According to the Almanac Weather Forecast, the winter temperatures are expected to be above normal in New York. However, forecasters seem to have a consensus that the amount of snow this winter will be strongly dependent on whether the La Niña weather pattern persists or not. If it does, it will lead to a colder and wetter winter in Northern US and warmer and drier winter in the Southern US.
The report indicates the severity of the snowfall and how icy the roads and places around us will get. We need to store concrete safe deicer immediately, but we often delay the purchase because of the rush. Whether it is for our home or office or even public places, you need to prepare for the worst, especially considering our safety.
Winter is already here, and it's extreme. It is evident by the recent powerful winter storm that caused 10.5 inches of snow in New York's Central Park. The NWS office in Binghamton, New York, tallied nearly 40 inches of snow, their largest total since records began in 1951.
With record-breaking snowfall and the preeminent aftermath, the civic bodies and the residences around New York have to buckle up.
Removing snow from sidewalks is essential for your mobility and the safety of others. The slippery pavements are dangerous and can cause injuries. While it's easy to ignore and leave it unattended, it may result in costly lawsuits and serious injuries for your family and loved ones. You may also think that the concrete is durable until it is suddenly not.
From organic and concrete safe ice melt products to homemade solutions, you need to figure out your best solution and prepare yourself accordingly.
Therefore, in this article, we will talk about 5 ways to keep your concrete safe from the snow and the side effects of various ice melting solutions.
Concrete Safe Ice Melt
Safe Paw
The Original and the #1 Pet and Child Safe Ice Melt for over 20 years. Guaranteed environmentally safe – will not harm waterways and sensitive wetlands.
5 Ways To Keep Your Concrete Safe
One of the most vulnerable materials is concrete, besides metal, asphalt, brick during and after a snowfall. Since most construction involves using these materials, it is crucial to keep them intact for the future. A few ways to ensure this is –
1 – Use protective sealant
Adding a layer of sealer on the top of the concrete can save it from damages like freeze/thaw cycles, stains from dirt, deicing salts, oil, and other contaminants. While concrete looks strong and solid, it is quite vulnerable due to its porosity.
Some points to note while using protective sealant as an ice melter for concrete–
· Concrete sealants help avoid pervasive damage caused by salts, chemical intrusion, alkali-silica reaction (ASR), etc.
· They help reduce the damage; however, there is no guarantee of the same.
· Traditionally, there were two types of sealers- linseed oil and wax.
· Today there are modern sealants that help in protecting the concrete to a great extent.
· Topical sealers or coatings are applied only on dry and clean surfaces to bind better with concrete. Sometimes high-end urethane or epoxy can last up to five years.
· We can apply penetrating sealers to wet or dry surfaces, and the traction does not change as much. It would help if you matched the porosity of the concrete before applying this. It may last beyond five years.
· You also have other protective sealers such as acrylic resins, silane silicates, siliconates, siloxane, etc.
A deicer professional needs to apply it for maximum protection.
Get ready for winter with the ONLY Pet Safe Ice Melt you can trust
2- Cover your new concrete
Taking care of new concrete is no different than taking care of a baby. The first few days are critical and demand extra care and protection. Pouring on new concrete can impact its strength considerably. Experts suggest not to use ice melt for new concrete.
New concrete is the trickiest to handle and hence it is advisable to prepare and cure your concrete well in advance.
Some points to remember while selecting an ice melter for concrete-
You should avoid getting your concrete placed or revamped closer to winter months.
The work should begin as soon as winters have passed.
New concrete needs enough time to settle and become well-spaced to endure rough winters.
If you apply an ice melt on new concrete, there are high chances of it developing cracks.
There are several ice melt products available in the market such as, calcium chloride, magnesium chloride, potassium chloride, rock salt, etc. that claim to not adversely harm the concrete.
But they are not entirely safe and you need to prepare yourself in case of any damage.
3- Don't use chemical ice melt
As highlighted above, the majority of the ice melt in the market use chloride in one or the other form. Salt-based or chemical-based ice melt not only damages concrete but is also harmful to pets. You can go for a salt-free, chloride-free deicer that acts gently on the concrete. They can work at low temperatures and are equally effective. Another good thing with salt-free deicers is, they come with the preventive Teflon effect. After your floor has been purged from the frosty deposits, this effect creates an invisible layer on the deiced surface, which makes it easy for shoveling.
Some points to remember with chlorides and salts-
They are not entirely the safest ice melt for concrete.
You need to ensure you follow the instruction manual to the T while using the deicing products.
Some of them may cause redness or itchiness if they come in contact with your skin.
Most deicers are not safe for kids and pets.
Pets have sensitive paws and chloride-based blends or rock salt deicers can cut their paws and cause them injuries.
Pets are prone to vomiting or diarrhea in case they lick the salt or ingest it accidentally.
All chloride-based ice melt products work up to a particular level of temperature and not beyond that. It makes it difficult to call them a comprehensive solution.
You need to change the ice melt in case of decreasing temperature.
Chloride-based ice melt products are corrosive and abrasive in general.
Get ready for winter with the ONLY Pet Safe Ice Melt you can trust
Weather Forecast
4- Use ice melt safe for concrete
Overuse of rock salt or chemical ice melt can be harmful to your concrete. The best way to avoid this is to use non-toxic ice melt safe for concrete, overuse of which will not be that harmful. Colored ice melt can help you spread the melt evenly over the area and thereby avoid overusing the ice melt.
Another way is to use spreaders and guards and prevent ice melt from being applied to the areas that can be damaged.
What you can do instead is-
Use eco-friendly and concrete-safe ice melt products or ways to prevent any damage.
It includes urea, sand, ash, tarp, ash, kitty litter, homemade brine, etc., to provide better traction and reduce damage to the environment.
Environment-friendly products do not cause damage to the soil as well.
Shovel the pavements and driveways before applying the products or solution to increase traction.
Use organic deicers, such as Safe Paw, on the go to avoid slipping or skidding on an icy surface. They are easy to apply.
5- Fill-up all the cracks and crevices
You can also protect your concrete from the side-effects of snowfall by patching up and repairing all the cracks and crevices on the surface. Start with filling cracks with a flexible sealant. Once you apply a flexible sealant, it will create a watertight bond with the concrete surfaces and will also blend with it visually.
You need to remember-
Consult with a professional before applying the sealant.
Not all sealants are safe to use for all types of temperature. You will need to ask construction agents before taking a final call.
Professionals can guide you to select the correct concrete safe deicer that doubles as a sealant.
You need to compare the product reviews, online and offline, before taking the final call.
Research about your sealant from Google reviews, Yelp, Amazon, etc., before you finalize the product purchase.
Whatever method you deploy, your primary concern is a concrete-friendly ice melter that will last you long. You can talk of the intensity of New York winters only if you have stayed here for a long time.
Quick tips before you purchase your concrete safe ice melt product-
Check if your state allows the use of the ice melt product or blend. Some of them are not fit to use in a few states.
Check with online reviews and speak with your neighbors as well. You can learn from their experience and see what works best in your neighborhood.
Compare the price range of all ice melt products before purchasing. Although rock salt or sodium chloride is the cheapest, it is not the safest. There are other products, such as Safe Paw, that are within budget as well.
Check if they are eco-friendly and will not damage your foliage. After the ice melt dries up, there is a high possibility of seeing a whitish or pinkish residue around the concrete driveway or landscape.
Keep your medical emergency kit ready in case you accidentally come in contact with the ice melt. Most of them are harmful if ingested by pets and humans alike.
Get ready for winter with the ONLY Pet Safe Ice Melt you can trust
So, where does Safe Paw fit? How does Safe Paw guarantee protection in harsh New York winter without damaging the environment?
The founders created Safe Paw out of sheer concern for the surroundings and a lot of thought. It was introduced after extensively studying the market for eco-friendly and concrete-safe ice melt products. The main intention of the founders is to create safe spaces for kids and pets when they step out during winters.
They intended to provide the community with a sustainable product line that aims at reducing soil pollution, damage to the concrete, and plant degradation that is prominent during winters due to salt.
All these three factors combined to become – Safe Paw.
The 8lb jug comes with an easy-to-hold handle and a sprinkler-based top lid that makes it easy to spread the greenish-blue pellets on the ground.
The product is backed by scientific proof and has been in the market for more than 20 years.
It has a patented dual-effect compound that prevents concrete from getting damaged and pets falling ill.
The granules/pellets stick to the surface and start destabilizing the ice in a matter of minutes.
Safe Paw is non-corrosive and non-conductive and thus safe for cured concrete as well.
You can use half the quantity of salt and see double the effect for a longer duration.
It is economical as you do not need to use too much of it.
It is salt-free, chlorine-free, and environment-friendly.
The main ingredients are – modified carbonyl diamide crystal, nonionic surfactants, special inhibitors, special glycols, etc.
It is recommended by the veterinarians as well.
Conclusion
While you may come across solutions that claim to be concrete-safe ice melt products, they may not always be accurate. Your main aim is to endure tricky New York winter with the right ice melt products to gain maximum effectiveness. In addition, you have to reduce your future costs and ensure that you do not spend more on repairs while trying to save while buying an ice melt product. We now know the safest ice melt for concrete will prove to be a boon for you.
Get ready for winter with the ONLY Pet Safe Ice Melt you can trust
---
Other Ice Melt Products
Traction Magic
Stay safe on slippery surfaces with a product that's 100% natural and safe for pets, people, and your property. Use Traction Magic on sidewalks, steps, or as instant traction for your car. Made in the USA.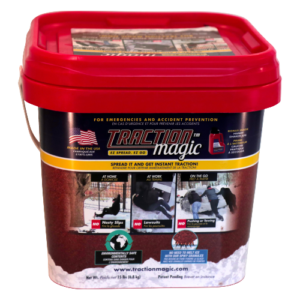 SafeThaw
Imagine an ice melt you can put down and never worry about. It won't harm pets, kids and your property. That's Safe Thaw. Unlike anything else on the market, Safe Thaw can change how winter affects our planet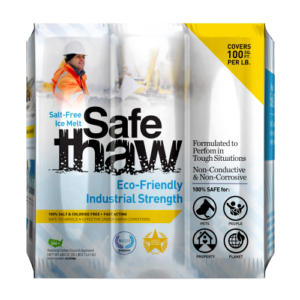 ---