Winter Parking Lot Safety Tips For Small Businesses
Layers of ice as you step out can be frustrating. Not only it's messy but slippery and can lead to serious injuries. If you're a business owner, the last thing you'd want is customers slipping or their cars skidding.
Every winter, we see multiple parking lots go through rigorous shoveling snow and melting ice. However, we still look for pro ice melt industrial that can be used without worrying about the environment or your parking lot concrete. 
Before we tell you that, we want to give you a heads up to not invest in these three types of ice melt to avoid damage to your concrete. 
Rock salt or NaCl is one of the most commonly used ice melts due to its price. Unfortunately, even though it is cheap and freely available, it does more harm than good to the concrete and the environment.
For starters, rock salt leaves behind a whitish residue after drying up around the concrete and the plants. Excessive salt seepage into the soil destroys all the natural foliage around the parking lot and destroys the flowerbeds. It renders the soil infertile after a few years.
Rock salt is hard on concrete and prolonged use will make it an expensive affair as you would need to repair it after almost every season or two. 
Many commercial properties, especially parking lots, use chemical ice melt on roads, pavements, and sidewalks. For example, industrial strength ice melt ingredients include magnesium chloride and calcium chloride. They may be effective at melting the ice but not everything that glitters is gold. These chemicals can damage your concrete and asphalt permanently costing you way more than the ice melt.
Calcium Magnesium Acetate
While we have heard of the pros and cons of other ice melt products, calcium magnesium acetate (CMA) is no different. It comprises a slightly newer product- acetic acid, the primary compound of vinegar, and dolomitic limestone. It does not let snow stick to the concrete; however, it is not entirely safe for the concrete or plantation. In addition, CMA is less cost-effective if you want to purchase it regularly. 
Get ready for winter with the ONLY Salt Free Ice Melt you can trust
So, What Melts Ice The Fastest? 
Safe Thaw is formulated to perform in more demanding situations and is non-conductive and non-corrosive. Unlike industrial strength ice melt ingredients, it contains natural components. It is an eco-friendly industrial-strength ice melt that is fast-acting and 100% chloride-free. Its blue granules make it easy to spot on the icy surface and increase traction as well. 
Whether it is pets, kids, or concrete, it is one of the best paw safe ice melt products in the market.
Other Ice Melt Products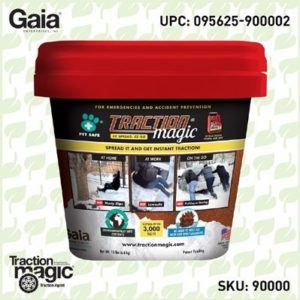 Traction Magic
Stay safe on slippery surfaces with a product that's 100% natural and safe for pets, people, and your property. Use Traction Magic on sidewalks, steps, or as instant traction for your car. Traction Magic provides instant traction on all icy surfaces.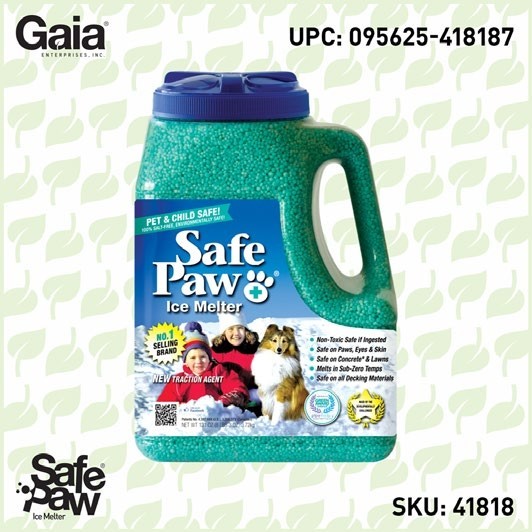 Safe Paw
Imagine an ice melt you can put down and never worry about. It won't harm animals or children, and it won't damage your property. That's Safe Paw. Unlike anything else on the market, Safe Paw can change how winter affects our planet.