Environmentally Friendly Commercial Ice Melt
Thinking about icy sidewalks and the endless possibilities of slip and fall accidents? As a responsible business owner and citizen, your concern is not wrong. Icy sidewalks are a real danger and can lead to serious injuries and costly lawsuits.
One of the common ways to get rid of ice from your premises is by using ice melt or rock salt. Most traditional ice melt uses some form of rock salt in the mix – magnesium chloride, calcium chloride, or potassium chloride. It may help you in the short term, but it will damage your surroundings, pavements, sidewalks, and foliage in the long run.
These chemicals can corrode the concrete of your driveway and parking lot and weaken the rooftops of your premises. They can also be harmful to kids, pets, and vegetation. They are capable of causing rashes, irritation, and dryness to paws and skin, as well as inflammation and stomach pain when mistakenly ingested. These salt-based compounds tend to accumulate in nearby run-offs and streams.
So here are some environmentally friendly ice melt options for industrial use that you can explore-
Environmentally friendly ice melt
AlphAlpha meal ice melt-
This ice melt is essentially a fertilizer that contains nitrogen as the main ingredient. The grainy texture of this product also provides some traction. However, it is not much effective and may not melt the ice effectively.
Safe Thaw
SafeThaw is an amide core-glycol combination that removes snow, provides traction, and is non-corrosive and non-conductive. 
If you're still looking for chloride free ice melt explanation, here it is. In simple words, a salt-free,  acetate-free, and calcium chloride free ice melt is safe for your people, premises as well as the environment. 
It is environment-friendly and does not damage concrete over time either. Even if it percolates down, any intake of non-toxic ice melt will not be harmful. It is safe to use around your garden or plants in the facility.
Get ready for winter with the ONLY Salt Free Ice Melt you can trust
Other ways of melting snow naturally
Kitty litter – This product does a fantastic job of absorbing moisture, but it's too soft to grip the ice, and it becomes very slick when wet.
Coffee grounds and ashes – Both provide minimal gripping power on ice, and most of us have neither material in abundance unless we're drinking way too much coffee or polluting the air with wood smoke.
Conclusion
Unfortunately, most of the ice melt in the market is rock salt or calcium chloride. Rock salt is an impure form of table salt that we use at home. You can try a small experiment at home and see whether it's safe to use rock salt or not. If you put enough salt on your plant, it will die.
Using a salt-free, calcium chloride free ice melt composed of natural ingredients is the best way to clear the snow without damaging your concrete, rooftop, and plants. They are 100% safe to use around kids and pets too.
Other Ice Melt Products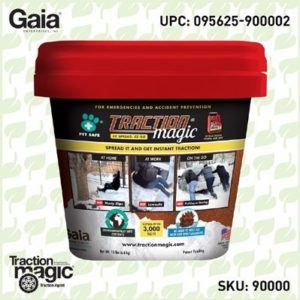 Traction Magic
Stay safe on slippery surfaces with a product that's 100% natural and safe for pets, people, and your property. Use Traction Magic on sidewalks, steps, or as instant traction for your car. Traction Magic provides instant traction on all icy surfaces.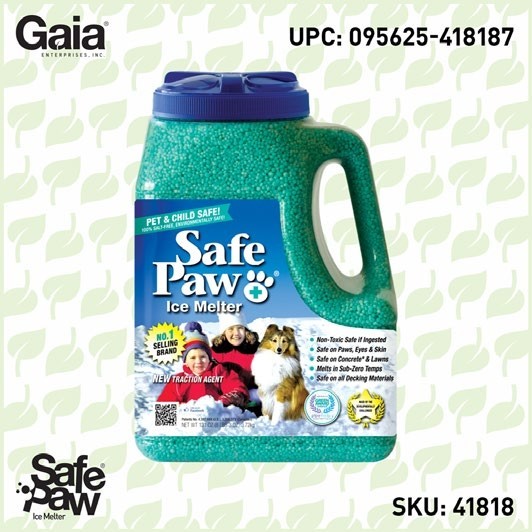 Safe Paw
Imagine an ice melt you can put down and never worry about. It won't harm animals or children, and it won't damage your property. That's Safe Paw. Unlike anything else on the market, Safe Paw can change how winter affects our planet.