Steel Based Sidewalk? Read THIS Before Choosing Your Ice Melt
The most common material used to construct sidewalks is concrete. However, over time the state departments have started experimenting with steel sidewalks too. As winters arrive, we usually begin scrambling for deicer safe for concrete, but now we need to understand ways to take care of steel-based sidewalks.
Plain concrete tends to spoil over time, and we find them as pavements, sidewalks, basement walls, etc. However, today many construction companies prefer using reinforced concrete to handle stress better—materials such as steel, rubber, gravel-based, etc.
Nowadays, you will notice short curbs or sidewalks made of only steel instead of a mix of steel and concrete. There are specific safety tips when shoveling snow and choosing the correct ice melt for steel sidewalks that we must keep in mind.
Concrete Safe Ice Melt
Get ready for winter with the ONLY Pet Safe Ice Melt you can trust
Corrosiveness
We all know that most ice melt has some chloride content that reacts with steel, making it a cumbersome maintenance process. Chloride reacts with metal and over some time corrodes it or causes it to rust. To avoid this, we must be careful to choose an ice melt that is less or non-corrosive such as Safe Paw, to prevent unwanted damage.
Application
Over application of ice melt on any material is not suitable for its strength. For example, if your sidewalk is reinforced with steel or is steel-based, you must be careful with applying any ice melt. The constant freeze/thaw cycle can damage your sidewalk. With only steel walkways or sidewalks, spread the ice melt evenly on the surface. It is easier to apply and remove as the ice melt works faster on metal surfaces, and the freeze/thaw cycle does not significantly impact it. 
Gaia Enterprises Inc. delivers 100% pet-safe and environmentally friendly winter products. Safe Paw, our flagship product, is the #1 selling pet-safe ice melt that does not harm pets, safe if ingested, and safe on all types of concrete.
Type Of Deicer
One of the most popular deicers for steel sidewalks is magnesium chloride, as it is less corrosive. However, you must remember that mag chloride can create an oily and slick surface, especially when you take it inside. Besides a high possibility of slipping, the oily residue is not easy to remove from carpets or doormats. 
Get ready for winter with the ONLY Pet Safe Ice Melt you can trust
Conclusion
The best way to avoid any damage to your steel sidewalks is to use Safe Paw, a salt-free, chloride-free, and eco-friendly deicer and ice melt that does not damage any material. In addition, it is non-conductive and non-corrosive, making it suitable for even the most severe winter condition
Before using the ice melt, you must shovel the surface well and remove any excessive snow accumulation. A few safety tips when shoveling snow include-
Use an industrial strength broad shovel or an electric shovel
Always clean the shovel before storing it to avoid any rusting
Push the snow and then lift it
Always shovel fresh snow
Use a long handle shovel and not a short handle one
Keep it close to your body while using it.
With safety tips in place and the use of ice melt on steel-based sidewalks, you are not prepped to welcome winter with ease and ensure that you, your environment, your pets, and your foliage are safe at all times. 
Get ready for winter with the ONLY Pet Safe Ice Melt you can trust
Other Ice Melt Products
Safe Thaw
Imagine an ice melt you can put down and never worry about. It won't harm pets, kids and your property. That's Safe Thaw. Unlike anything else on the market, Safe Thaw can change how winter affects our planet.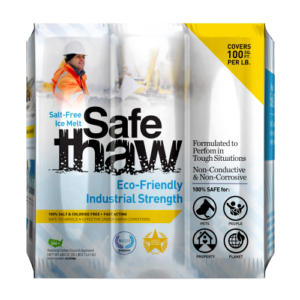 Traction Magic
Stay safe on slippery surfaces with a product that's 100% natural and safe for pets, people, and your property. Use Traction Magic on sidewalks, steps, or as instant traction for your car.