Tips To Safely Use A Snow Melter
When we think of snow melter, you usually think of a simple solution designed to remove ice. But, do you know that snow melt or ice melt can result in injuries and accidents if you do not use the product in the right manner.
Paw Safe Ice Melt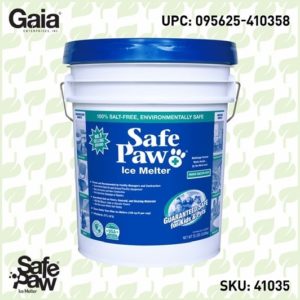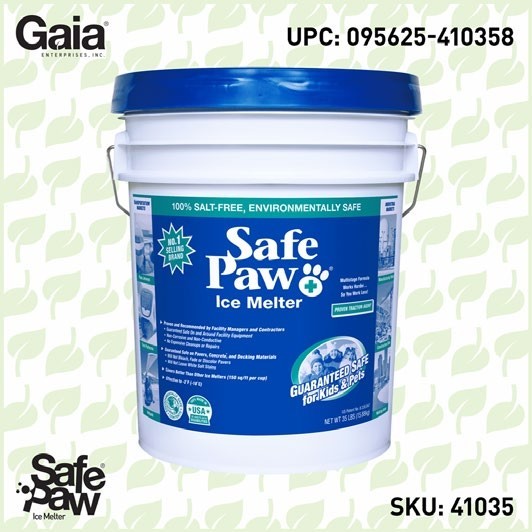 Safe Paw
The Original and the #1 Pet and Child Safe Ice melter for over 20 years. Guaranteed environmentally safe – will not harm waterways and sensitive wetlands.
This is why it is important to be cautious and remember these safety tips when using a snow melter:
#1 Use The Right Amount
When it comes to snow melter, more is not always better.
A lot of home and business owners are of the idea that if a little snow melter does an impressive job then more can do an even better job. This, however, is nothing but a myth.
There are several side effects of using too much ice melt. First of all, if you use too much of it, you'll run out of it in no time. At the end of the day, you'll end up spending more on a snow melter than you originally intended.
Secondly, using too much ice melt can damage your property and plants around it. Too much ice melt can cause clumps of salt to form on your surface.
These clumps are bad for concrete as they can cause damage to landscaping, walkways, and driveways.
We can't really tell you when and how to use an ice melt since every product is different and comes with specific requirements. Always read instructions and make sure to follow the guidelines.
#2 Know When To Place It
It is important to read instructions not only to know how much to use but also how to use a product.
For example, it's important to wear gloves when using an ice melter that contains magnesium or calcium chloride.
Once again, pay attention to the packaging and make sure the product is safe to use on concrete, rocks, around plants, and on roofs.
Some products have to be placed before snow and some after. It's important that you are fully aware of what you are taking on so you can get your desired results.
#3 Purchase Safe Snow Melt Products
You have to make sure the snow melter you purchase is safe for:
Yourself and your family members including kids
Your pets, plant, and property
Traditional ice melt contains chemicals including salts that can be bad for the environment, your skin, your plants, and even your pets.
Make sure to purchase products that are safe for everyone. As odd as it may sound, some ice melt, especially those that contain magnesium chloride and sodium chloride, can cause allergies, burns, and blisters. In fact, they're believed to increase the risk of certain illnesses in both humans and pets.
Look at the labels and stay away from products that contain harmful chemicals. At Safe Paw, we take your health and the environment very seriously, which is why we have created a product that's perfect for not just your property and yourself but also your plants and pets.
We crafted this product after years of research to ensure it does the job without causing any harm to anyone.
For more information, check this video guide on how to use our product.
---
Other Products
Traction Magic
Stay safe on slippery surfaces with a product that's 100% natural and safe for pets, people, and your property. Use Traction Magic on sidewalks, steps, or as instant traction for your car. Made in the USA.
Safe Thaw
Imagine an ice melt you can put down and never worry about. It won't harm animals or children, and it won't damage your property. That's Safe Thaw. Unlike anything else on the market, Safe Thaw can change how winter affects our planet.
---