New Ice Melt For Concrete Pavers
Check out the new ice melt for concrete pavers!
Did you know that nearly 20 million tons of salt are utilized as ice melt by the US every year! That is a lot of salt dispensing along the roads, vegetation, and even all around residences. What if you could make all your concrete winter woes disappear with the correct ice melt for pavers? Wouldn't that be cool! To find one product that could resolve all your winter problems in an instant? Of course, but before we come to that, let us understand what concrete pavers are?
Let us understand what concrete pavers are?
Concrete pavers are commonly used as outdoor flooring. Pavers are used for roads, driveways, and walkways, as well as patios and outdoor entertaining areas in the home. Concrete pavers are typically made in factories.
First, a mixture of concrete is poured into a mold. The mold can be of any shape and size, often squares or rectangles are used. This mixture is left to set. Once the mixture is set, a standard concrete foundation is poured. A layer of sand is spread on top and the pavers are layered in the desired pattern. No adhesive is used in the setting of concrete pavers, the weight of the pavers themselves acts as the retaining method (apart from the edges). It is possible to set pavers in sand, compacted gravel mortar, or a concrete foundation.
As a homeowner, the most common installation of concrete pavers is either on your patio or backyard. So naturally, you would want to take a break and enjoy a quiet evening alone or socializing with friends at the end of a tiring day. But wait, you recently had a heavy snowfall, leaving your pavers covered with snow and ice! It is not what you pictured at all. Would you want your patio to look unsightly because of a thin layer of ice or snow?
It is where Safe Paw steps up and helps you out. A 100% ice melt safe for pavers, you get the safest protection for your concrete or bricks, that too available at a store near you!
Get ready for winter with the ONLY Pet Safe Ice Melt you can trust
If you are still wondering whether it genuinely works, let us first highlight-
Types of Concrete Pavers
There are two types of concrete pavers; interlocking pavers and architectural slabs. Interlocking pavers were invented by the Dutch and are extremely durable and suitable for all uses. To many though, interlocking pavers lack the natural look.
For those looking for a more aesthetically pleasing alternative, architectural slabs may impersonate the look of brick or natural stone, but they are thin and may not be suitable for high traffic areas, such as driveways.
While you may know the different types of pavers and how they increase your home's aesthetic value, we cannot stress enough on using the correct type of ice melt safe for brick pavers or even concrete ones.
Most homes with average quality pavers will notice visible damage because of the use of salt or blends. In addition, since most deicers are chloride-based and exothermic, the constant freeze-thaw process will cause gaps and cracks between the concrete joints. It can result in uneven surfaces or disjointing of pavers.
Ice Melt Safe For Concrete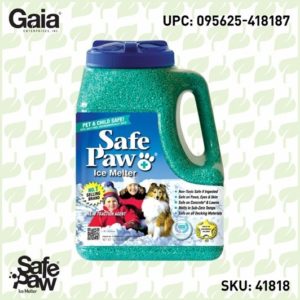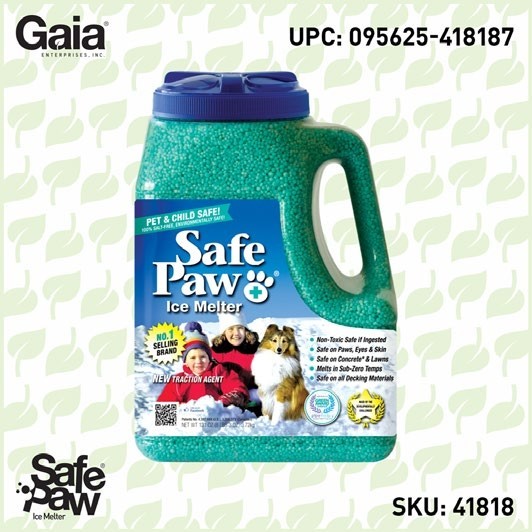 Safe Paw
The Original and the #1 Pet and Child Safe Ice Melt for over 20 years. Guaranteed environmentally safe – will not harm waterways and sensitive wetlands.
We recently spoke with Lily, a working executive with two kids and a pet dog. They moved into a new neighborhood a while ago. She has experimented with a couple of ice melt compounds, the most common being rock salt or halite, and was never really happy with the result. It was the proper ice melt for pavers and hurt her dog's paws whenever he stepped out. A few of them left a residue around the garden area and stuck to the sole of the shoes.
Lily further tried other blends suggested by a couple of her friends and family. Then, came winter, and she found herself struggling to strike a balance with the proper ice melt; until someone in her neighborhood suggested Safe Paw. The family had been using Safe Paw for a couple of winters now. They had seen a visible difference around their home, including their concrete pavers.
After listening to their positive experience and suggestion, Lily took to the store to check out the product herself. She also read a lot of reviews online and checked out the pricing options. Lily is all about being eco-friendly and loves to keep her garden nourished all the time.
After a lot of research, she finally bought Safe Paw and has never been happier. Lily told us, 'I have always looked forward to having a stress-free winter without worrying about pavers, dogs paws, and my garden. And now I have all that in a box!' 
Before we highlight how concrete and ice interact with each other, let's take a look at –
The Benefits Of Concrete Pavers
• Come in many different colours and styles, this makes them a versatile option for outdoor flooring.
• Are far less costly than other outdoor flooring methods.
• The cost to repair pavers is much less than poured concrete as only the damaged area needs to be removed and replaced.
• Are an economical choice as they often last for over 30 years.
• Do not crack like slabs of concrete as concrete pavers expand and contract with seasonal changes.
• Low maintenance as only sweeping or spraying with the garden hose is needed.
• The rough surface makes them naturally slip-resistant.
• Easily shovel and plough snow from them.
• Ready to use immediately as a driveway or patio as they require no set time.
• Does not crack in minor earthquakes.
• It is not necessary to add reinforcement material under concrete pavers.
• Concrete pavers are extremely durable.
Get ready for winter with the ONLY Pet Safe Ice Melt you can trust
Let us a little sneak-peek into the love-hate relation between concrete and ice and how they impact each other in the long run.
The use of ice melt, salts, chlorides, etc., has been a never-ending debate amongst homeowners to date. However, each has their viewpoint; however, it only makes sense if backed with science and theory.
Fortunately, there are ways to buy ice melt safe for pavers, but let's first learn how the two interact.
We know that water comprises one part oxygen and two parts hydrogen. In their liquid form, these molecules move around freely. However, once frozen, they bond together in a perfect structure, creating ice. To break these icy molecules or structures, you would add Sodium Chloride or other blends to loosen and melt the ice.
When sodium and chloride come together with ice, they cause heat and start separating the icy molecules, thus melting them. If higher the salt concentration, the lower the freezing point because salty water has a better freezing threshold than regular water.
But…
Concrete less than one year does not react well with Ice melt, especially rock salt or sodium chloride, being dumped all over it.
The quick heat reaction and repeated exposure to rock salt causes the joints in between the concrete pavers to contract and expand. The problem is that rock salt does not directly react with concrete but with the calcium silicate hydrates in the cement that helps bind the concrete.
Every time the ice melts, it seeps in between the joints. And when it refreezes, it expands the concrete bit by bit. Over time, this results in wider gaps in between your pavers.
Salt is a corrosive material and eventually rusts metal, damages concrete, and causes cracks.
Overusing the ice melt for pavers can result in damaging the vegetation around the house as well.
Another issue that troubles most homeowners is new concrete vs. settled concrete and the best ice melt safe for concrete pavers.
It takes just a few hours for new concrete to begin to set; however, it takes up to 28 days for the chemical reaction between water and cement to complete. Therefore, depending on the weather condition, your concrete is considered new for up to a year.
Your concrete is still susceptible to damage during this one year. Choosing the wrong ice melt for pavers can lead to problems for your concrete surface. It will react with the silicates and start seeping into the joints.
Concrete settlement occurs when the soil underneath it can no longer support the weight of the concrete. Over time, the patio or driveway concrete begins to change, sink, or crack. Applying ice melt here can result in more damage to your concrete, further expanding your repair woes.
However, you can avoid the stress altogether with the proper ice melt safe for brick pavers and concrete pavers.
Your Guide To Buying A Good Ice Melt For Concrete Pavers:
New Ice Melt for Concrete Pavers
Safe Paw is a new ice melt suitable for concrete pavers. It is 100% salt-free and can be used anywhere you are worried about ice. Other ice melters which contain salt can damage and discolour concrete pavers, but Safe Paw is non-corrosive. Safe Paw is more concentrated than other ice melters, so you do not need to use it as much. It is environmentally friendly, non-toxic and pet safe.
Conclusion
As a power-packed and safe-for-all product, we have ensured that you enjoy your winters and leave your ice melt problems to us. Keep your concrete pavers, patios, driveway, and pets safe all the time.
Have you checked our line of ice melter in your supermarket yet? Visit your nearest store or search for the best ice melt for sale near me and get your environmentally safe and non-corrosive ice melter today! Use Safe Paw ice melt for concrete pavers this winter for a great alternative to salt-based ice melter. Take care of your house and your neighborhood by purchasing the correct ice melter for your home. Investing in the proper ice melt will result in – saving time, saving money, saving energy, and improving your overall investment. Now you know you can comfortably rely on your one go-to product, 'Safe Paw,' this winter season!
Get ready for winter with the ONLY Pet Safe Ice Melt you can trust
Other Ice Melt Products
Traction Magic
Stay safe on slippery surfaces with a product that's 100% natural and safe for pets, people, and your property. Use Traction Magic on sidewalks, steps, or as instant traction for your car. Made in the USA.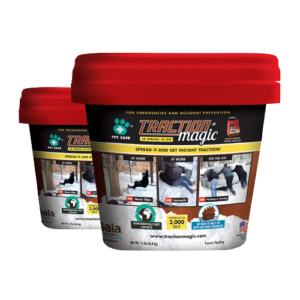 Safe Thaw
Imagine an ice melt you can put down and never worry about. It won't harm pets, kids and your property. That's Safe Thaw. Unlike anything else on the market, Safe Thaw can change how winter affects our planet.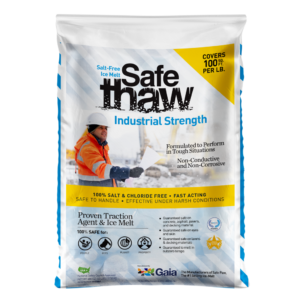 ---