New Ice Melt for Concrete Pavers
Concrete pavers are commonly used as outdoor flooring. Pavers are used for roads, driveways, and walkways, as well as patios and outdoor entertaining areas in the home.  Concrete pavers are typically made in factories. First, a mixture of concrete is poured into a mold. The mold can be of any shape and size, often squares or rectangles are used. This mixture is left to set. Once the mixture is set, a standard concrete foundation is poured. A layer of sand is spread on top and the pavers are layered in the desired pattern. No adhesive is used in the setting of concrete pavers, the weight of the pavers themselves acts as the retaining method (apart from the edges). It is possible to set pavers in sand, compacted gravel mortar, or a concrete foundation.
Types of Concrete Pavers
There are two types of concrete pavers; interlocking pavers and architectural slabs. Interlocking pavers were invented by the Dutch and are extremely durable and suitable for all uses. To many though, interlocking pavers lack the natural look. For those looking for a more aesthetically pleasing alternative, architectural slabs may impersonate the look of brick or natural stone, but they are thin and may not be suitable for high traffic areas, such as driveways.
Ice Melt Safe For Concrete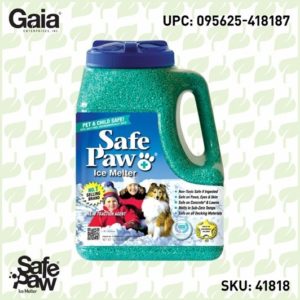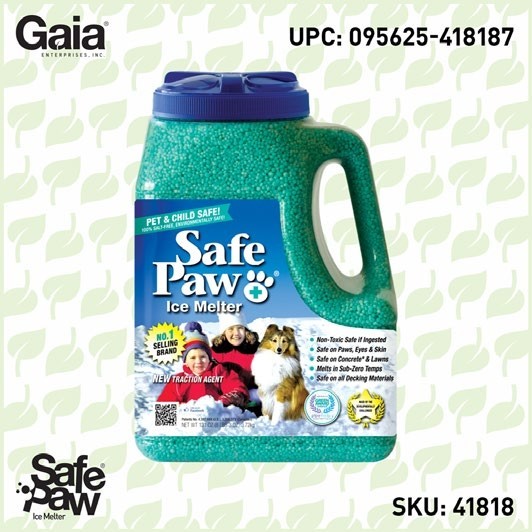 Safe Paw
The Original and the #1 Pet and Child Safe Ice Melt for over 20 years. Guaranteed environmentally safe – will not harm waterways and sensitive wetlands.
The Benefits of Concrete Pavers
• Come in many different colours and styles, this makes them a versatile option for outdoor flooring.
• Are far less costly than other outdoor flooring methods.
• The cost to repair pavers is much less than poured concrete as only the damaged area needs to be removed and replaced.
• Are an economical choice as they often last for over 30 years.
• Do not crack like slabs of concrete as concrete pavers expand and contract with seasonal changes.
• Low maintenance as only sweeping or spraying with the garden hose is needed.
• The rough surface makes them naturally slip-resistant.
• Easily shovel and plough snow from them.
• Ready to use immediately as a driveway or patio as they require no set time.
• Does not crack in minor earthquakes.
• It is not necessary to add reinforcement material under concrete pavers.
• Concrete pavers are extremely durable.
New Ice Melt for Concrete Pavers
Safe Paw is a new ice melt suitable for concrete pavers. It is 100% salt-free and can be used anywhere you are worried about ice. Other ice melters which contain salt can damage and discolour concrete pavers, but Safe Paw is non-corrosive. Safe Paw is more concentrated than other ice melters, so you do not need to use as much. It is environmentally friendly, non-toxic and pet safe. Use Safe Paw ice melt for concrete pavers this winter for a great alternative to salt-based ice melters.
---
Other Products
---