When It Is Too Cold And Dangerous To Walk Your Dog?
As a proud dog owner, you know that going for a walk is the best time of day for your dog, aside from mealtimes. Consider whether it's safe for your dog to go outside during these colder months depending on their size, age, coat, and overall condition. 
Walking is essential for your dog's mental and physical well-being, so don't let the chilly weather keep you from going for a walk. However, knowing how cold is too cold for your dog to bear is vital so you can plan and minimize walks accordingly. Moreover, by using urea snowmelt, you can drastically reduce the chances of damaging your pet's paws.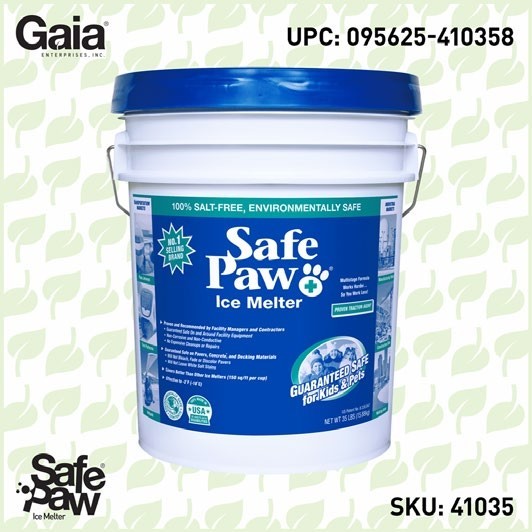 Safe Paw
The Original and the #1 Pet and Child Safe Ice Melt for over 20 years. Guaranteed environmentally safe – will not harm waterways and sensitive wetlands.
How Cold Is Too Cold?
When the weather drops below 0°C, you should be especially cautious when walking your dog. Wrap your short-haired dog in a warm, comfortable doggy coat if you have one.
Medium-sized to large dogs can be walked for 30 minutes at a time in temperatures above -4°C. Small dogs should be walked for approximately 15 to 20 minutes at a time. Any temperatures below that are hazardous to your pet's health.
Get ready for winter with the ONLY Pet Safe Ice Melt you can trust
How To Make It A Safe Winter Walk For Your Pet?
Although some dog breeds (such as Alaskan Malamutes, Huskies, and Saint Bernards) are well-suited to going outside in the cold in their natural state, many dogs will be safer and more comfortable with a coat or sweater to keep them warm.
Aside from small dogs and dogs with short hair, dogs that are very young, very elderly, or have any illness or physical impairment that might impede their capacity to keep warm should cover up before venturing outside in the winter. If the weather is cool but dry, a warm sweater is a good choice. However, if it's raining or snowing, a raincoat or water-resistant coat is preferable.
Use Fertilizer As Ice Melts
Even though many ice melts are on the market, most are chlorides or blends. If you want to keep your pets away from toxins, a chloride-free and natural ice melt are best. When you use fertilizer as ice melt, it will neither burn your pet's paws nor will also not cause any health issue if liked accidentally.
Yes, your dog's paws are incredible, but they aren't impervious to the bitter cold, and they must be protected from ice, snow, salts, ice-melting chemicals, and dangerous things concealed beneath the snow.
A pair of water-resistant dog booties are the most okay winter walking defense if your dog tolerates them (which may take some training). Unfortunately, however, some dogs flatly refuse to wear their shoes.
Get ready for winter with the ONLY Pet Safe Ice Melt you can trust
Even if your dog is completely trustworthy and has never gone away, never take him for a walk in the winter. Limited visibility can make it harder for people to see you, and ice and snow on the ground can make it difficult for a lost dog to find his way home.
Conclusion
When to take my dog for a walk in winter? It usually boils down to a dog's specific demands and the owner's judgment. Remember to evaluate their size, the length of their fur, and, most significantly, what their body language is telling you.
Get ready for winter with the ONLY Pet Safe Ice Melt you can trust
Other Ice Melt Products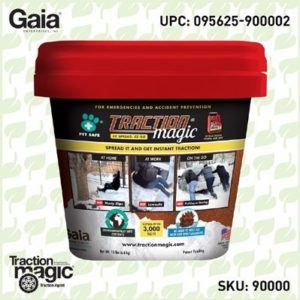 Traction Magic
Stay safe on slippery surfaces with a product that's 100% natural and safe for pets, people, and your property. Use Traction Magic on sidewalks, steps, or as instant traction for your car. Traction Magic provides instant traction on all icy surfaces.
Safe Thaw
Imagine an ice melt you can put down and never worry about. It won't harm animals or children, and it won't damage your property. That's Safe Thaw. Unlike anything else on the market, Safe Thaw can change how winter affects our planet.