What Type Of Ice Melt Is Safe For Concrete?
With the first snowfall and ice on the ground, many of you will be looking for ice melt solutions. Do you realize that options such as rock salt or salt-based ice melts might harm your concrete driveway?
Millions of home and business owners inadvertently harm their concrete every year because of wrong deicing procedures. Driveways, sidewalks, and other concrete surfaces are subjected to the effects of the most popular deicer with each freeze and thaw.
The most popular deicing agent is rock salt (sodium chloride). Other ice melts in the market have rock salt as the main constituent. But it is not a safe ice melt for concrete.
How Does Concrete Get Damaged?
Concrete appears to be a smooth, solid surface from a distance, but it is covered in millions of microscopic pores. During the hotter summer months, you can even observe this phenomenon by splattering water on the pavement and watching it drain.
However, when utilizing rock salt as a deicing agent in the winter, those pores represent an issue. There would be no problem if the ice and snow on top of your concrete remained frozen.
Other Ice Melt Products
Traction Magic
Stay safe on slippery surfaces with a product that's 100% natural and safe for pets, people, and your property. Use Traction Magic on sidewalks, steps, or as instant traction for your car.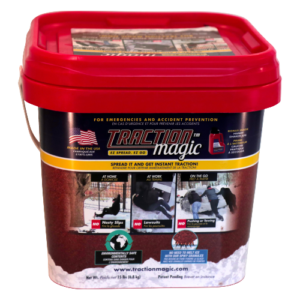 Safe Paw
Pet Safe Ice Melt you can trust. It is 100% natural, biodegradable, eco-friendly ice melt made from volcanic remains. Safe Paw is safe for you, your pet's paws, your property, and the planet.