Safe Thaw: Does It Leave Stains?
When was the last time you felt prepared and comfortable at the onset of winters and not bothered about icy surfaces or snow-covered driveways? As a business owner, your foremost responsibility inclines towards the safety of your customers and employees because they are the life and blood of your business. While you have industrial ice melt products available in retail stores and online; however, we have to be careful to select the correct products.
We can invest in pet safe ice melt bulk quantities to last us through winters. So let us apprise you of a few different compositions available in the market to help you make an informed decision.
Get ready for winter with the ONLY Salt Free Ice Melt you can trust
Calcium Chloride Ice melt
A relatively expensive ice melter, it is considered a concrete-safe ice melt. While it does not corrode the surface as much; however, it is not entirely safe either. It leaves a whitish residue which proves slightly harmful to the surface in the long run.
Magnesium Chloride Ice Melt
It is quick to melt the ice if applied in the recommended quantity. It is more expensive than a few other premium industrial ice melt products. However, with a shorter active timespan, it may prove to be a costly investment in the long run. In addition, it may leave a stain; hence you need to be careful. 
It is the most commonly used product that converts ice into brine or slush. Unfortunately, rock salt is not safe for the environment and the concrete. If left too long, it leaves a distinct white residue that is unappealing and difficult to remove.
Does Safe Thaw, An Industrial Ice Melt, Leave Stains?
Safe Thaw is specifically designed keeping in mind the requirement of big industrial units, commercial spaces, and construction sites. It contains modified carbonyl diamide crystals, special glycols, non-ionic surfactants, proprietary traction agents, and special inhibitors.
It is a concrete-safe ice melt, and its unique compound keeps the water molecules from refreezing. However, it is advisable not to use Safe Thaw on precast concrete under 12 months old.
A few quick facts: 
Safe Thaw comprises 100% natural ingredients and thus does not cause any external damage to any hard or soft surface. 
It has bluish-colored pellets that contain the deicing liquid within. 
The deicing liquid destabilizes the icy surface, but it does not leach any color. 
It does not contain any artificial coloring compound. 
Get ready for winter with the ONLY Salt Free Ice Melt you can trust
In short, Safe Thaw does not stain any surface. Instead, it merges with the ice, and once it dries up, you can shovel it off quickly. In addition, if you landscaped patches on your premises, it will double as a soil enhancer.
If you have a guard dog on your business premises, it is a pet safe ice melt bulk product, does not cause any irritation or itching while walking on the ice melt.
Conclusion
While there are several products in the market to fulfill all your winter requirements, you can be at peace with an industrial ice melt such as Safe Thaw while applying it. It is easy to apply and is advisable to use only in the recommended quantity. It works even in sub-zero temperatures and is safe on the skin and eyes.
Other Ice Melt Products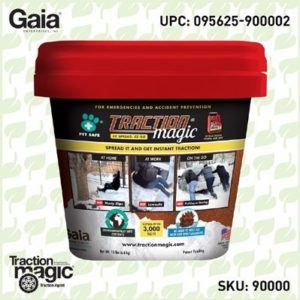 Traction Magic
Stay safe on slippery surfaces with a product that's 100% natural and safe for pets, people, and your property. Use Traction Magic on sidewalks, steps, or as instant traction for your car. Traction Magic provides instant traction on all icy surfaces.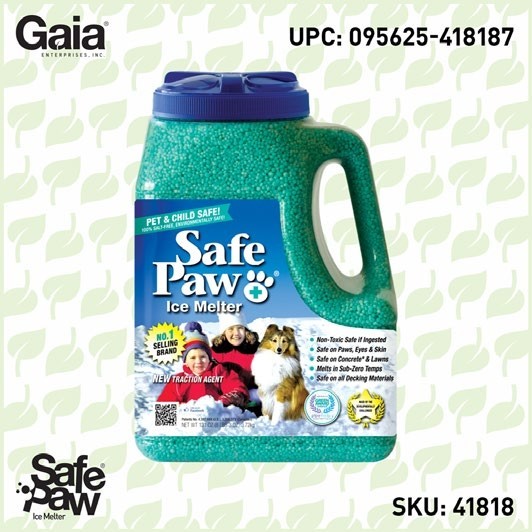 Safe Paw
Imagine an ice melt you can put down and never worry about. It won't harm animals or children, and it won't damage your property. That's Safe Paw. Unlike anything else on the market, Safe Paw can change how winter affects our planet.