Most Commonly Asked Questions About Ice Melt – Part II
We hope you have gone through the first part of our Most Commonly Asked Questions About Ice Melt piece. If you haven't, click here to go to the article to have your questions answered and continue reading this piece to have a full understanding of how snow melter works.
The purpose is to answer all questions one may have about ice melt for concrete and other uses.
Pet-Friendly Ice And Snow Melt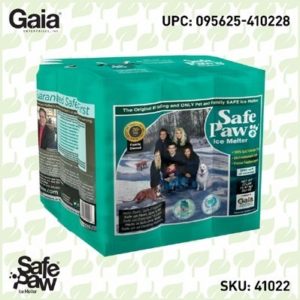 Safe Paw
The Original and the #1 Pet and Child Safe Ice Melt for over 20 years. Guaranteed environmentally safe – will not harm waterways and sensitive wetlands.
#1 Can Ice Melt Cause Injuries?
This question can be a little complicated to answer. Technically speaking, ice melter can result in injuries including rashes and burns; however, it depends on the product you're using as not all ice melt is injurious to health.
The key lies in avoiding products that contain salts such as calcium chloride and only using products that have been proven to contain no toxins or harmful chemicals.
We take great pride in our product and encourage you to have a look at our toxicology report. It is safe for not only humans but also plants, animals, and concrete.
#2 Do I Need A Professional To Use An Ice Melt?
No, you will not need to worry about having to hire the services of a professional to get the job done. There are no machines or technicalities involved. The job only requires placing an ice melter where it snows. The product will do the rest for you.
If you still find it confusing then check our How to Use Safe Paw article and video guide.
#3 Do All Products Contain Salt?
While most ice melt contains salt, you can easily find products that contain no salt.
Have a look at Safe Paw snow melter. It is 100% salt, chlorine, and acetate free. This makes it a safe ice melter for concrete. Plus, it can be used on lawns as well.
#4 How Long Does It Last?
It changes from product to product. Some will last a few hours while some can go over a day.
Our product, however, is made to last for up to 72 hours, which means you will only have to worry about placing down ice melter every now and then. This is also why our ice melter for concrete proves to be very affordable.
Thanks to our concentrated formula, you will only have to use half of what you would use with salt-based formulas.
#5 When Is The Best Time To Place Ice Melt?
Ideally, you should place ice melt before it snows. Since our product lasts for up to up to three days, you will not have to worry even if it doesn't snow tomorrow. However, since the weather can often be unpredictable, you don't have to panic about being proactive. You can place an ice melter after it has snowed.
We hope you now have a full understanding of ice melt. If you have any more questions about Safe Paw ice melt or ice melter for concrete in general, feel free to get in touch. We're always here to guide you.
You can reach us by going here or calling (800) 783-7841.
Other Products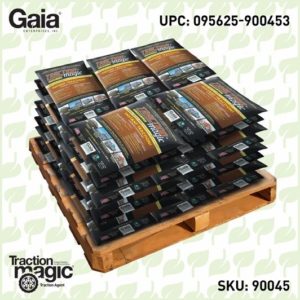 Traction Magic
Stay safe on slippery surfaces with a product that's 100% natural and safe for pets, people, and your property. Use Traction Magic on sidewalks, steps, or as instant traction for your car. Made in the USA.
Safe Thaw
Imagine an ice melt you can put down and never worry about. It won't harm animals or children, and it won't damage your property. That's Safe Thaw. Unlike anything else on the market, Safe Thaw can change how winter affects our planet.
---