Integrating Driveway Snow Melt Systems With Safe Paw For Enhanced Safety
Winter can be a magical time, with its picturesque snowfall and the chance to snuggle up under a cozy blanket. But, it also brings its own set of challenges. Clearing driveways becomes a Herculean task. So, the idea of driveway snow melt systems? It sounds perfect, right? Let's dive in, uncover its nuances, and see if Safe Paw can provide a more comprehensive solution.
Get ready for winter with the ONLY Pet Safe Ice Melt you can trust
The Allure Of Driveway Snow Melt Systems
At a glance, a heated driveway or a "driveway snow melt system" might sound like the ultimate winter solution. No more shoveling, no more slipping on ice patches, and certainly no more dreading the snowfall. These systems, typically made of heat mats or inbuilt wiring, ensure your driveway remains snow-free, offering an easy passage for your vehicles.
Eco Friendly Ice Melt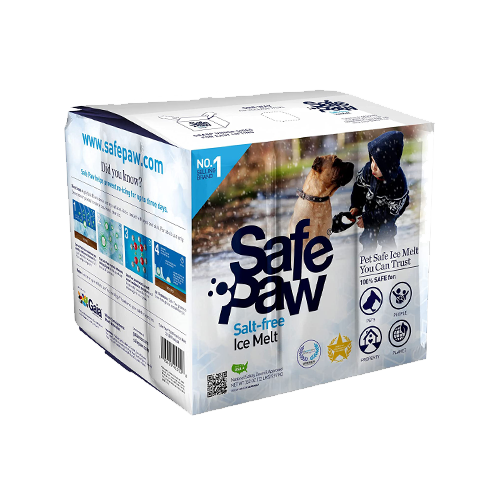 Safe Paw
The Original and the #1 Pet and Child Safe Ice Melt for over 20 years. Guaranteed environmentally safe – will not harm waterways and sensitive wetlands.
Challenges With Traditional Snow Melt Systems
But like every coin with two sides, these systems have their drawbacks:
Cost: Initial setup isn't cheap. Depending on the size of your driveway, these systems can be a significant investment.
Wiring Issues: Especially in areas with extreme temperature fluctuations, the wiring of these systems can sometimes falter. And when they do? You're back to square one with snow piling up.
Limited Coverage: These systems only cover the areas where they are installed. So, any adjoining pathways or portions of the driveway where the system isn't set up can still accumulate snow.
Repair & Maintenance: If something goes wrong with your system, repairs can be both costly and time-consuming. Also, once installed under your driveway, any required fixes can become a major project.
Energy Consumption: Using electricity to melt the snow can add a noticeable amount to your energy bills during the winter.
Get ready for winter with the ONLY Pet Safe Ice Melt you can trust
Safe Paw: A Sustainable Alternative
This is where Safe Paw steps in. How about a solution that isn't just effective but also eco-friendly and safe for all members of your family, including the furry ones?
People & Pet Safe: The granular ice melt ensures that even if your pet were to ingest a small amount, it wouldn't harm them. Remember those harmful chemicals in other ice melts? You won't find them in Safe Paw.
Effective at Extreme Temperatures: Safe Paw doesn't shy away when the mercury drops. It works effectively even at temperatures as low as -2°F!
Kind to Your Driveway: No corrosion here! Whether you have a beautiful stone driveway or a classic concrete one, Safe Paw ensures longevity.
Budget-Friendly: In the long run, when you calculate energy bills, repair costs, and initial investment for heat mats, Safe Paw proves to be a more economical and equally effective choice.
Get ready for winter with the ONLY Pet Safe Ice Melt you can trust
Combining The Best Of Both Worlds
If you're one of those folks who have already invested in a snow melt system driveway, don't fret. Use Safe Paw to cover areas your system doesn't reach. Or perhaps during those times when the system might fail. It's always good to have a backup, right?
Gaia Enterprises Inc. delivers 100% pet-safe and environmentally friendly winter products. Safe Paw, our flagship product, is the #1 selling pet-safe ice melt that does not harm pets, safe if ingested, and safe on all types of concrete.
Wrapping Up
To melt or not to melt, that's often the question during snowy winters. While driveway snow melt systems offer a modern solution, their pitfalls are hard to ignore. Safe Paw, with its comprehensive benefits, offers a safer, more reliable, and eco-friendly alternative. Before the next snowstorm hits, make sure you're stocked up. After all, safety, convenience, and sustainability rarely come in one package, but with Safe Paw, they do!
Get ready for winter with the ONLY Pet Safe Ice Melt you can trust
Try Our Other Winter Safety Products
Walk On Ice
Prevent slips at home, work or on the go, The handy disposable canister can be taken everywhere, with the same 100% naturally occurring minerals that provide instant traction on ice or snow.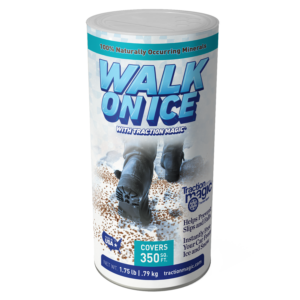 Traction Magic
Stay safe on slippery surfaces with a product that's 100% natural and safe for pets, people, and your property. Use Traction Magic on sidewalks, steps, or as instant traction for your car.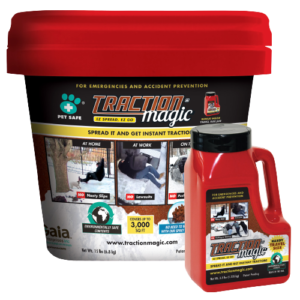 ---
---